Nobody from our Metro College Football Power Rankings had a likely shot at the College Football Playoff. But with each of our five teams' loss columns now filled, it's pretty much an impossibility.
T
he Army Black Knights, who had a five-game win streak dating back to last year's historic season, fell to #8 Ohio State on Saturday afternoon, as did the Connecticut Huskies to Virginia. Granted, neither team was favored in their respective games, but it provided little relief to the football-starved fans of the Tri-State area who have been sorely disappointed by the performances of their pro teams.
Despite the loss, Army continues to lead our mini-poll. Rutgers, despite scoring an enormous victory on Saturday in terms of the margin, remains in our cellar three weeks in….
1) Army (2-1)
Last Week: L 38-7 @ #8 Ohio State
Top Performer: RB Darnell Woolfolk (15 carries, 74 yards, 1 TD)
This Week: @ Tulane (Saturday at Noon on CBS Sports Network)
The Black Knights' five-game winning streak ended with a visit to Columbus, failing to defeat a ranked team for the first time since 1972. While the Buckeyes pulled away in the second half, Army, to their credit, held tough in the early going. The highlight was an 18-play, 99-yard drive that concluded in Woolfolk's lone touchdown, and the Knights became the first offense to go the length of the field against Ohio State since Michigan in 2013, and the first do it at The Horseshoe in the Urban Meyer era. This week, they'll face Tulane in Louisiana, visiting the Green Wave for the first time since a 41-23 win in 2010. It begins a three-game Conference USA trek in which they also face UTEP and Rice.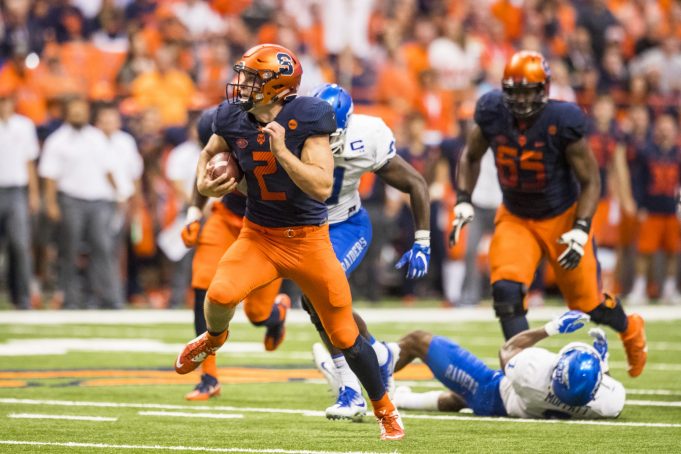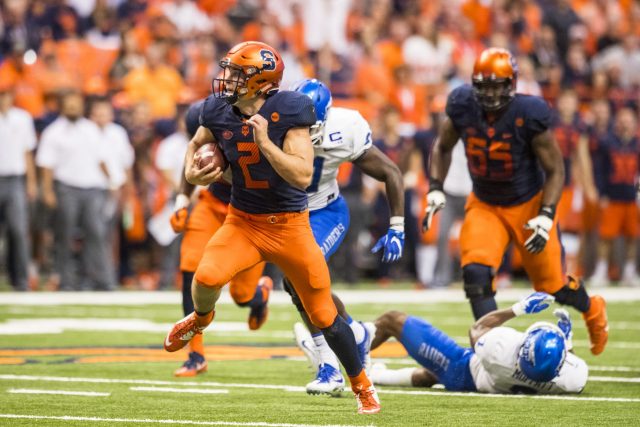 2) Syracuse (2-1)
Last Week: W 41-17 vs Central Michigan
Top Performer: QB Eric Dungey (19-35, 279 yards, 11 carries, 105 yards, 3 total TD's)
This Week: @ #25 LSU (Saturday at 7 PM on ESPN2)
The Orange move up to the runner-up spot this week by not falling into another trap. After falling to Middle Tennessee State at the Carrier Dome last week, it appeared to be more of the same when they fell behind to the MAC's Chippewas, trailing 17-10 as late as midway through the second quarter. Dungey and running back Dontae Strickland (63 total yards) took over after, as Strickland score two touchdowns, one rushing and passing each before the half let out to give the Orange the halftime lead. It commenced a 31-0 Syracuse run that allowed them to end this three-game opening homestand 2-1.
The Orange face a bigger challenge this week in Baton Rouge against a ranked Tigers team likely still smarting over the shellacking they suffered at the hands of Mississippi State last weekend. The Orange did defeat then-#17 Virginia Tech when they visited New York last October, but they haven't beaten a ranked team on the road since 2010 when they beat then-#19 West Virginia in a Big East match. They did play LSU well in 2015, mostly keeping pace in a 34-24 loss.
3) Connecticut (1-1)
Last Week: L 38-18 @ Virginia
Top Performer: QB Bryant Shirreffs (18-26, 227 yards, 2 TD's)
This Week: vs East Carolina (Sunday at Noon on ESPNU)
Coming off a Hurricane Irma-induce idle week, the Huskies came out flat against the ACC's Cavaliers. They gave up the first 31 points of the game before some garbage time receptions from Hergy Mayala made the score somewhat respectable. Shirreffs at least looked passable in his first start of the year.
The Huskies' schedule was altered due to Irma, and they experience the first change on Sunday against the Buccaneers, opening their AAC slate. Elsewhere, their date with #21 South Florida, the game postponed from last week, was originally canceled but moved to November 4.
That is a final from UB Stadium as the Bulls pick up their first win of the year, 33-10, over Colgate #UBhornsUP pic.twitter.com/mpYALafOmC

— UB Football (@UBFootball) September 17, 2017
4) Buffalo (1-2)
Last Week: W 33-10 vs Colgate
Top Performer: RB Emmanuel Reed (22 carries, 120 yards, 1 TD)
This Week: vs Florida Atlantic (Saturday at 7 PM on ESPN3.com)
The Bulls entered the win column by beating up on FCS Colgate at home. They put up an astonishing 302 rushing yards, paced by Reed's 120, as he, fellow runner Johnathan Hawkins and QB Tyree Jackson (281 total yards) each found the end zone. They also turned up the pass rush on the Raiders, earning two sacks and limiting them to 56 passing yards on six completions.
The Bulls close out their non-conference slate on Saturday against Lane Kiffin's Owls. They previously took on FAU in 2015, overcoming an early 9-0 deficit to earn a 33-15 victory.
5) Rutgers (1-2)
Last Week: W 65-0 vs Morgan State
Top Performer: QB Johnathan Lewis (2-2, 12 yards, 11 carries, 58 yards, 4 TD's)
This Week: @ Nebraska (Saturday at 3:30 PM on BTN)
Sorry, Rutgers; you don't get to move out of the cellar by beating up on the FCS Bears.
Lewis, however, gets credit, as the true freshman shined in his first college action. He scored four rushing touchdowns and added another in the air to partake in the blowout, and only added fuel to the quarterback controversy fire against Kyle Bolin (11-17, 140 yards, 1 TD). The Scarlet Knights now head to Lincoln, where they're taking on a team that has likewise lost to a directional mid-major school at home (the Cornhuskers lost to Northern Illinois on Saturday, while Rutgers lost to Eastern Michigan two weeks ago). If Bollin struggles again in the Big Ten opener, expect fans to call on Lewis quickly.
Geoff Magliocchetti is on Twitter @GeoffMags5490.