Recent history suggests the New York Rangers need Ondrej Pavelec to have a big season in his first year as Henrik Lundqvist's backup.
I
n the
New York Rangers
' dynamic, roster-altering offseason, it was easy to overlook the addition of veteran Ondrej Pavelec as a minor move, a necessary pickup after the departure of Henrik Lundqvist's backup
Antti Raanta
in the blockbuster
Derek Stepan
trade with Arizona.
Amid the stunning departure of Stepan and the breathtaking addition of Kevin Shattenkirk, though, fans would do well to realize that the past few Rangers seasons suggest that Pavelec will play a critical role in the team's fortunes for 2017-18.
The last two Rangers backup netminders have proved to be the envy of the league, with Cam Talbot and then Raanta eventually moving on to bigger opportunities after turning in excellent performances over the past three seasons.
So good, in fact, that it was pretty clear the Blueshirts would have been in trouble without them.
The starkest example was 2014-15 when Lundqvist got off to a slow start that at times has been characteristic of his career, allowing four or more goals six times through Dec. 1. He then missed nearly two months after suffering a scary injury to a blood vessel in his neck Jan. 31 against Carolina.
Though he did eventually get healthy and on track, working his goals-against average down to 2.25 for the season, the King ended up playing only 46 games.
Luckily for the Rangers, Talbot proved to be the savior, going 21-9-4 with a 2.21 GAA and five shutouts in 36 games. The Blueshirts went on to win the Presidents' Trophy with the best record in the league and reached the seventh game of the Eastern Conference finals.
The season prior to that, Talbot posted a 12-6-1 mark with three shutouts and a 1.64 GAA in 21 games as the Rangers advanced the Stanley Cup finals. Lundqvist struggled in the first half, giving up four or more goals five times in his first seven games and failing to find his superstar form right through the end of the calendar year, a situation that culminated with Talbot making three consecutive starts in place of a healthy Lundqvist in late December and sparking talk of a goalie controversy.
Lundqvist, of course, pulled himself together for the Cup run after Talbot's strong early play gave him breathing room to find himself.
The last two seasons have been Raanta's turn, with the Rangers dealing Talbot to Edmonton for draft picks after 2014-15 in an attempt to maximize his value. The Rangers went on to fleece the Blackhawks in a trade for Raanta that offseason, as the team was able to maintain the outstanding depth in goal it had enjoyed with Talbot.
Raanta went 11-6-2 with a 2.24 GAA and one shutout in 2015-16 and turned in a Talbot-like effort last season, posting a 16-8-2 record, 2.26 GAA and four shutouts. He was outstanding in his first 12 games, giving up two or fewer goals 11 times and posting back-to-back shutouts Dec. 9 and 11, again sparking (generally absurd) talk among the faithful about which goalie should handle No. 1 duties.
Lundqvist, meanwhile, struggled through one of his worst seasons, posting a 2.74 GAA — highest of his career — in 57 games.
See a pattern here?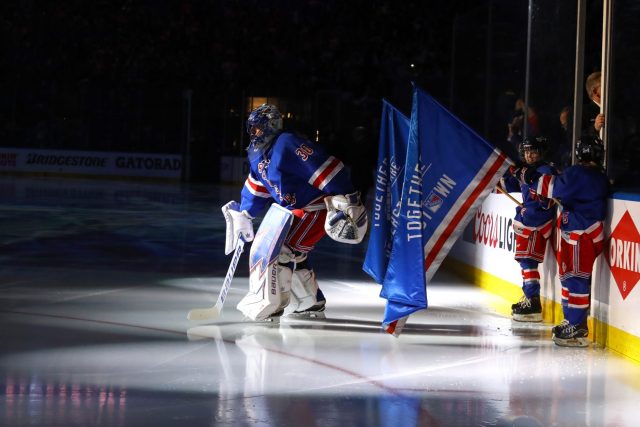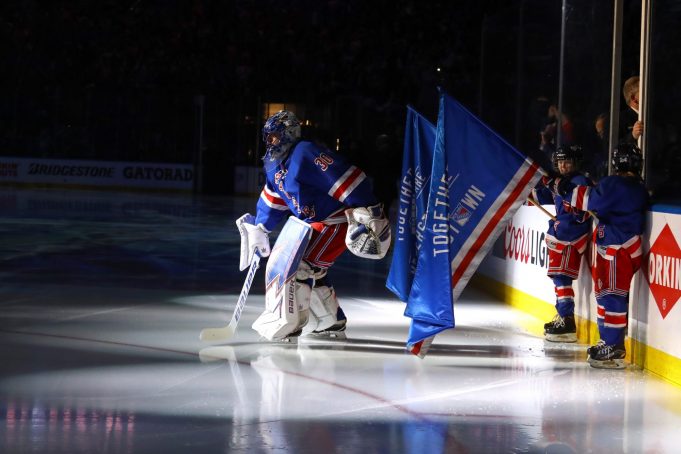 Even in his prime, Lundqvist occasionally needed time to get in rhythm during the season. Now, at age 35, it's quite possible the best days of a brilliant career are in the rearview mirror.
That only adds to Pavelec's importance — and the pressure he faces.
Talbot has proved to be a steal for the Oilers, who didn't give up high picks for him in acquiring an apparent franchise goalie. Talbot went 42-22-8 with a 2.39 GAA and seven shutouts for a rising young Edmonton squad last season.
The same seems possible for the 28-year-old Raanta, who in his four NHL seasons has gone 47-23-9 with a 2.32 GAA and eight shutouts in a backup role and could seize the No. 1 job with the Coyotes.
In Pavelec's case, the Rangers might not have another franchise goalie-in-waiting that's about to break out.
Though only 29, Pavelec is considerably more experienced than Talbot or Raanta was with the Rangers, as he's heading into his 11th season after playing the first 10 with the Atlanta-Winnipeg franchise. The 41st overall pick by the Thrashers in 2005 has played in 379 games and posted a 152-158-42 record with a 2.87 GAA. After leading the league in goals allowed for three straight seasons, he rebounded with a strong performance in 2014-15, but the past two seasons have yielded more of the same mediocre results.
That's not to say a change of scenery from a middling Jets club won't do wonders for the 6-foot-3, 215-pounder. The Rangers liked his size in signing him to a one-year contract to back up Lundqvist in the offseason, as well as enhanced statistics that show Pavelec could prove to be a strong addition. He's been mostly solid in 5-on-5 play in his career, with his GAA and save percentage suffering from Winnipeg being among the most short-handed teams over the past six seasons.
Still, Pavelec was waived by the Jets in October before sent down to the AHL, having fallen behind rookie Connor Hallebuyck. He played in only eight games after being recalled in January, recording a 3.55 GAA.
The Rangers have to be hoping that those enhanced stats tell a different story for Pavelec and that he can repeat recent history for his new team by delivering an eye-opening effort in a backup role. Lundqvist's recent history of early struggles — and his advancing age — suggest the Blueshirts may need yet another such performance more than ever.