Before the New York Knicks pick eighth on Thursday in the 2017 NBA Draft, we selected their top prospects on the big board.
T
he past few days in the NBA have been wild. The No. 1 overall pick is in different hands,
Paul George
's departure from Indiana is imminent, everybody wants
Jimmy Butler
, and the Cavs are shaking up their front office after three straight NBA Finals appearances. You might notice that the New York Knicks are happily absent from the major league drama.
After all the carnage surrounding Phil Jackson's comments about Carmelo Anthony and Kristaps Porzingis' feelings about the franchise, the last few days feel like a pleasure cruise for the Knicks. They've been able to focus on the upcoming draft in peace.
So, that's what we're going to look at. The 2017 NBA Draft. More precisely the Knicks big board. New York won't be in a position to select any of the elite prospects on Thursday night, but that doesn't mean they won't be able to get a good player.
This draft is one of the best in recent years for the depth from top to bottom. New York will have a chance to snag a good player with each of their three picks. In this big board, we look at the top prospects the Knicks should target.
We're not going to get crazy. Knicks fans who are still living in the fantasy world where Lonzo Ball falls to them need to get over it. Ball isn't on this list. This is a realistic big board of the top Knicks prospects for the 2017 NBA Draft.
---
The Knicks are committed to the triangle offense *pause for laughter* and Phil Jackson is more engaged now than he ever has been with the team. The fact that their draft workouts were entirely based on the system was a pretty good indication, Jackson wasn't screwing around. Finding a point guard who can fit the Zen Master's vision is step one.
Ntilikina is the only player in the draft who can be that guy. Yes, he's a teenager, but he's a pass-first guard who's big (6-foot-5) with a rumored 7-foot wingspan. The most valuable facet of Frank's game right now is his defense.
In France, he's one of the best defenders in the league. He averaged 1.5 steals per 36 minutes in 2016-17. Against NBA competition it may take a little getting used to, but De'Aaron Fox won't be on the board at eight.
Yes, this dude barely even played. In 32 games with his squad, he averaged just 18.3 minutes per game. International competition, right? It's just so damn hard to evaluate. The Knicks are supposed to take this kid with a top-ten pick, but he put up 10.2 points and 2.7 assists per 36 minutes in 2016-17.
Since Jackson took over the Knicks, they've had a predilection for international players. There's Porzingis, Willy Hernangomez, Mindaugas Kuzminskas, and Phil Jackson favorite Sasha Vujacic.
According to Frank Isola of The New York Daily News, Ntilikina is New York's guy. However, this was before ESPN's Chad Ford sais that Frank preferred to go to Dallas than to New York.
It's hard to gauge a prospect based off what you see on Youtube, but the Knicks have seen more of Ntilikina than anybody else. If he's there at eight, Phil's taking him. Sorry, Marc Cuban.
---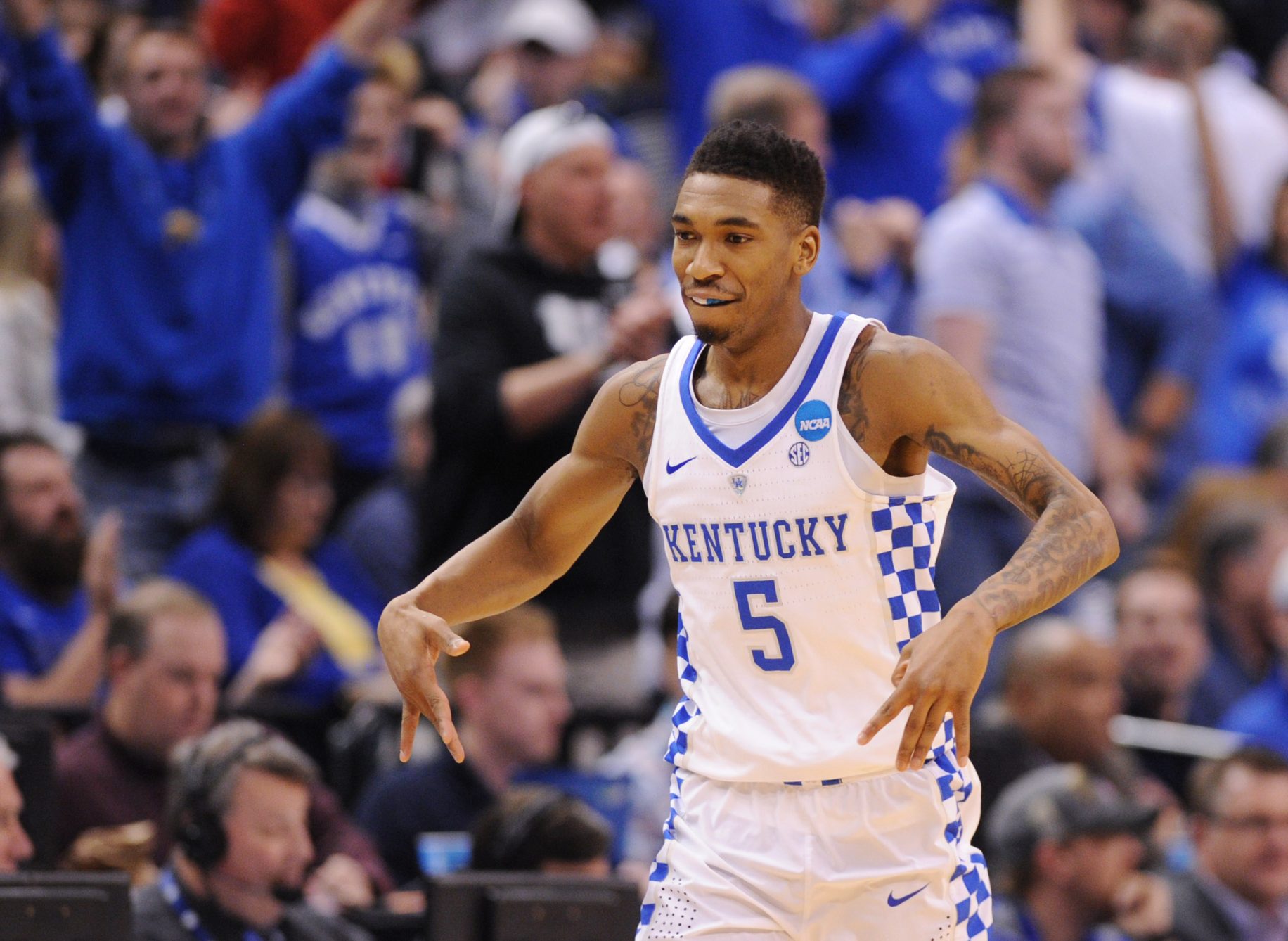 2. Malik Monk, G, Kentucky Wildcats
Malik Monk is the most explosive scorer in the draft. John Calipari said his former player would make a great fit in the Big Apple, and for once Cal's not full of it. Most fans want Monk first on the Knicks board. Unfortunately for them, it just doesn't work that way.
Some see him as overrated because he played at Kentucky, while others say he has superstar potential. The Knicks are in the latter camp. Jackson and his staff had Monk in for a workout, after which the enigmatic guard praised the triangle.
Take that for what it's worth. While there's been talk that Monk could develop into a point guard at some point, right now he's a high volume shooting NBA two. Opinions vary on him.
Per hoop-math, 72.6 percent of his FGA were either two-point jumpers or his fault Monk still managed to have an extremely high success rate. He made 40 percent of his three-point attempts at Kentucky which led to him averaging 19.8 points per game.
The 19-year-old was named Consensus second-team All-American and SEC Player of the Year. He helped the Wildcats to the Elite 8 before they were knocked out by the eventual National Champion North Carolina.
His defense is the only concern. Scouts and other experts are paying attention to his short wingspan and saying he'll have trouble guarding opposing shooting guards. They may not be wrong.
Monk's been compared to former Madison Square Garden Jamal Crawford. If New York can get a three-time Sixth Man of the Year Award winner who brings that type of electricity to the building, New York will take it.
---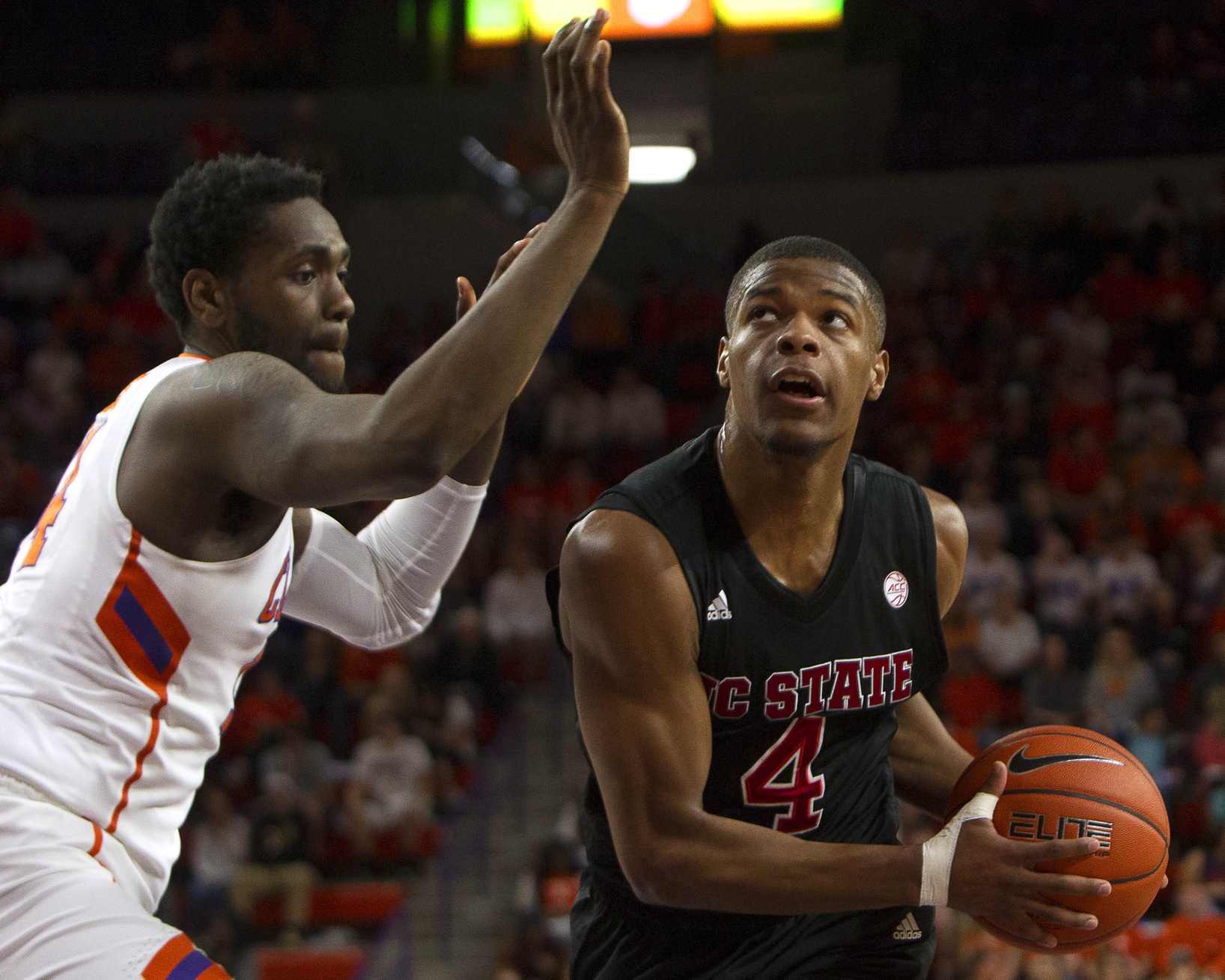 You've heard all the buzz about Dennis Smith Jr. The experts say that in any other year Smith would have been a top-five pick. He was the No. 1 overall point guard recruit coming out of high school and the favorite preseason to be the No. 1 pick in the 2017 NBA Draft.
Believe it or not, there was a time when Smith was viewed as ahead of Markelle Fultz, Lonzo Ball, and De'Aaron Fox. Before any of them played a minute of a college game.
Smith was supposed to bring the North Carolina State Wolfpack back to legitimacy after a sub-.500 season in '15-'16. Instead, his team stunk again, and head coach Mark Gottfried was fired.
The 19-year-old is explosive on the fast break and phenomenal driving it to the rim. He could replace Derrick Rose's value in that area.
However, with the triangle offense forcing Smith to stop in the halfcourt it's like unloading a weapon. He doesn't make sense for Jackson and therefore likely won't be the Zen Master's next point guard.
Smith is getting the Markelle Fultz treatment. He played for a bad team so that must mean something about his character. It's not fair, but it's also the risk Smith took when he went to a struggling program instead of Duke or Kentucky.
---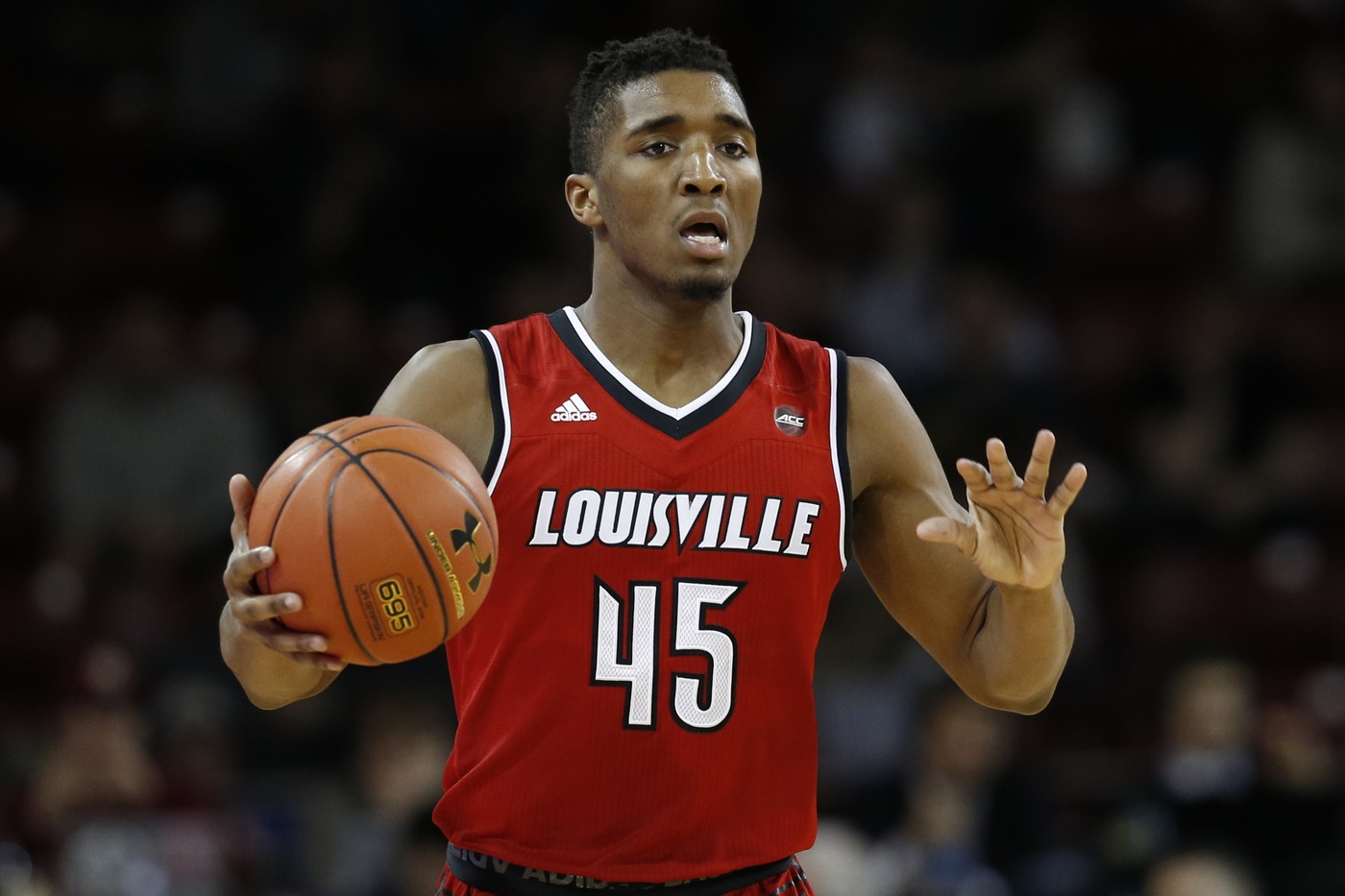 Every NBA Draft has a workout warrior. There's always a guy who stars at the combine and boosts his stock with incredible measurements. This year it was Louisville's combo guard Donovan Mitchell.
Mitchell logged the best standing vertical leap and three-quarter sprint and finished fifth in the max vertical leap (via NBA.com). He measured at just 6-foot-3 in shoes, but his incredible 6'10" wingspan was the talk of the town.
The Knicks are set to work out Mitchell on Tuesday and get a better idea of where they stand with him. Mitchell seems like an appropriate target for the rumored second first-round pick New York is looking to acquire via trade.
Mitchell played off the ball while at Louisville, but some teams view him as being able to move to the point guard spot at some point. That narrative was helped along by Rick Pitino saying it could happen.
Mitchell improved tremendously from his freshman to sophomore seasons and became one of the best players in the ACC. It's always good to draft players who are on an upswing.
Phil Jackson wouldn't shut up about the offense during his end of the season press conference, but where the Knicks really need help is on defense. Courtney Lee could use a young guy to help him on the perimeter.
He didn't have that last season, and if Mitchell can give them any scoring to go along with the defense we all know he's capable of he'd be a steal at a spot like 15.
---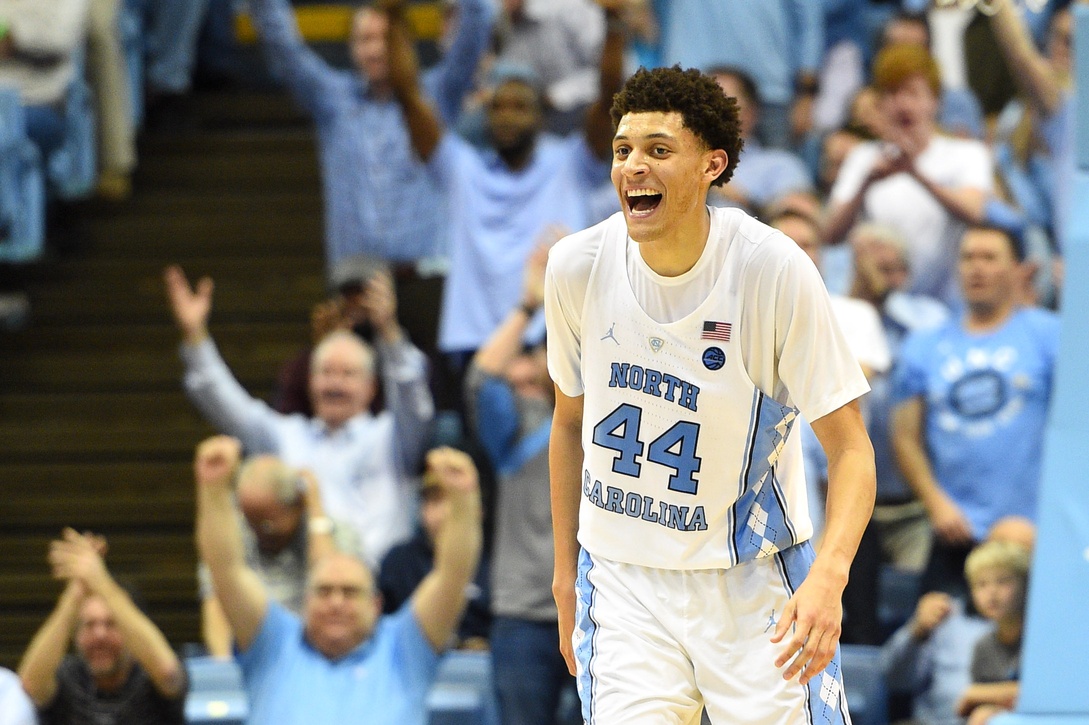 5. Justin Jackson, SF, North Carolina Tar Heels
The Knicks have been high on Justin Jackson for months. After his workout for the team last week the veteran said it was "kind of easy" for him to pick up the triangle offense. Those are the kind of prospects the Knicks will need.
They won't be taking a lot of raw players this year. It's going to be battle-tested veterans like Jackson who've done things like win ACC POY and a National Championship. That will intrigue the Knicks.
Jackson was smart enough to pass on the draft after last season and come back to school for another year. Now he'll be a lottery pick after dramatically improving his three-point shot and winning the title.
The 22-year-old fits the mold of the modern 3-and-D player. Even if he's a career reserve he can come off the bench and give a team 20 good minutes.
There are concerns about his thin frame and his age, but as previously stated the Knicks are looking for veterans and they can always put him in the gym.