As the expansion draft looms on the horizon the Las Vegas Golden Knights may acquire a large contract from the New York Rangers.
O
ne thing is certain with the upcoming NHL Expansion Draft: the process will be complicated.
Unlike a fantasy draft in EA Sports famed NHL 17, there will be salary cap considerations, tough decisions on the youth versus veteran spectrum, and certainly many many hours of backroom negotiating and dealing.
"There will be some deals." –McPhee

— Vegas Golden Knights (@GoldenKnights) June 3, 2017
The Las Vegas Knights and GM George McPhee have a tough task ahead of them. They must construct a "win now" team from a selected list of players set by all 30 NHL franchises. The gut reaction may be to stock up on the youngest talent available and grow from within the organization. The key ingredient to that recipe is time. Something the NHL and Las Vegas do not want to invest in.
Further complicating things is the NHL Salary floor. Wait, seriously? The floor?
In a league where almost all teams are bogged down with long term, large money deals and worrying about the salary cap, the Golden Knights are concerned with not paying enough money. The NHL salary floor in the 2016-17 season was $54 Million, and likely to slightly increase this upcoming season.
This leaves the Vegas organization in an interesting dilemma. They must now find a way to build from the youth while also incorporating the perfect big money veteran players who can clog up their money. The organization has already publicly committed to this approach as the most viable option.
"We have a lot of teams that are offering us big contracts…we'll take a few of those, for the right price." –McPhee

— Vegas Golden Knights (@GoldenKnights) June 3, 2017
The New York Rangers are the perfect fit here. They have multiple veteran players with large deals who Vegas should be taking a good look at.
Before exploring these players one thing has to be made clear. Many of these players have no trade or no movement clauses. Meaning that they must be protected in the expansion draft and can not be traded unless they are willing to be moved to Las Vegas. The first task of Jeff Gorton and the New York Rangers will be getting a veteran player to accept moving out west. From there, the right deal has to be made.
The first task of Jeff Gorton and the New York Rangers will be getting a veteran player to accept moving out west. From there, the right deal has to be made.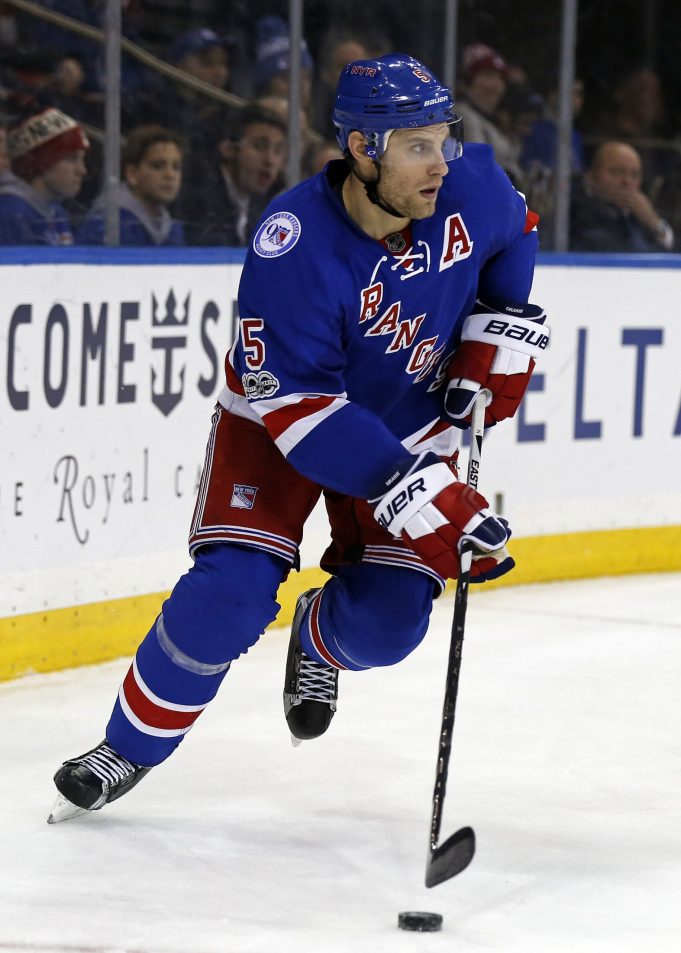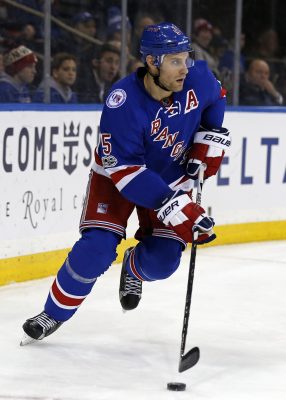 We can talk about dumping Dan Girardi until the cows come home. Look, the guys level of play has decreased to nearly half of when he signed his big deal. The fact of the matter is we still owe Girardi 3 years at $5.5 million per year. The buyout option is a viable one which would result in a cap hit of $2.611 million, $3.611 million and $3.611 for the first three years respectively and then $1.11 million for the remaining three years of the buyout. A heavy cost to pay for a team with struggling salary cap issues.
The good news is that Girardi's full no-movement clause changes to a modified no movement clause on Jul. 1, 2017. This allows Girardi and his agent to select 15 teams that he can not be traded to. If Las Vegas is left off that list Girardi could be a steady option for a bottom line defenseman or even a 7th defenseman in Sin City. The option to trade Girardi is much more economical and a better long term solution.
Many of the same concepts discussed about Dan Girardi also apply to Marc Staal. His defensive game has dwindled in the last few season and he can no longer be relied on to carry big minutes. The Blueshirts owe Staal $5.7 million for the next 4 years. A price tag way to expensive if they intend to restock the blueline.
The buyout option on Staal is much more daunting than of Girardi. The Rangers would be paying a cap hit for the next eight seasons with cap hits ranging from $1.433 million to $3.933 million.
The main difference in the Girardi and Staal contract is that Staal has a no movement clause throughout his entire deal. Moving Staal would require him to agree to be moved, which is unlikely to happen. While a Staal trade would be great and solve some of the Rangers defensive problems it seems unlikely.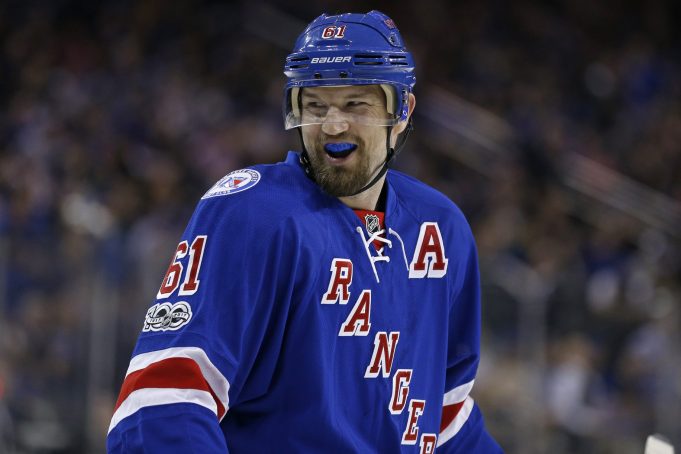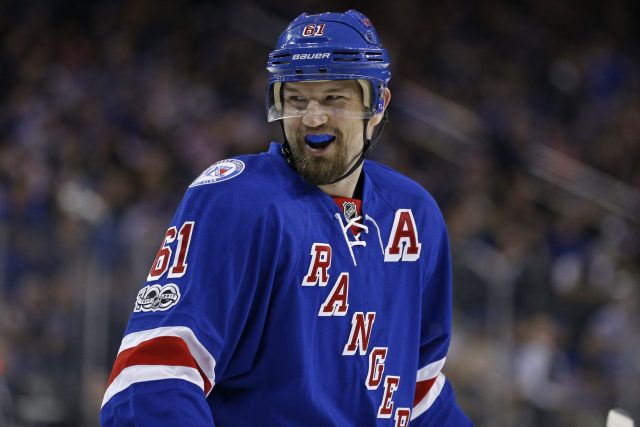 The talent, offensive potential, and veteran presence that Rick Nash can provide a team is invaluable. There is no question Nash has lost some of his sniper mentality and crash the net prowess. Yet he still provides an above average offensive threat and can help a team in all aspects of the game including special teams (OK fine, mostly on the PK, not PP).
If the Golden Knights are serious about picking up some salary cap and want a good return on their money Rick Nash might be the answer. His contract has 1 year remaining at $7.8 million. Nash also has a modified no-movement clause where he is able to select 12 teams in which he could be traded to. If Vegas makes that list look for them to at least explore the options of adding Nash to the roster.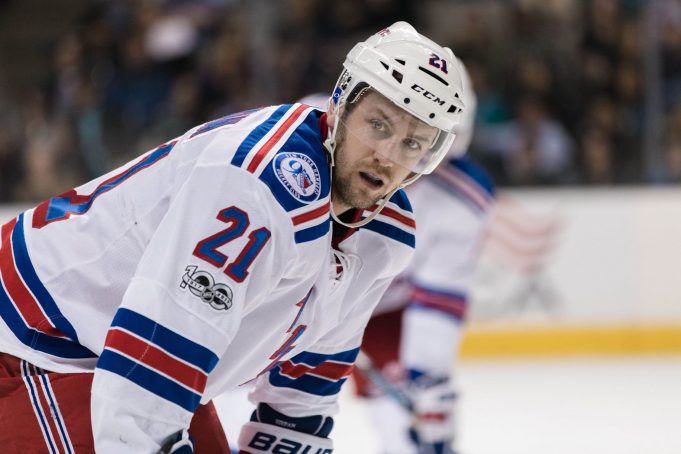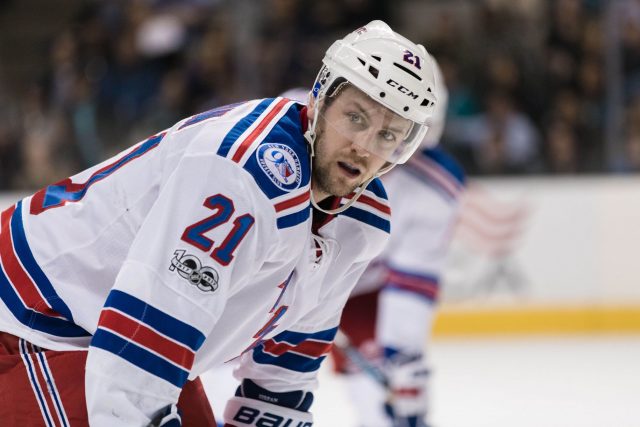 These two guys are being grouped together because they are a little bit farfetched. It seems that Derek Stepan has plateaued in his abilities but still has four years remaining on his deal worth $6.5 million per. The more interesting aspect is that Stepan does not have a no-movement clause until Jul. 1, 2017. The time to move Stepan is now before he becomes an absolute anchor who eats away at our cap a la Girardi and Staal.
The Henrik Lundqvist dilemma is not based totally on his performance. Yes, he had a roller coaster regular season. Yes, he was able to find his form in the playoffs. Henrik's performance during the remaining four seasons of his $8.5 million a year deal will remain a mystery and the likelihood of injury will only increase with age. It's unlikely that Rangers will be able to move Henrik due to his no-move clause, but the time would be now when he still has some potential in the tank. NHL teams do not  need superstar goalies to win Stanley Cups. Just look at the Penguins.
NHL Expansion Draft
The Las Vegas Golden Knights expansion draft will take place on Jun. 21 and will be televised, presumably on NBS Sports. The event should be bittersweet. Excitement for the franchise to begin their season on one hand and frustration or sadness felt by players lost from the other 30 franchises.
Regardless of the outcome, this is an exciting time for the NHL and all my bets are on Vegas to have a good opening season.