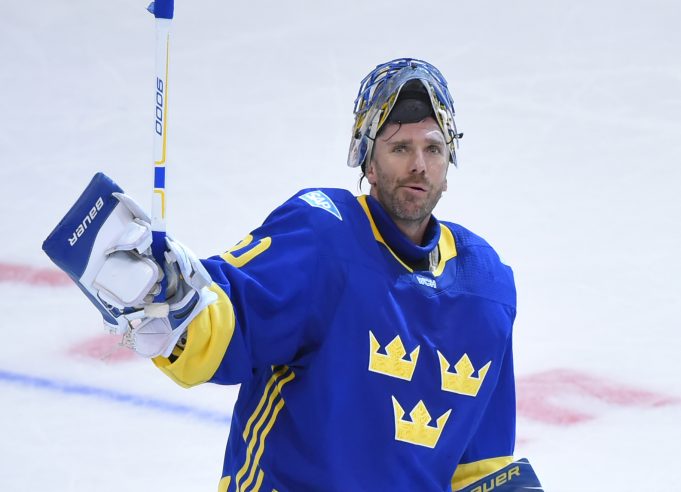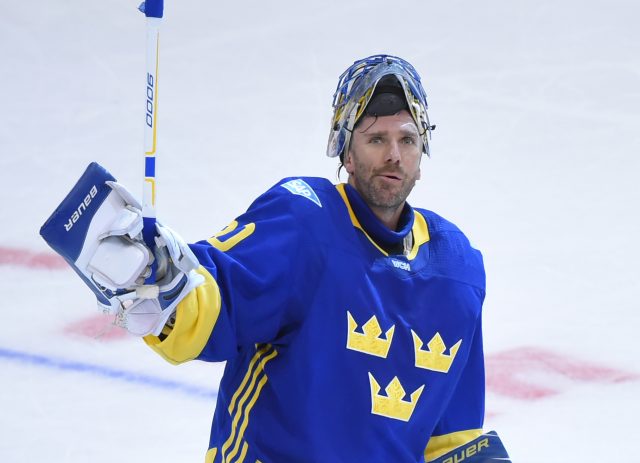 Team Sweden and Henrik Lundqvist capture the Gold Medal, defeating Canada in a shootout (sigh) as the IIHF tournament rules strike again.
Well, IIHF, you've struck again, robbing the hockey world of a proper ending to a tournament hockey game. But I digress, and Team Sweden and New York Rangers' Oscar Lindberg and Henrik Lundqvist are able to take home gold medals after defeating Team Canada in a shootout.
Henrik was his usual self, stopping 42(!) shots and all of Canada's shootout attempts to lead the team to victory. Tampa Bay's Victor Hedman scored in regulation for Sweden on a leaky backhander that found its way through the legs of Colorado's Calvin Pickard. Ryan O'Reilly of the Buffalo Sabres was able to tie the game later on a power play rebound that just trickled past Lundqvist.
Later in the shootout, Washington's Nicklas Backstrom and Arizona's  Oliver Ekman-Larsson scored while Lundqvist was able to stop Nate Mackinnon, Brayden Point, Ryan O'Reilly and Mitch Marner. Lundqvist, from all reports, look refreshed and ready to go from the start, stopping a barrage of Canadian attempts.
Team Canada, filled with many more NHL roster players was clearly the better team, however, Hank's solid play and tough team defense were all Sweden needed to take home gold. Hank was also able to share this great moment with his brother, someone who he had played with his entire career with before the NHL. Joel Lundqvist was the fourth line center for the team, as well as the team captain.
ICYMI: Henrik Lundqvist @HLundqvist30 stops Canada's @Marner93, and Sweden wins gold in shootout. #IIHFWorlds @Trekronorse pic.twitter.com/wbQ8fcoVCg

— IIHF (@IIHFHockey) May 21, 2017
In other news, Oscar Lindberg played most of the tournament in Sweden's top six forward unit. He was skating alongside Nicklas Backstrom and one of the tournament's most explosive forwards William Nylander on the wings. Lindberg recorded two assists in five games played. A nice step in the right direction for Lindberg, who looks to become more of a factor in the Rangers offense next season.
Some, including Larry Brooks of the New York Post, feel that Lindberg could be ready to center one of the top three scoring lines. I'm not sure I see that yet.
https://twitter.com/NHLDaily365/status/866426595359248384
Congratulations to #NYR @HLundqvist30 and Oscar Lindberg on winning the Gold Medal at the #IIHFWorlds!! ??????

— New York Rangers (@NYRangers) May 21, 2017
WATCH: Henrik Lundqvist once again proves why he's called "The King." #IIHFWorlds @trekronorse pic.twitter.com/BGTApqOJCa

— IIHF (@IIHFHockey) May 21, 2017
#NYR @HLundqvist30 named Player of the Game for Sweden after making 42 saves and stopping all four in the shootout to capture Gold! pic.twitter.com/HHodqjBrEi

— New York Rangers (@NYRangers) May 21, 2017
Also, it looks like Lundqvist may start next year on the IR, after taking a vicious tackle from Willy Nylander (I kid, I kid).
William Nylander body slams Henrik Lundqvist. There's no room for violence like this in hockey. pic.twitter.com/MPOC1rAoch

— Ryan Gobirds (@RGilbertSOP) May 21, 2017