Now that the top six forwards are complete, we take a look and grade out the New York Rangers bottom six forwards.
Position: Right Wing
Cap Hit: $1.65 million
Length: Set to Expire End of 17-18 season
Regular Season: 76 GP 27 G 13 A 40 Pts
Playoffs: 12 GP 4 G 2 A 6 Pts
G
rabs proved to be a fantastic signing at what turned out to be an absurdly low price for the
New York Rangers
, delivering much more than even general manager Jeff Gorton could have hoped for.
In his first season on Broadway, Grabner and his all-world speed accomplished a number of objectives his new team figured it would: Providing the Rangers with a top penalty-killing presence and threat to deliver short-handed goals; helping to revitalize center Kevin Hayes, whose play took a dip last season after the departure of blazing linemate Carl Hagelin following the 2014-15 season in a trade the Rangers regretted; and helping them regain a good measure of the high-octane speed identity they had to a large degree lost by the end of the 2015-16 season.
What no one could have expected was Grabner scoring 27 goals after totaling 29 over the previous three seasons. That number might have been noticeably higher had he been able to finish off more of his numerous breakaways — a minor complaint. He closely approximated the role played by Hagelin, one that the Rangers have learned the hard way is vital to their success.
However, there seems little chance the club will be able to protect him in the expansion draft, and team brass will likely have to cross their fingers and hope the Vegas Golden Knights aren't interested.
Grade: A-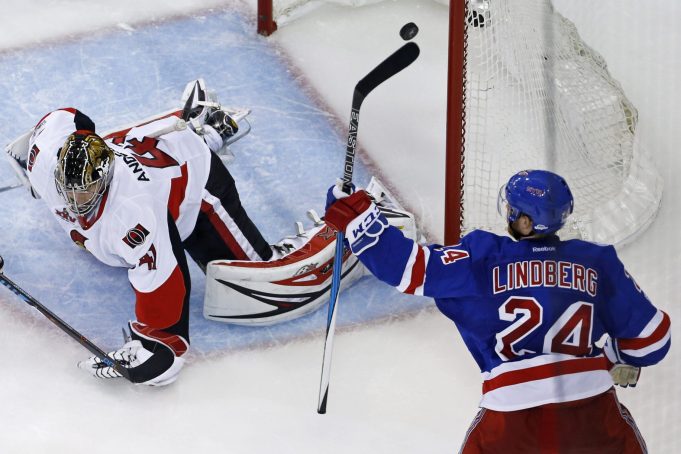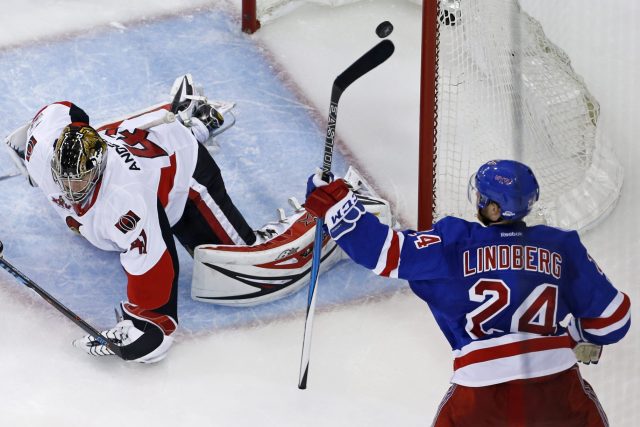 Position: Center
Cap Hit: $650,000
Length: Contract Expired, Eligible RFA
Regular Season: 65 GP 8 G 12 A 20 Pts
Playoffs: 12 GP 3 G 1 A 4 Pts
Lindberg's postseason performance could end up being a bittersweet one for team officials, as the 25-year-old was the Rangers' best center during the tournament and continued to emerge as the top-end two-way player the club envisioned.
He scored big goals and helped lock down some of Montreal's and Ottawa's top forward units. Lindberg's rise came after he began the season as a reserve player before taking over fourth-line center duties from Brandon Pirri and becoming a progressively bigger fixture in the lineup with each game.
Lindberg flashed elite puck skills and the promise of becoming a perennially productive offensive player, which was increasingly apparent as he earned more ice time, to go with his excellent defensive game. He's another forward the Rangers probably won't be able to protect in the expansion draft, and the team might have to cut a deal with Vegas if it wants to avoid losing this high-ceiling player (the Rangers may need to sign him and Jesper Fast before the draft in order to provide Vegas with signed forwards that can be selected).
A Lindberg departure for the desert could turn out to be the most damaging one amongst the Rangers' expansion-draft eligible players.
Grade: B+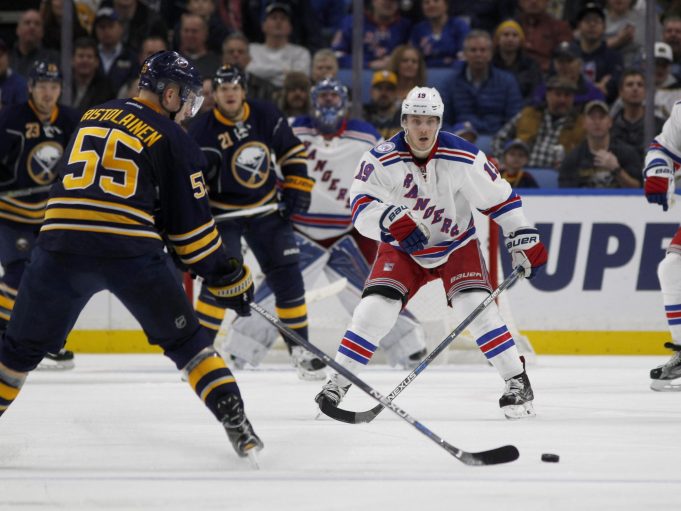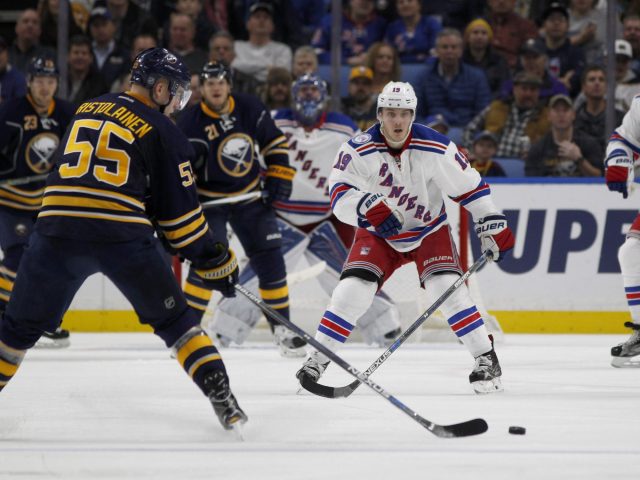 #19 Jesper Fast
Position: Right Wing
Cap Hit: $950,000
Length: Contract Expired, Eligible RFA
Regular Season: 68 GP 6 G 15 A 21 Pts
Playoffs: 12 GP 3 G 3 A 6 Pts
This do-everything forward was a prime pillar of the Rangers' exceptional depth this season. The elusive, fundamentally sound player nicknamed "Quickie" is a favorite of coach Alain Vigneault for many reasons. A first-unit penalty killer and consistent matchup forward against opponents' top lines, Fast can also score and consistently does good things when on the ice. He delivered a strong playoff performance that included a plus-4 rating after notching a plus-6 during the regular season.
He's not flashy but has been a perfect fit doing the little things for this skill-heavy team. Another prime target for the Golden Knights in the expansion draft, Fast is the kind of glue guy who won't be fully appreciated until he's gone (see Hagelin).
Grade: B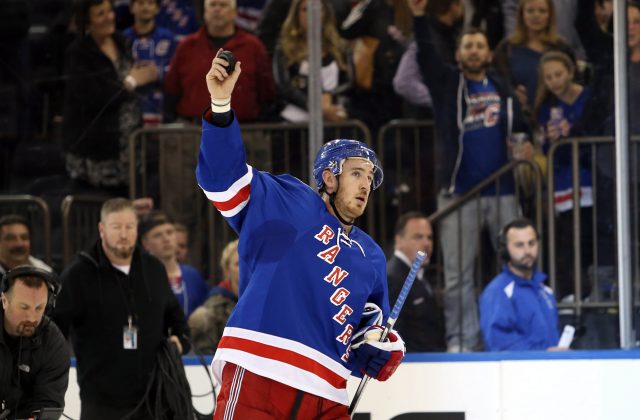 Kevin Hayes
Position: Center
Cap Hit: $2.6 million
Length: Set to Expire End of 17-18 season
Regular Season: 76 GP 17 G 32 A 49 Pts
Playoffs: 12 GP 0 G 3 A
Regular Season: The big guy bounced back from a disconcerting second season in which his effectiveness dipped by pleasing teammates and management with an emergent all-around game in 2016-17, posting a career-best point total.
Hayes' very promising rookie season was overshadowed in 2015-16 by signs that he was one-dimensional and extremely impressed with that dimension. His regular presence on social media detailing his workouts last offseason proved prophetic, however, as Hayes worked hard on his deficiencies and brought an increased maturity as well. Vastly improved work at the faceoff dot — he won more than 45 percent of his draws after winning about 36 percent in each of his first two seasons — and a clear sense of responsibility to his teammates led to Vigneault employing him consistently on defensive-zone starts and the penalty kill. Those scenarios would have been all but unthinkable the previous season.
The Rangers are counting on that upward trend continuing for Hayes, as the team viewed the 2014 inking of the former first-round pick by Chicago who wouldn't sign as a coup. His play dipped in the playoffs and he didn't score for a second straight postseason, but that blip aside, the Rangers saw signs of the big pivot with elite stick handling skills take a major leap forward in his third season. Hayes, who also benefited from the addition of Grabner as his linemate after he thrived with the speedy Hagelin on his flank as a rookie, is seen a future cornerstone and showed promise that he might be headed that way last season.
Grade: B+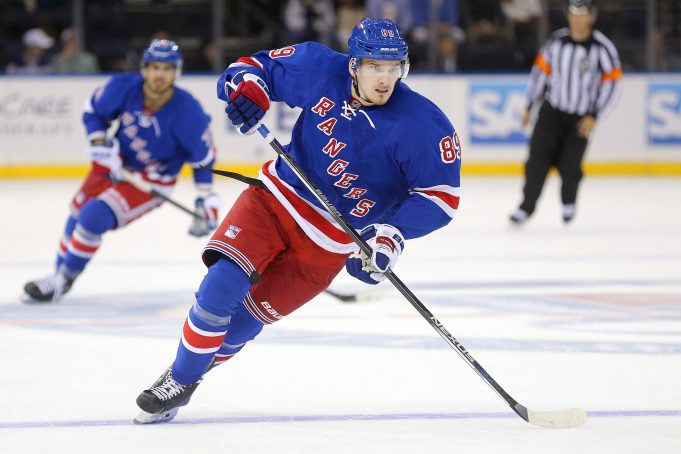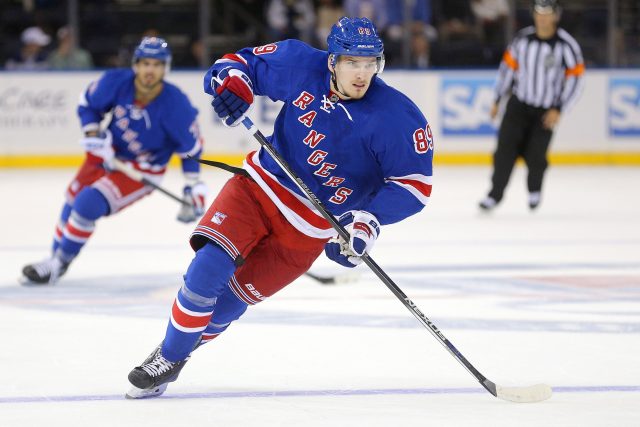 Position: Right Wing
Cap Hit: $925,000
Length: Set to Expire End of 18-19 season
Regular Season: 41 GP 8 G 12 A 20 Pts
Playoffs: 5 GP 0 G 1 A 1 Pt
The Russian's first NHL season was a lot of "going through the process," as Vigneault is fond of saying to describe young players learning how to survive at the highest level of hockey. Buchnevich made the team with a strong training camp and began the season on a line with Chris Kreider and Mika Zibanejad, recording four goals and four assists in his first 10 games. Core muscle issues kept him out for the next two months, though, and after totaling two goals and four assists in his first four games back, he slumped and was in and out of the lineup – a trend that continued in his first taste of the playoffs. The Rangers, though, probably didn't expect much more from Buchnevich, who began the season at 21 years old as he attempted to make the leap from the KHL.
The club has high hopes for the 2013 third-round draft pick, envisioning a future top-six forward who employs his excellent vision and passing to lift the players around him. Buchnevich proved unafraid in the corners and in front of the net, even earning some time at the point on the power play. The Rangers aren't expecting a quantum leap in 2017-18, but they're excited about a player who perfectly fits Vigneault's philosophy going into his second season.
Grade: B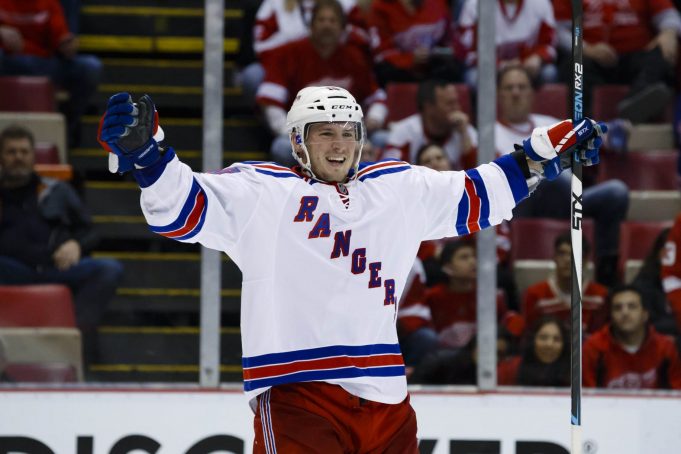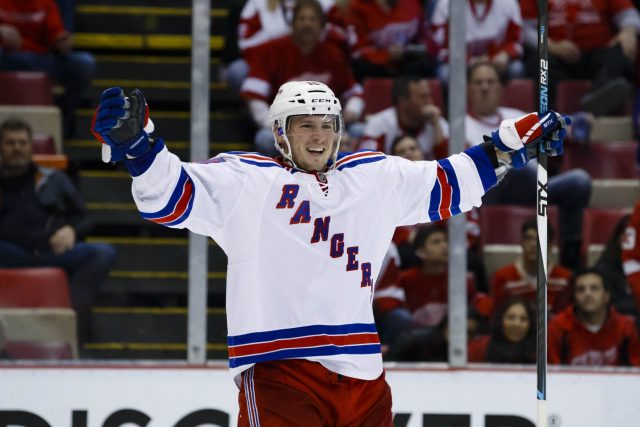 Position: Left Wing
Cap Hit: $2.75 million
Length: Set to Expire End of 17-18 season
Regular Season: 82 GP 22 G 34 A 56 Pts
Playoffs: 12 GP 0 G 3 A 3 Pts
Miller's 56 points were second on the team and the most of his career, and he played in all 82 games for the second straight season. The fast and powerful winger was among the team's best forwards in the early going with seven goals and 10 assists in his first 17 games. Miller's impeccable passing, speed and physicality again reminded the Rangers of why they drafted him 15th overall in 2011 – but also familiar to the club were his bouts of inconsistency, which reared their head again last season. With four goals in his last 22 games, along with familiar defensive lapses and poor judgments with the puck sprinkled in, Miller remains an enigma that the Rangers aren't sure will ever develop into a star.
The combination of Miller, Hayes and Grabner was often the team's best line during the season. That unit was broken up in the playoffs, though, and Miller's failure to score a goal while delivering just three assists in the postseason closed his 2015-16 on a sour note. He has managed an almost unbelievable one goal in 40 career playoff games. Set to be a restricted free agent after next season and just 24 following his third full season, it's possible Miller could be the prime asset in a trade as the Rangers look to rebuild a creaking defense corps. They could just as easily decide to commit to him long-term. Miller's status should prove to be one of the biggest issues of the offseason.
Grade: B-