School's out and it's time for report cards. In this edition, ESNY will take a look at the Rangers top six forwards this season, their future outlook with the club, plus a grade on both their regular season and postseason play. 
Position: Left Wing
Cap Hit: $4.625 Million
Length: Set to Expire End of 19-20 Season
16-17 Regular Season: 75GP 28G 25A 53 Pts
16-17 Playoffs: 12GP 3G 1A 4 Pts
K
reids took a big step this year in the regular season for the Rangers, oftentimes, flashing that goal scoring power forward the Rangers hoped he'd be when they drafted him. For me, Kreider is still leaving something on the table and I still think he's learning the game, but the regular season was definitely a success for him taking a nice step.
Size cannot be taught and pairing that with a lethal shot and a bit of a mean streak makes Kreider seriously desirable. Kreids needs to take another step in controlling the puck below the goal line and being tougher with the puck in the tougher areas of the ice but that's something he can definitely improve on. Something that also needs to be improved on is his consistency.
When Kreider is moving, he's noticeable. Very noticeable. But oftentimes he loses sight of his power forward role and tries to be a perimeter player, and that's when he disappears. The playoffs were a disappointment for Kreider for sure. He didn't score any timely goals and completely disappeared through some stretches. It wasn't until the back end of Game 6 in the Ottawa series I felt he finally the player we saw in the Regular Season.
Now we don't know if he was nursing an injury or what, but his disappointing playoffs definitely felt like he left something on the table. However, I do feel Kreider can continue to develop and should be a part of the core moving forward for the Rangers. Look for him to top the 30 goal mark next season and fall into the 60-65 point range.
Grade: B-
Position: Right Wing
Cap Hit: $7.8 Million Modified NTC and NMC
Length: Set to Expire end of 17-18 Season
16-17 Regular Season: 67 GP 23G 15A 38 Pts
16-17 Playoffs: 12 GP 3G 2A 5 Pts
Rick Nash has posted back-to-back seasons in which he failed to reach his point total from his previous career low in points, his rookie season. Whether it be from concussions or other injuries, Nash's play has dipped considerably since his days in Columbus when he was always a 30-goal scoring threat.
He's now 32 and one would guess his play is only going to continue to go down. Rick Nash is not only counted on to score, but he's a well-respected voice in the locker room, a penalty killer and someone who doesn't seem to ever complain or voice disappointment over coaching decisions, lineups or anything of that nature. While I thought he tried very hard in the playoffs, he is certainly not living up to the contract he is currently signed on for, which in turn makes him an easy target as a scapegoat for the Rangers' troubles.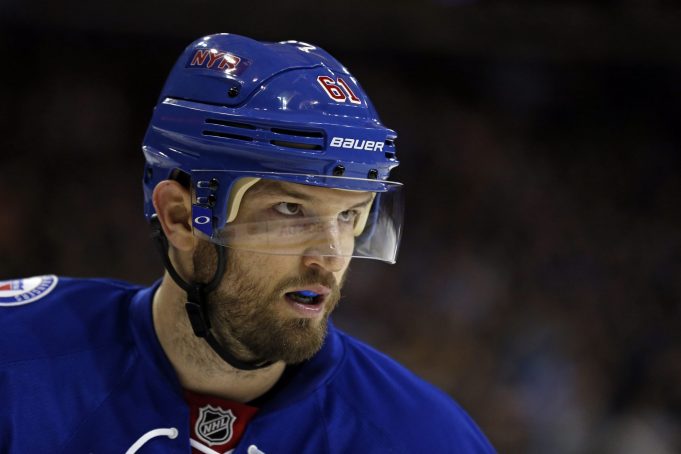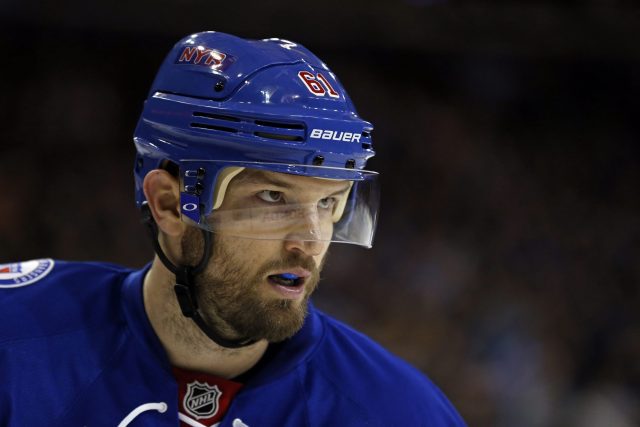 Again, I felt Nash tried. He was physical, he went to the net and at some points carried the offense as much as he could. However, the heavy contract and lack of actually point production weigh too heavy against Nash. The whisperings from Ranger land are that there are to be sweeping changes and I would say Nash is a goner.
Grade: C
Position: Center
Cap Hit: $6.5 Million NTC Kicks in Jul. 1 2017
Length: End of 20-21 Season
16-17 Regular Season: 81GP 17G 38A 55 Pts
16-17 Playoffs: 12GP 2G 4A 6 Pts
Derek Stepan has been a capable two-way centerman for the Rangers over the past few years, making up for his lack of skating ability with smarts and above average hockey sense on the ice. To a coach, someone like this is almost like having another coach on the ice, which is usually a good thing.
Stepan during the regular season stayed on par with his career scoring averages, although he was much streakier this year. His playoff performance dropped off considerably however and didn't come close to matching his usual scoring clip. Stepan is not physical, he doesn't win a lot of faceoffs and doesn't shoot the puck especially well. In my mind, Stepan is one of those players that plays better with better linemates. He cannot be counted to generate a whole lot of offense on his own, and that showed in the playoffs. His lack of mobility and lack of physicality really show when the game gets tighter.
Stepan's future has been a hot topic as of late, some saying the Rangers should move on before his NTC kicks in, others saying expose him to Vegas. Only time will tell, however, I feel he will not be donning a Ranger sweater come fall 2017.
Grade: C-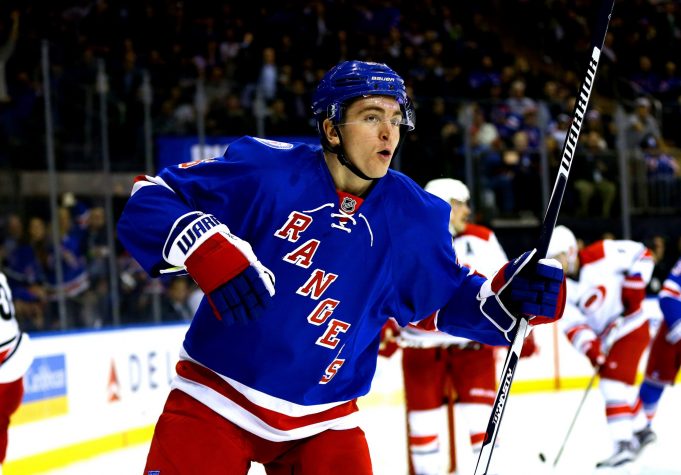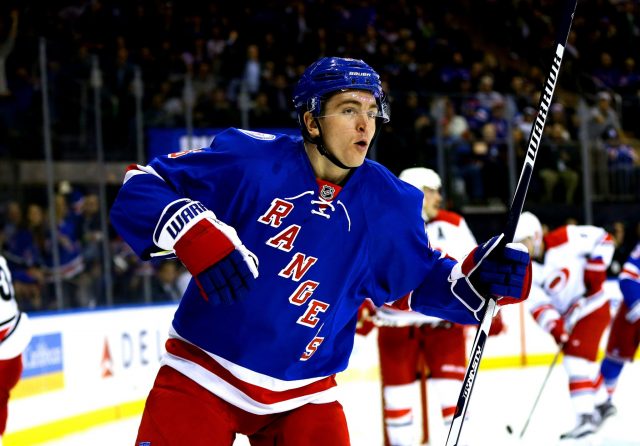 Position: Left Wing
Cap Hit: $925,000
Length: End of 2017-18
16-17 Regular Season: 80GP 16G 11A 27Pts
16-17 Playoffs: 12GP 1G 4A 5Pts
Jimmy Vesey had an up and down year for the Rangers, very expected for a late blooming college hockey player. He did show some glimpses of what the future holds and I think he'll definitely be a solid NHLer.
He needs to get stronger and more adjusted to the grind of an 82 game schedule plus playoffs but that will come with experience. He jumped out of the gate hot and slowed in the middle. But in the playoffs, I felt he really upped his game and brought some good hockey to the table. He was willing and able to control the puck down low and created for others. He probably should've had two to three more goals than he did, he was robbed a couple times and had some Grade A opportunities he just didn't finish.
Added strength and some more confidence should bode well for Vesey heading into next year and expect him to jump up to 20 goals and reach somewhere more towards the 40-point mark.
Grade: B-
Position: Center
Cap Hit: $2.625 Million
Length: Current Contract Expired, Eligible RFA
16-17 Regular Season: 56GP 14G 23A 37Pts
16-17 Playoffs: 12GP 2G 7A 9Pts
Mika Zibanejad started this season hot for the Rangers and finally looked like the player the Sens thought they were getting when they drafted him sixth overall. However, a broken leg in the middle of the season seriously derailed him and his progress, and it was evident he wasn't close to the same when he returned. Despite this, his right handed one timer off the PP and his faceoff acumen made him a nice fit for the top six this year. In the playoffs, I felt he was definitely one of the best top six forwards throughout and obviously in Game 4 he was an absolute monster against the Sens.
He is still developing, and has improved his point totals and all around play every season and is trending upwards big time. Look for Zibanejed to be a new fixture at the center position for the Rangers and hopefully, a great deal for both sides can be worked out. I would say it has to be high on Jeff Gorton's to do list.
Grade: B+
Position: Right Wing
Cap Hit: $4.5 Million
Length: Expires 2018-19
16-17 Regular Season: 15G 44A 59Pts
16-17 Playoffs: 12GP 4G 3A 7Pts
Mats Zuccarello has been a fan favorite for years and he continues to be with his scrappy play and gifted offensive abilities. I love the guy. Such a warrior, he's consistently the Rangers top forward. He brings it game in and game out. Another solid regular season for Zucc despite some less than stellar goal numbers which were below his career average.
However, the little engine that could continues to impress and will hopefully be a lifetime Ranger. In the playoffs, Zucc elevated his play another notch to finish second on the team in scoring over the 12 games. That includes playing on a line for most of the first series with two goalless wonders in J.T. Miller and Kevin Hayes. Zucc has limitations, as he cannot, in my opinion, carry an entire offensive load and he needs a supporting cast on his line, but for quite the over-achiever, he's doing just fine.
Hopefully, Zucc can get back into the 20-goal range and push 70 points next year.
Grade: A