The further away we move from the John Tortorella era, the weaker this New York Rangers personnel base becomes.
A
little over a year ago, a total and complete "era" of
New York Rangers
hockey had ended. Once
Sidney Crosby
and the Pittsburgh Penguins made quick work of the 2016 Rangers in the first round of the Stanley Cup Playoffs, the gritty never-say-die Blueshirts we had grown to love had officially lost their soul.
No. Getting off to an insanely hot start offensively and winning a round in the 2017 playoffs doesn't mean the era has continued. Alain Vigneault's explosive transitional game was quickly countered in November and the Rangers were fortunate enough to finish with a winning lotto ticket after 82 games played (the No. 1 Wild Card spot).
What we witnessed in these playoffs was pure happenstance, not terrific playoff hockey.
That doesn't mean it still doesn't sting.
Ottawa took the series while sporting a -1 in the goal differential category through six games. They took the series despite falling in the only two games that were decisive blowouts (Games 3 and 4 at Madison Square Garden).
They took the series despite skating out a less talented roster than their opponent.
These Rangers do possess more talent than the team who's destined for the Eastern Conference Final for the first time since 2007. Since the puck dropped in Game 1, this much has been obvious.
That doesn't mean they're the better team.
In hockey and especially during a survival of the fittest tournament like the Stanley Cup Playoffs, the intangible qualities mean as much or more than the raw, identifiable ones.
This is where AV and Jeff Gorton fall short.
When the gritty playoff-bound Rangers really took shape in 2012 — winning the Presidents' Trophy for the first time since 1994 — the roster was nothing to joke with.
A Dan Girardi would literally throw you through the wall if you did. A Ryan Callahan would constantly harass you along the boards until your knees gave out. A Brandon Dubinsky would throw four punches before you could even think about throwing one. A Brian Boyle would understand it's now playoff hockey, so his best is yet to come.
The big problem for those Rangers was scoring. Yes, scoring, the one quality hockey teams need in order to win games and ultimately advance. Henrik Lundqvist had plenty of defense in front of him. (Think about that for a moment and let it sink in.) It was snipers Glen Sather needed to provide to head coach John Tortorella.
They've tried.
Rick Nash was brought in, the perennial NHL All-Star power forward who would literally stiff arm a defender and then hop over another en route to the goal. Keith Yandle was brought to town to power play the quarterback.
Over time, the club's weakness of scoring eventually turned into a strength, thanks to AV's offensive-first mindset, and defense turned into culprit number one, where we stand today.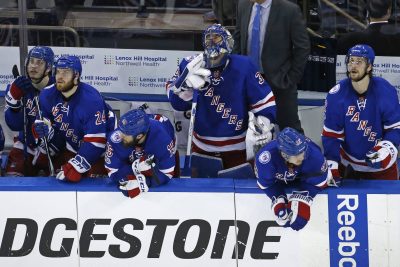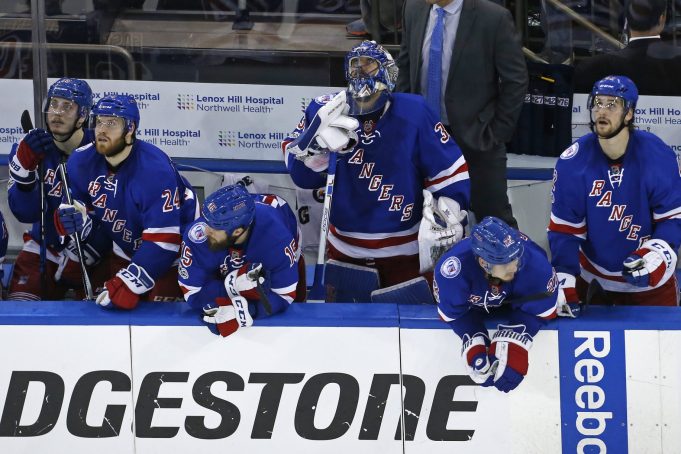 The year of 2014 turned into the perfect storm. The personnel base that was still Tortorella's was led by the offensive-minded general in Vigneault. The hard work was already done. Defensive principles and gritty players were fully in tow. They just needed a change of pace, something to open up the offensive floodgates just a tad. AV did that for them.
Since 2014? Well, the roster has gone from gritty to soft (and we're not necessarily talking about physical soft).
Kevin Hayes, a big man in stature couldn't win a one-on-one battle in front of the net if his hockey career depended on it. Chris Kreider and Mika Zibanejad both showed us what tanks they could actually be, but sadly only did so during the final period of the season, far too late by that time. Forwards like Nash, Derek Stepan and Mats Zuccarello continue to work on their whirlwind passing and pretty skate routes rather than digging deep and bowling over a defender in front of Craig Anderson.
With a few minutes to go in Game 6, Jesper Fast, Oscar Lindberg and Tanner Glass brought the Rangers their best chance of scoring. They'd at least be able to win a physical battle in the dirty areas of the ice.
Thank the hockey gods for Brendan Smith. Without him, New York doesn't beat Montreal. Without him, perhaps Ryan McDonagh wouldn't have upped his physicality against the Habs. He is literally the only guy along the blueline who would attempt to protect his goaltender.
The depressing point is this: the further we move away from the Tortorella era, the Rangers showcase less heart.
Not only have they lost their grit, they've lost their mental toughness. Remember the squad who came back against both Pittsburgh and Washington down 3-1? That's gone. There are very few players in that locker room today who possess the intangible traits needed to overcome that sort of hill.
In the shortest offseason of all the four major sports, this one may feel like the longest for the suits who run the Rangers.
They possess a 35-year-old goaltender who, as much as you may love him, is declining. Nobody is ever dumb enough to pin the Rangers problems on Lundqvist, but at the same time, he hasn't been the solution. He deserves some culpability for his lackluster performances in the series and making a cool $8.5M annually doesn't help improve the team around him.
An OT shot like the one we saw from Kyle Turris in Game 5 must be stopped if The King wants to take a less than great team to the Cup.
AV always takes pride in how his team plays: a fast-paced, controlled game between the whistles.
How does Gorton convince Vigneault this isn't a Stanley Cup winning strategy? How does he force AV to realize certain dirty traits and attributes are needed within a 20-man roster to succeed?
How does Gorton go about removing some of the bulk finesse in Nash and Hayes and replacing it with another Jesper Fast with hands?
We honestly don't know. Nobody does.
The only thing we can do now is hope the New York Rangers finally understand that there's more to winning the Cup than speed, talent and skill alone. Because let's be honest with ourselves for a moment … if they had finished third in the Metropolitan Division, they would have been disposed of just as quickly as 2016.
John Tortorella knew it. So does Mike Sullivan, the guy Tortorella was fired for in 2013. The guy who's gone on with Carl Hagelin to institute a tough, shot-blocking system in Pittsburgh and win the Stanley Cup after the Rangers didn't want him.
Here's what Vigneault said after the bitterly disappointing loss, via AP.
"The four games we lost in this series, it's as simple as them making one more play defensively or one more play offensively," Rangers coach Alain Vigneault said. "We were in all of those games, we didn't make the defensive play when we needed to and we didn't make the offensive play to bury them. You have to give them a lot of credit. They played well and they deserved to win."
If he truly believes the difference with his roster is one play, he's not the right man for the job.
The roster needs to get tougher both mentally and physically and get it done quick. For an organization that's won nine playoff series and 46 playoff games since 2012, it's obvious something is fundamentally wrong with the way they chose their players.
Less thrill, more will. That's the ticket in 2018.