Take a look at our latest NBA mock draft to see what the New York Knicks should do with their three draft picks.
It's time for another NBA mock draft. Since our last edition, the New York Knicks lost a coin toss to the Minnesota Timberwolves and wound up with the No. 7 spot in the order. A slimmer chance at a high pick hurts the team coming off a fourth straight season without a playoff appearance.
The Knicks have many issues to address. This year's much-anticipated draft will serve as one way to help. Most people expect the Knicks to go point guard in a draft that is top-heavy with talented prospects at the position.
The front office needs to surround young centerpieces Kristaps Porzingis and Willy Hernangomez with a distributor at the lead guard spot. Not just any distributor though, one who can run Phil Jackson's triangle offense.
Derrick Rose was largely a bust. He didn't mesh with Porzingis or Carmelo Anthony, and his defense was laughable. Bringing him back would be a mistake.
Jackson and his staff could also go with a wing player to replace Anthony. If they're able to drive him out of town that is. That still seems like a big if.
Here's the second version of Elite Sports NY's NBA Mock Draft. The Knicks have three picks. We laid them all out.
---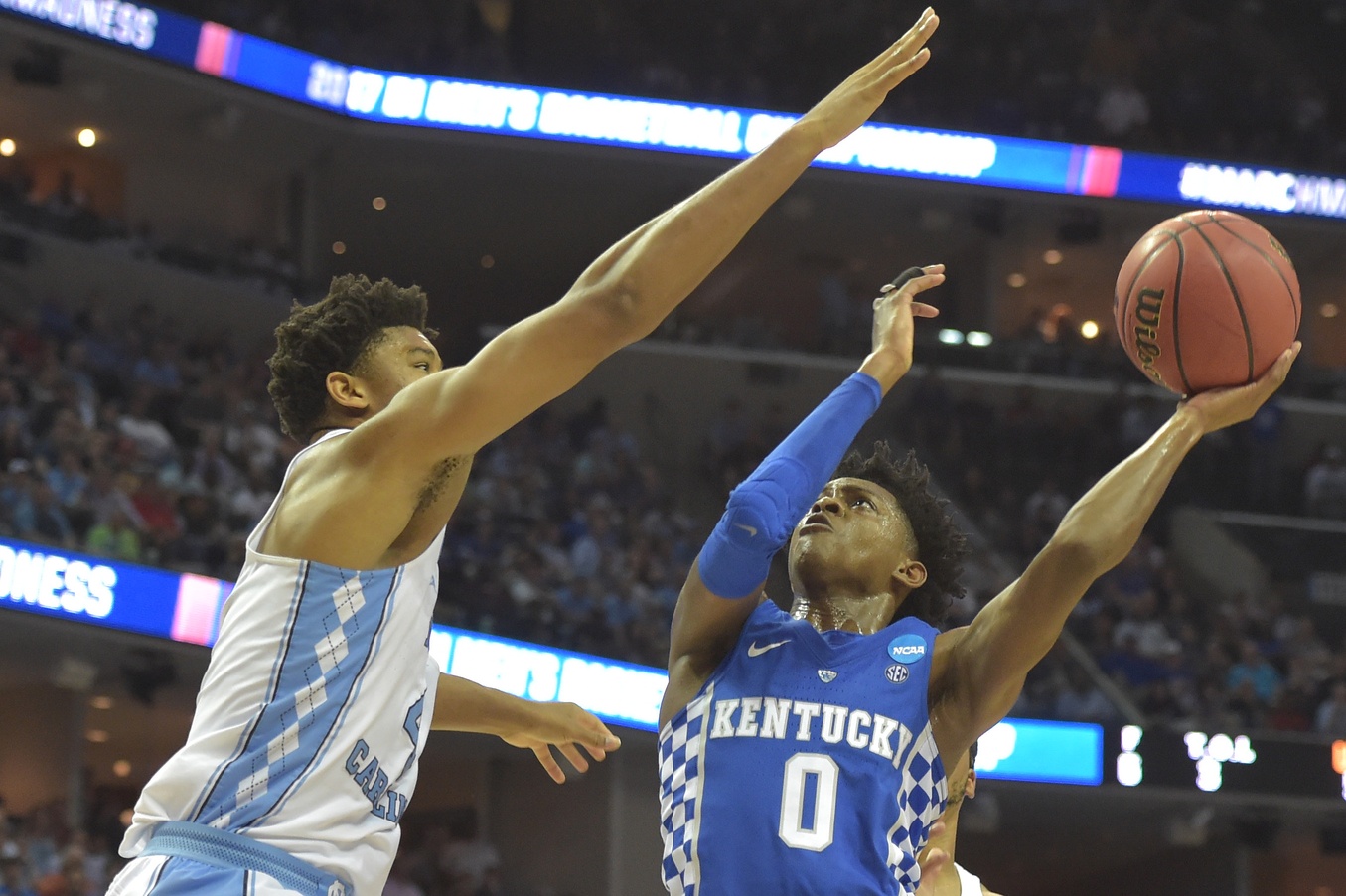 Round 1, Pick 7: De'Aaron Fox, Kentucky Wildcats
Position: Point Guard
Age: 19 (12/20/1997)
Height, Weight, Wingspan: 6'4.0″, 171 pounds, 6'4.5″
2016-17 Averages: 29.6 MPG, 16.7 PPG, 4.6 APG, 3.9 RPG, 1.5 SPG
2016-17 Advanced Metrics: 22.6 PER, 8.7 BPM, 5.1 WS
2016-17 Slash Line: .478/.246/.739
De'Aaron Fox became a favorite of Knicks fans during Kentucky's run to the Elite 8.
The former five-star recruit averaged 21.3 points per game on 50.0 percent shooting and led his team to a victory with excellent defense in his second one-on-one matchup against UCLA point guard Lonzo Ball.
Fox would help the Knicks in multiple areas.
The 2016-17 Knicks were 26th in turnover percentage (estimate of TOs per 100 plays) and 23rd in steals. Fox, a playmaker on the defensive end and one of the top steals men in the SEC conference, would go a long way towards fixing that.
The Knicks were 29th in drives with Derrick Rose being the only aggressive player attacking the rim. Fox could fill that role. According to hoop-math.com, the 19-year-old took nearly half of his shots last season at the rim. Despite the substantial amount, Fox converted at an efficient 64.2 percent clip.
Brandon Jennings led the team in assists, and he finished the season with a different team. Fox averaged 6.2 assists per 40 minutes and developed a tremendous chemistry with teammate Malik Monk.
Fox's capability in the clutch and mental toughness will help him adapt to the New York limelight.
---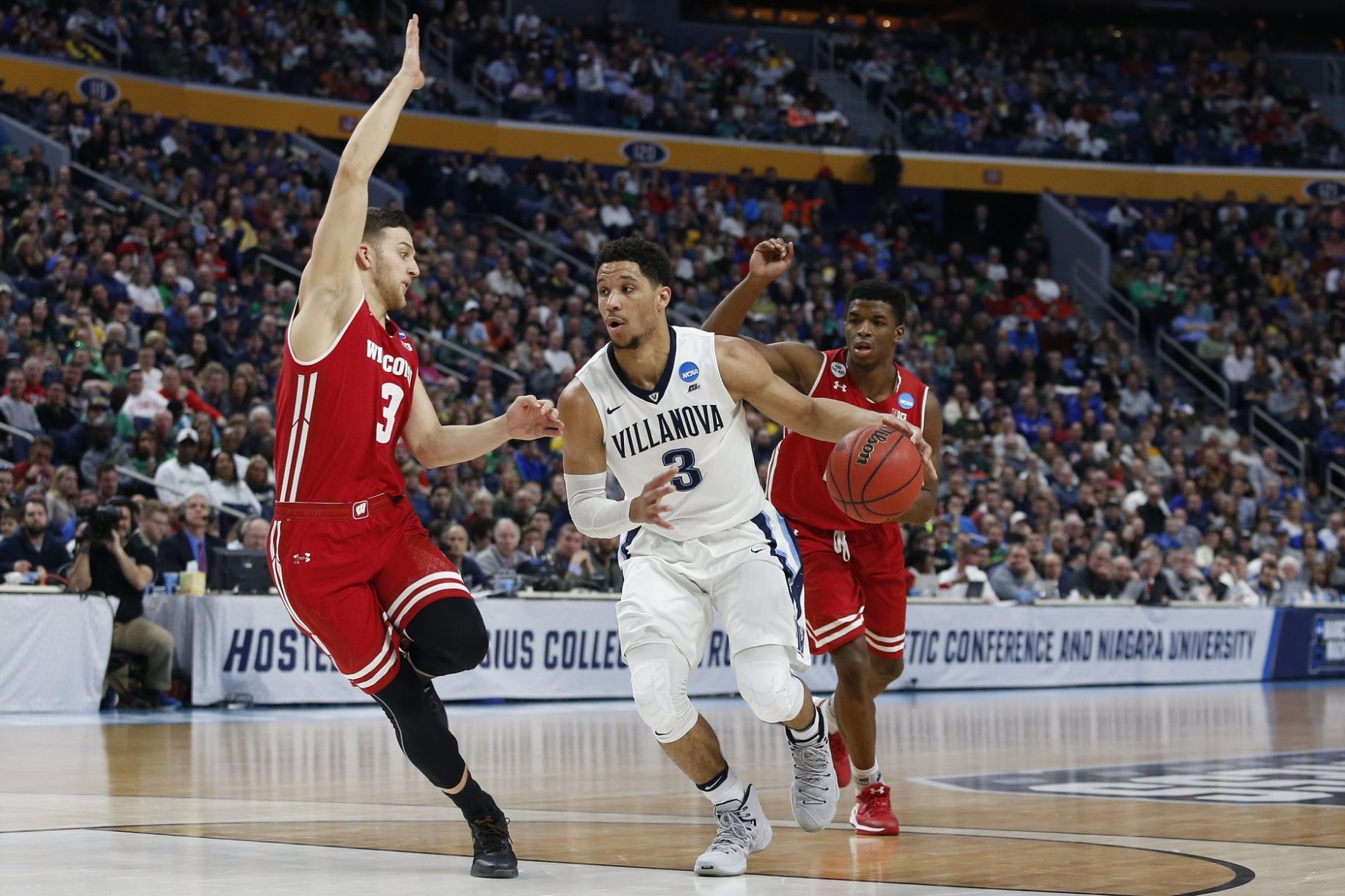 Round 2, Pick 45: Josh Hart, Villanova Wildcats
Position: Shooting Guard
Age: 22 (3/6/1995)
Height, Weight, Wingspan: 6'6.0″, 204 pounds, 6'7.5″
2016-17 Averages: 33.1 MPG, 18.7 PPG, 6.4 RPG, 2.9 APG, 1.5 SPG
2016-17 Advanced Metrics: 28.1 PER, 12.1 BPM, 7.7 WS
2016-17 Slash Line: .510/.404/.747
Josh Hart declared for the draft last season as a junior before withdrawing. After a phenomenal senior season in which he was dubbed the Big East Player of the Year, Hart will give the draft another go.
The 22-year-old is one of the best three-and-D prospects available. He is a pure spot up shooter. Per hoop-math, 78.6 percent of Hart's FGAs were jumpers.
Hart shot 40.4 percent from the three-point line and buried just below 40.0 percent on his two-point jumpers. The guy converted at a ridiculous clip at the rim of 70.9 percent. It allowed him that impressive 51.0 percent mark from the field.
The Knicks were 24th in three-point attempts made, and 15th in opponent three-point attempts made. They need help making the three and guarding it. Hart would be an excellent grab to do it.
He's also a good rebounding guard. For his career, Hart averaged 7.9 rebounds per 40 minutes. During the past two seasons, he finished in the top ten in rebounds per game in the Big East.
The Knicks need help on the glass desperately. More on that later.
Like De'Aaron Fox, Hart is tough, and he's played on the big stage before. He's already played on the Madison Square Garden floor while at Villanova. It'd be a good fit.
---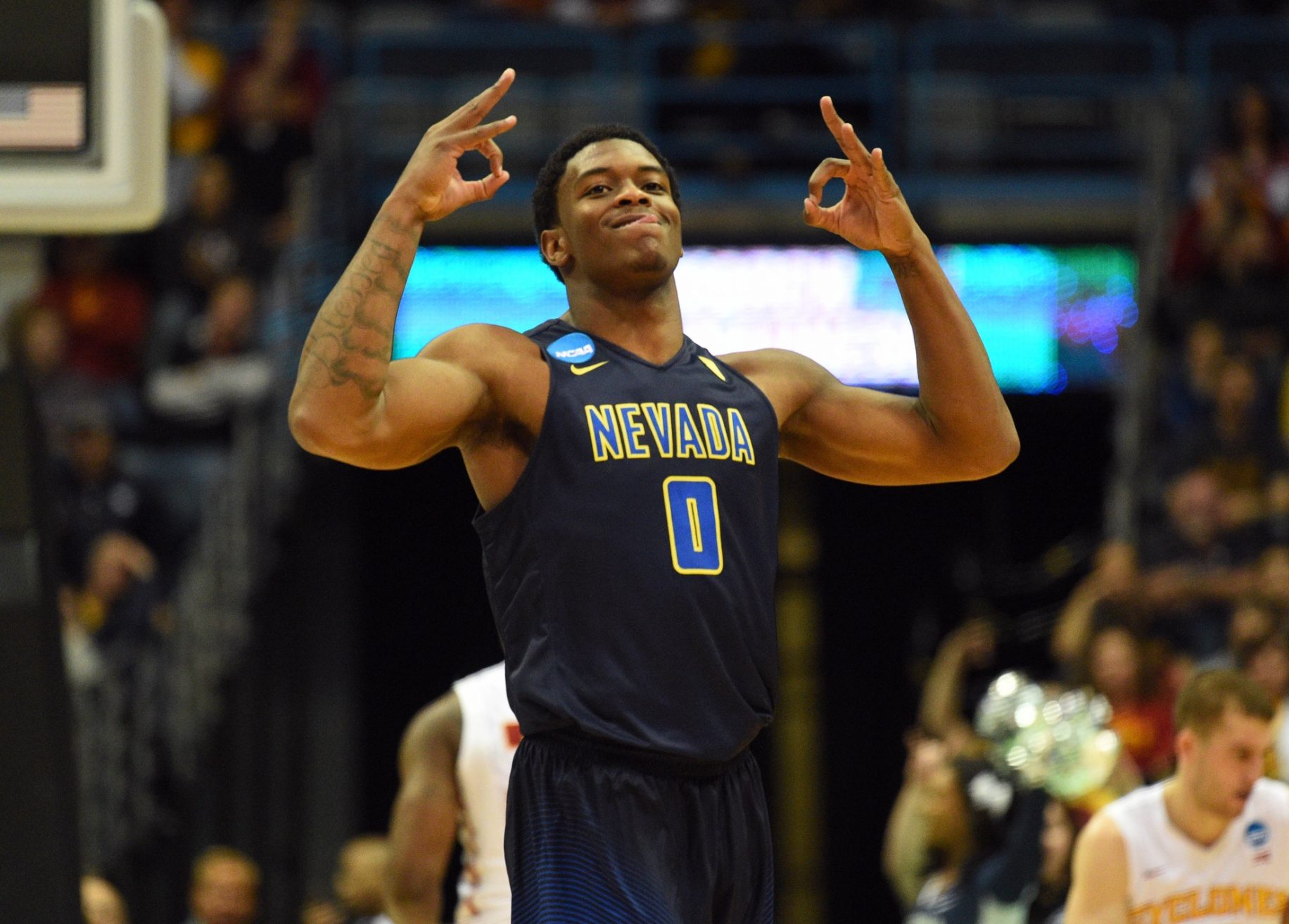 Round 2, Pick 58: Cameron Oliver, Nevada Wolfpack
Position: Power Forward
Age: 20 (7/11/1996)
Height, Weight: 6'8.0″, 225 pounds
2016-17 Averages: 31.9 MPG, 16.0 PPG, 8.7 RPG, 2.6 BPG, 1.8 APG, 0.8 SPG
2016-17 Advanced Metrics: 22.6 PER, 6.9 BPM, 4.5 WS
2016-17 Slash Line: .465/.384/.692
Cameron Oliver could end up being one of the biggest steals of this draft. He's an enigma right now.
DraftExpress has him going at No. 51 to the Denver, but NBADraft.net has him going No. 43 to the Houston Rockets. This pick may be wishful thinking. Dare to dream.
Oliver would be a huge help to the Knicks in their weakest area overall, the defensive glass. The 20-year-old was top-five in defensive rebound percentage in the MWC in both of his seasons at Nevada.
The Knicks were dead last in team defensive rebound percentage in 2016-17. A large part of the reason for New York's struggles on the glass was the poor play of Joakim Noah.
https://youtu.be/azprOmvJyg0
Oliver blocked 3.4 shots per 40 minutes over two seasons. Despite his 6-foot-8 frame, the youngster was able to protect the rim at the collegiate level.
He is undersized for a power forward in the NBA, so it remains to be seen how that shot blocking ability will translate to the next level.
Something that makes Oliver intriguing is the improvement of his three-point shot this season. As a freshman, he was just 32.8 percent from beyond the arc, but as a sophomore, Oliver converted at a 38.4 percent clip while launching threes at a much higher rate.
Oliver can rebound, and he's capable of making the pick and pop jumper to go along with the three point shot. That sounds like the modern day NBA big man.