Making the right selection in the 2017 NBA Draft is vital for the New York Knicks. Take a look at our mock draft for some good ideas.
T
he 2016-17 season wasn't supposed to be like this for the New York Knicks. The acquisitions of
Derrick Rose
and
Joakim Noah
meant they'd be playing meaningful games in April for the first time since 2013. Instead, it's April 12, and we're looking at mock drafts.
Projected No. 1 overall pick Markelle Fultz attended the most recent loss on Sunday afternoon and teased fans by boasting that he could succeed in the triangle offense. The chances of New York being in a position to select Fultz are slim, but they will get a top prospect.
Three seasons of Phil Jackson in New York has yielded zero playoff appearances. The Hall of Fame coach has made more bad moves than good ones, but the one area he's excelled is the draft.
Choosing Kristaps Porzingis and trading for Willy Hernangomez during the 2015 draft are Jackson's best moves by a mile. Knicks fans hope the 11-time champion can repeat some of that success this summer.
Hopefully, the controversial president already has some prospects in mind for New York's three picks. The debate over whether the team should go point guard or wing player will rage on right up until draft night.
Check out our first mock draft to get a feel for who Jackson will target on the big night.
---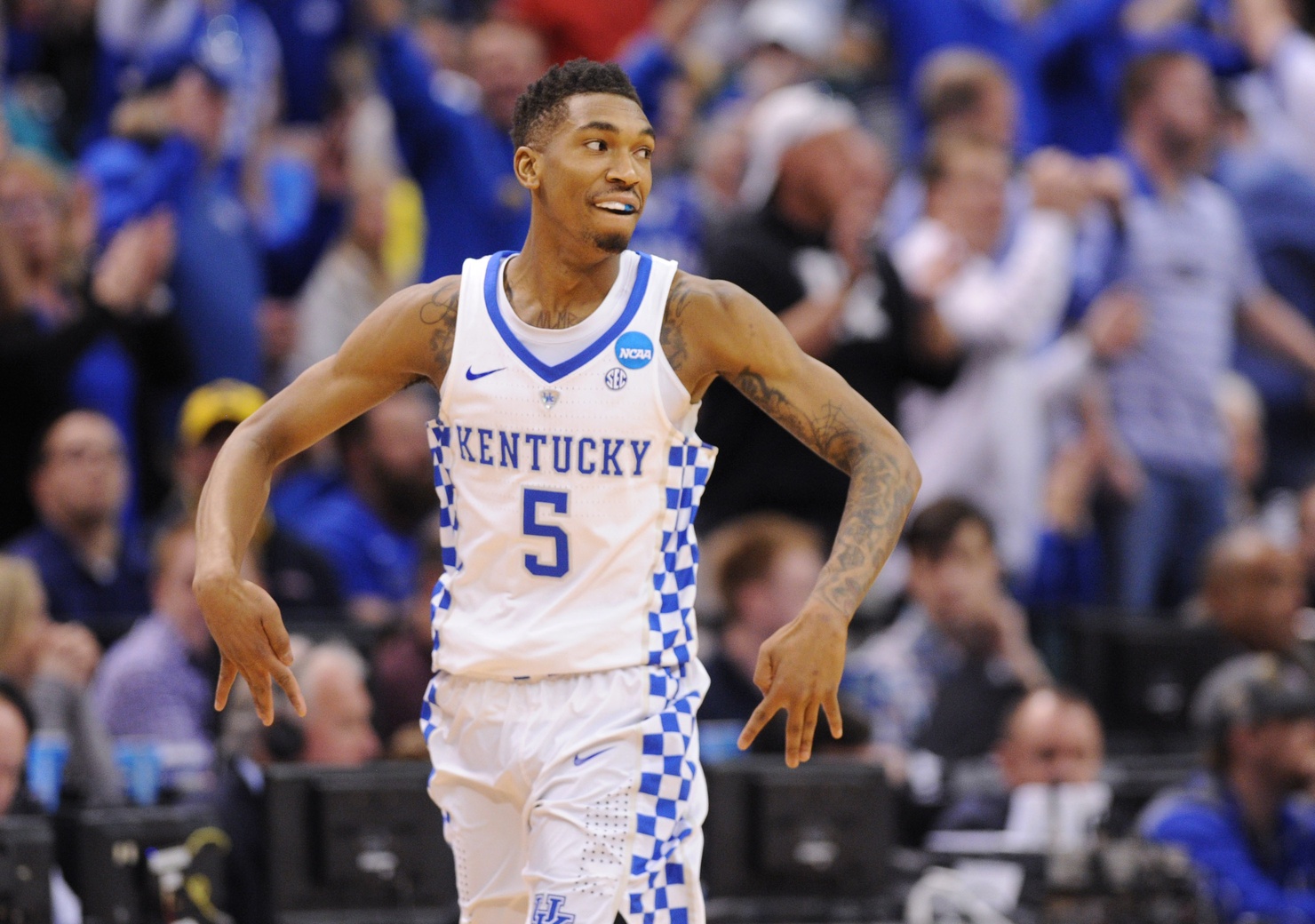 Round 1, Pick 6: Malik Monk, Kentucky Wildcats
Position: Guard
Age: 19 (02/04/1998)
Height, Weight, Wingspan: 6'4.0″, 197 pounds, 6'3.5″
2016-17 Averages: 32.1 MPG, 19.8 PPG, 2.5 RPG, 2.3 APG, 0.9 SPG
2016-17 Advanced Metrics: 21.5 PER, 8.0 BPM, 5.8 WS
2016-17 Slash Line: .450/.397/.822
De'Aaron Fox became a fan favorite during the NCAA tournament, but with his star rising, the No. 6 pick could be too late if the Knicks want Kentucky's point guard. Fox's backcourt mate would be an excellent consolation prize.
Malik Monk took a lot of shots at Kentucky. He was first in the SEC in field goal attempts and three-point attempts. When those shots tend to go in, there's never a problem. Monk also led the conference in field goal makes, and three-point makes.
A vast majority of his FGA were jumpers in 2016-17. According to Hoop-math.com, 47.0 percent of his attempts were on three-point jumpers while 32.6 percent were on two-point jumpers.
The Knicks need a guy who can put up some points in the triangle offense.
Since the team's renewed commitment to the system post All-Star break, they're 25th in the NBA in offensive rating. They're 28th in three-point makes and 29th in three-point percentage.
Monk is the kind of prospect who can score no matter what the offense is. Just give him the ball and let him create.
---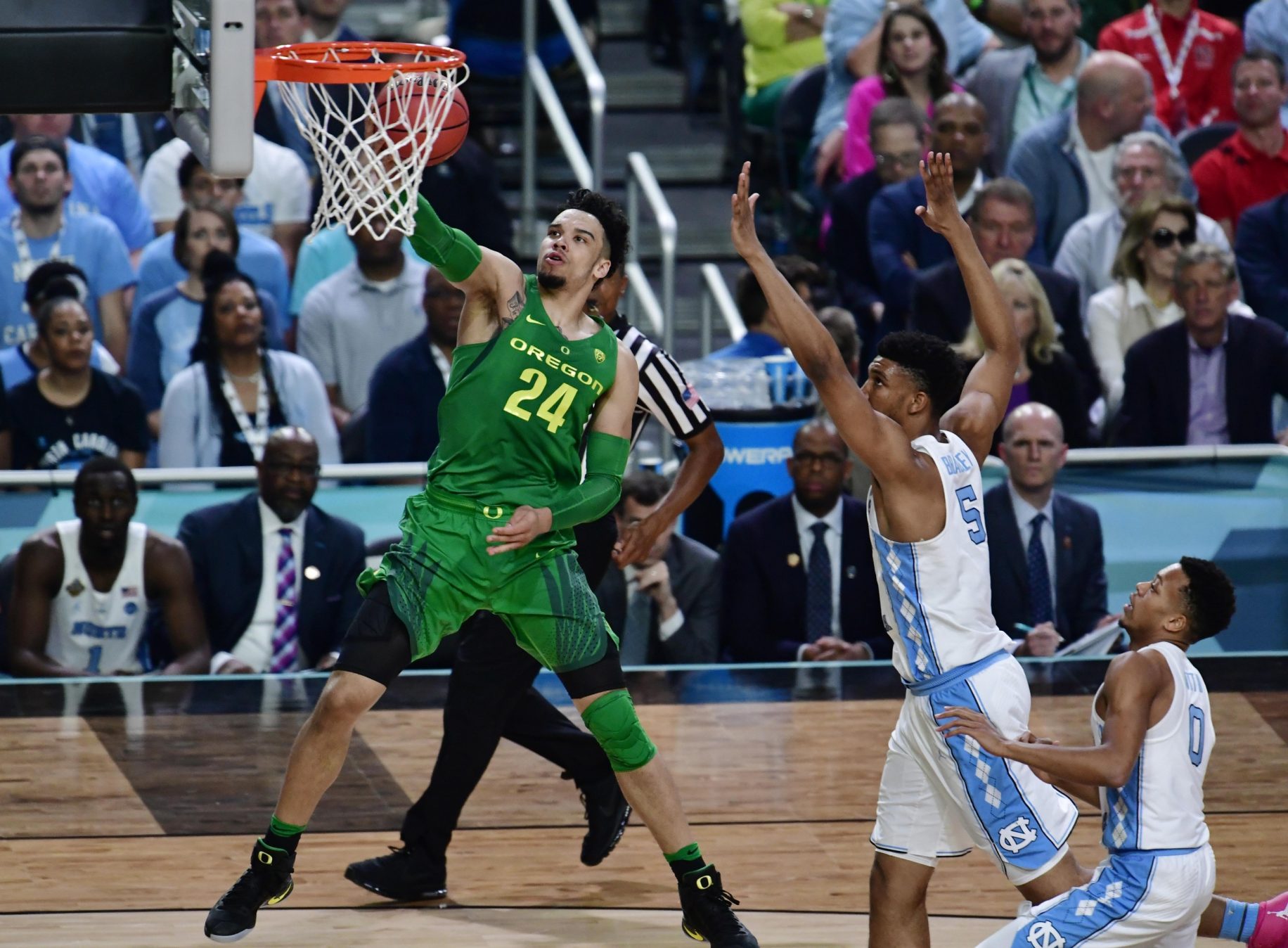 Round 2, Pick 44: Dillon Brooks, Oregon Ducks
Position: Forward
Age: 21 (01/22/1996)
Height, Weight, Wingspan: 6'6.0″, 224 pounds, 6'4.5″
2016-17 Averages: 25.3 MPG, 16.1 PPG, 3.2 RPG, 2.7 APG, 1.1 SPG
2016-17 Advanced Metrics: 25.6 PER, 8.6 BPM, 4.7 WS
2016-17 Slash Line: .488/.401/.754
Dillon Brooks still hasn't declared for the draft and may return for his senior season. If he enters in 2017, the combo forward should be available with the first of two second round picks.
The junior was voted consensus second team All-American and Pac-12 Player of the Year. His improvement from behind the three-point arc had a lot to do with that. Brooks attempted the same amount of threes in the last two seasons (142), but in 2015-16 he converted at just a 33.8 percent clip.
His maturity after three seasons of college ball and a lot of winning will make him appealing to Jackson. The Knicks could use a playmaking wingman while still being able to go guard in the top ten and Brooks can be that guy for them.
Don't get carried away, though. As promising as Brooks is he's slipping into the second round for a reason.
As much of a mismatch as the 21-year-old might be at the collegiate level, it won't be the same when he reaches the Association. He's not a freak athlete and will struggle at the next level on the defensive end.
Still, the Knicks would be lucky to have Brooks at No. 44.
---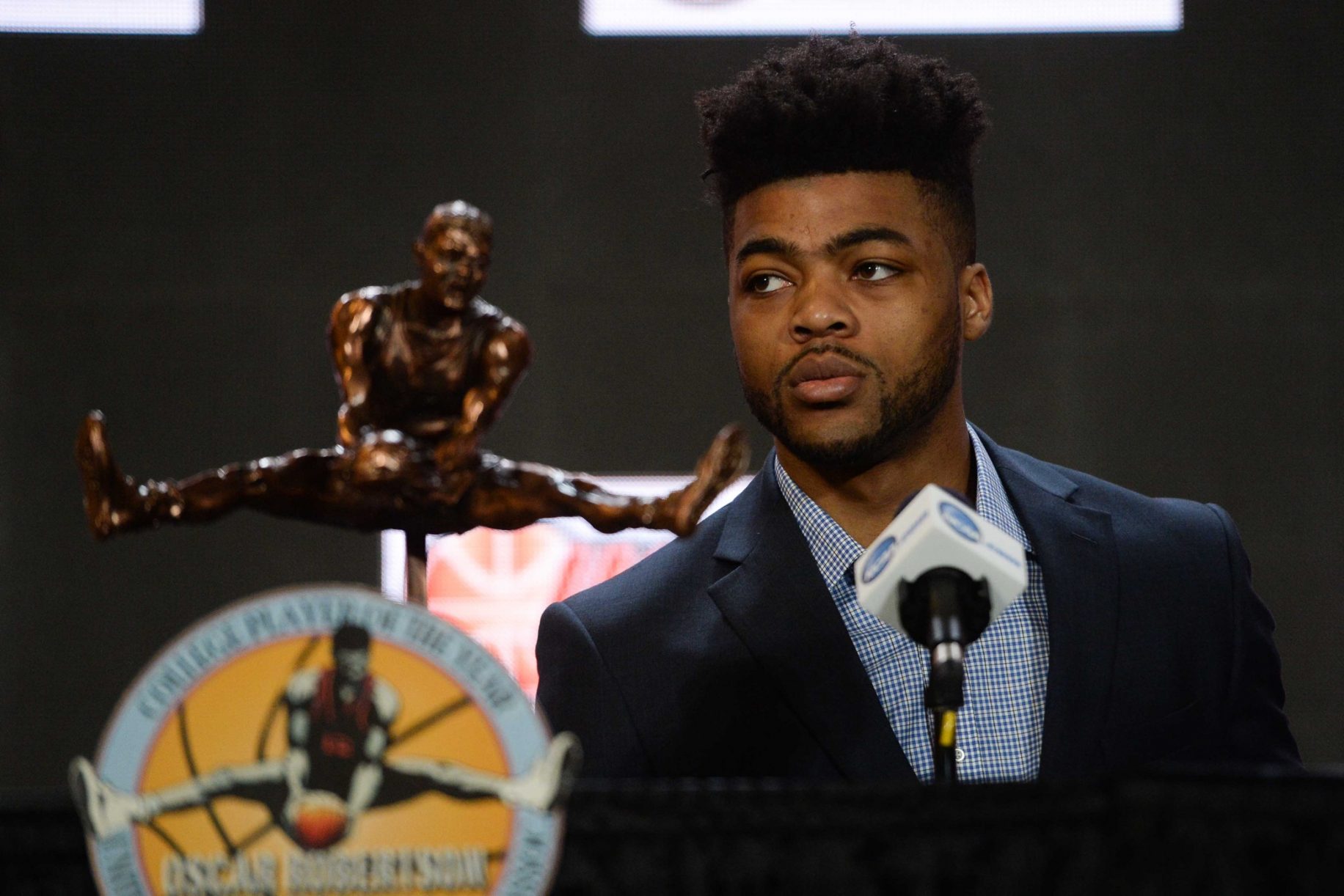 Round 2, Pick 58: Frank Mason, Kansas Jayhawks
Position: Point Guard
Age: 23 (04/03/1994)
Height, Weight: 5'11.0″, 185 pounds
2016-17 Averages: 36.1 MPG, 20.9 MPG, 5.2 APG, 4.2 RPG, 1.3 SPG
2016-17 Advanced Metrics: 25.5 PER, 10.7 BPM, 7.5 WS
2016-17 Slash Line: .490/.471/.794
Another veteran prospect to pair with Brooks, Frank Mason was the best player in the country this season. The elite floor general won every postseason award and honor there is. He was a first-team All-American and Big-12 Player of the Year.
Mason was a warrior for the Jayhawks. In four seasons, he appeared in 145 games and logged 4,345 minutes. It all culminated in his phenomenal senior season.
The Virginia native made nearly half of his FGAs (.490) and shot a remarkable 47.1 percent from behind the three-point line.
While at Kansas, Mason proved that he was a winner and a leader. The 23-year-old might not be a future star at point guard, but he should fit right into the triangle offense.
Phil Jackson is looking for smart point guards who thrived in his system (like Derek Fisher and Ron Harper) he won't find one better in the second round of this draft than Mason.
If New York doesn't go point guard with their top pick, they'll absolutely take one in the second round. Mason would be an excellent choice.