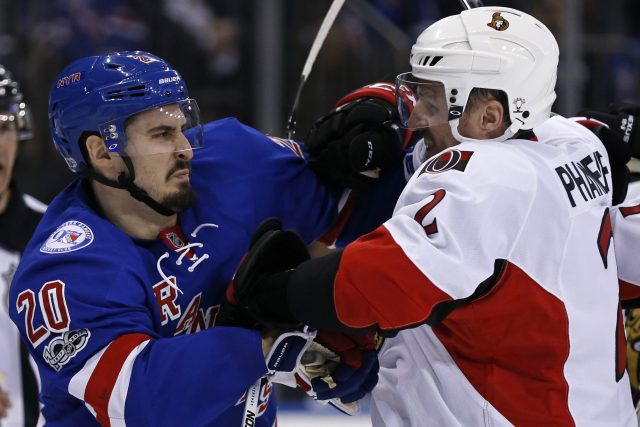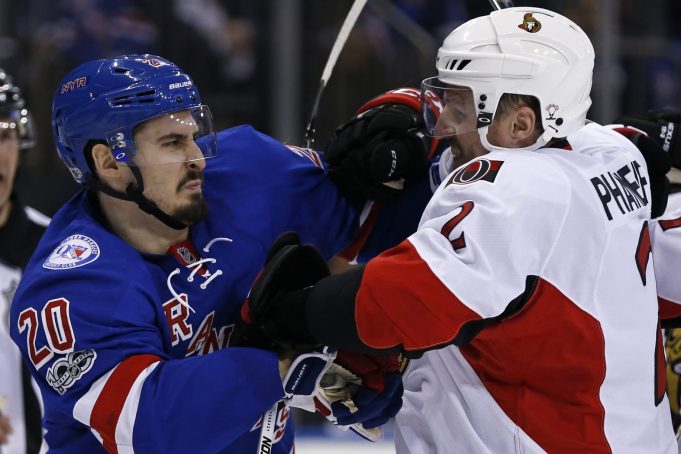 In another classic example of the Madison Square Garden crowd, New York Rangers fans classicly chant "sloppy seconds" towards Dion Phaneuf.
Leave it up to the Big Apple crowd to get it done yet again.
In the third period of Game 4, a contest that saw the New York Rangers dominate the Ottawa Senators 4-1 in evening the series two apiece, the Madison Square Garden Crowd came up with a dandy.
It's an oldie, but a goodie.
Rangers fans chant "Sloppy seconds" at Dion Phanuef after a fight pic.twitter.com/PAAcMDy6dp

— CJ Fogler (@cjzero) May 5, 2017
The chant of "sloppy seconds" was directed in the direction of Sens defenseman Dion Phaneuf, who, at the time, had just finished a fight with Rangers D-man Brendan Smith.
For those young pups out there, the "sloppy seconds" chant is directly related to this man:
At the time, Phaneuf was an all-world blueliner for the Calgary Flames. Avery, who would later go on to play for the Rangers and become a fan-favorite for a variety of reasons, was with the Dallas Stars at the time.
For those who don't remember Elisha Cuthbert, well, here you go:
A "sloppy seconds" reminder or not, Phaneuf and his team will now travel back to Canada big losers of two big games at the Garden.