Don't be fooled by those who tell you New York Mets injuries are similar to other ballclubs. Statistical evidence proves it's Flushing plague.
N
ow, it's
Noah Syndergaard
's turn to feel the wrath of the
New York Mets
injury bug.
I mean, why not? The bug doesn't have a prejudiced bone in its soul. Last week, it crept up on the skin of Yoenis Cespedes. Last year, it got to the steady and ever-reliable Jacob deGrom. For years, its haunted Matt Harvey's dreams. Instead of the Dark Knight symbol beaming in Gotham's skies, it's been that pesky red-injury cross peeking through the clouds.
David Wright is an entirely different story we simply can't cover right now.
In the second inning in the team's humiliating 23-5 loss to the Washington Nationals on Sunday, the man the kids call Thor left the game after apparently feeling something wrong.
https://twitter.com/EliteSportsNY/status/858750860226166784
After refusing an MRI this past week, Syndergaard will now head for one on Monday.
An agitated Terry Collins discusses Syndergaard's injury. Sandy Alderson says an MRI is scheduled for 7 a.m. Monday. pic.twitter.com/rtI3v0Fe4Y

— Anthony DiComo (@AnthonyDiComo) April 30, 2017
If Syndergaard and Cespedes were the only two injury concerns for the Mets, most folks in baseball wouldn't bat an eye. After all, the DL was created for a realistic widely-used reason.
The problem lies much deeper. Thor and Yo are the last straw, not the early ongoing examples.
For years, this organization has suffered through a culture of injuries. Need not talk to a diehard Mets fan to understand this (although they do experience it every day during the season).
The organization uses HSS Sports Medicine, the Hospital for Special Surgery as their main service. Dr. David W. Altchek is the Attending Orthopedic Surgeon for the prestigious organization.
The Mets have used the HSS since 2004 and interestingly enough, the New York Giants use the same institution.
So, how could things feel so wrong for so long in regards to the Metropolitans? Let's look at a few statistics.
In terms of pure DL games missed since the 2010 season (through the end of 2016), the Mets rank seventh in baseball.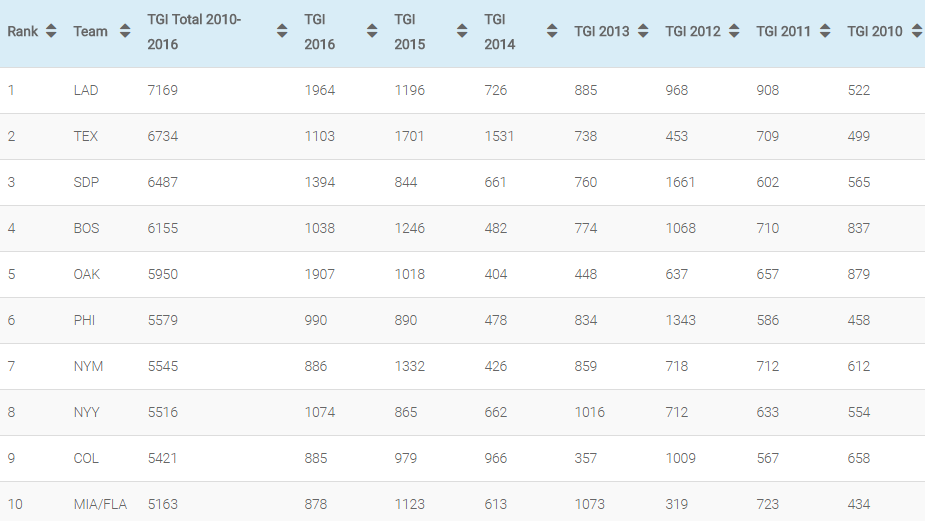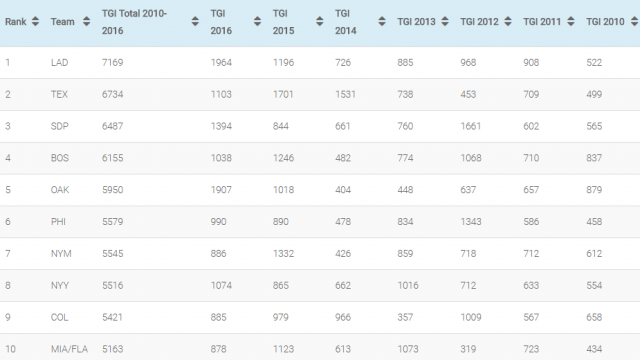 While some teams like the Boston Red Sox and Los Angeles Dodgers were hit harder, the crosstown New York Yankees, who usually trotted out the oldest team in the big leagues (until last summer), rank eighth, one slot better than the Mets.
The same website that calculates pure DL time missed, also calculates how hard a team is hit in terms of a player's caliber. They rank it in terms of WAR, the statistical measure that attempts to calculate a player's importance to his team's success and is far and away used as the top stat by those who follow and use advanced baseball metrics.
Over the course of the previous seven seasons, 2010-16, no team was hit harder in terms of the caliber of player finding his way to the disabled list than the Mets, via Man Games Lost.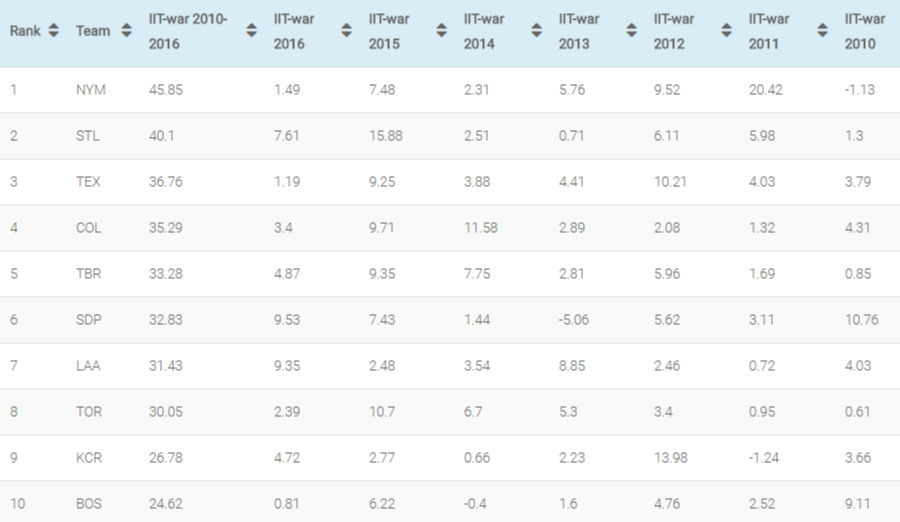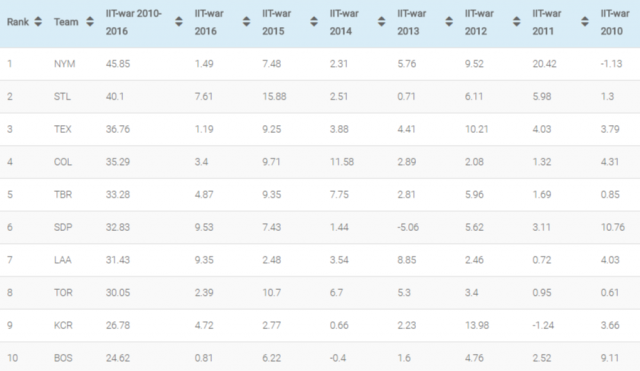 2016 Injury impact on Team (ITT War) – 1.49 15th
2015 Injury impact on Team (ITT War) – 6.53 4th
2014 Injury impact on Team (ITT War) – 2.31 17th
2013 Injury impact on Team (ITT War) – 5.76 3rd
2012 Injury impact on Team (ITT War) – 9.52 3rd
2011 Injury impact on Team (ITT War) – 20.42 1st
2010 Injury impact on Team (ITT War) – -1.13 27th
This is the distressing statistic that is directly on Sandy Alderson's plate. Worse yet, look at the leading number of 45.85. Second are the St. Louis Cardinals with 40.1. In 10th place are the Boston Red Sox with a number of 24.62.
The Mets smash the competition.
Remember Ryan Church? That's right, Ryan Church, the outfielder for the Mets, who came from the Nats, and played for the organization during one of the down times, didn't particularly experience good times with the organization.
During the 2009 season, Mets manager Jerry Manuel questioned Church's toughness after he missed extended time due to suffering two concussions the season prior.
"That's the thing that would really (tick) you off," Church said, via Brian Costa of the New Jersey Star-Ledger. "You're the only one that really knows. It's your brain. It's one of those things where, looking at you, 'He looks fine.' Yeah, I may look fine on the outside, but you don't know what's going on on the inside."
Church didn't feel the love that the Mets doctors had attempted to provide. When a reporter noted the reputation of HSS Sports Medicine, Church simply smirked.
"No comment," Church said. "That's why everybody's got their own doctors and physicians."
There have been other examples of Mets injury ineptness. During both the Omar Minaya and Alderson regimes, the franchise has been secretive and extremely uninformative when it came to DL stints and precise injury concerns.
The overall attempt to diagnose a particular injury seems to highlight the source of the problem.
A season ago, the Mets had difficulties with a Cespedes quad injury. At first, he tried to play through it. Eventually, it was evident he simply could not. So, instead of stashing him away and getting him back strong when the team needed him most, they wasted several days thanks to a misdiagnosis.
Alderson agreed that this season's Yo injury situation mirrors last season's, via Kristie Ackert of the New York Daily News.
"I was a little disappointed because it was similar to a situation that we had last year. Where we try to keep him active and then simply had to put him on the disabled list. We told ourselves we wouldn't let that happen again and it happened again," Alderson said Saturday morning before the Mets' matinee at Nationals Park.

"But I think that's the nature of these injuries as well," Alderson said. "I think the fact that there is a 10-day disabled list as opposed to 15 gave us a little more latitude to try and see if we can get through. We had a number of off days and he was positive. So it's one of those things. . . but the fact he's only gone for 10 and not 15 I hope is a positive and that he'll be back after that 10 day period."
From John Maine to David Wright, catcher Brian Schneider to Travis d'Arnaud, both the Minaya and Alderson regimes have suffered under the same dark injury cloud.
Enter Ray Ramirez, head trainer of the Mets since 2004.
Many suggest he is the root of the problem here. He's always the first on the scene and leads the charge in terms of first "evaluating" the injury. Ramirez is the closest to the action and to the player each time a nagging issue rears its ugly head.
ESNY's Matt O'Leary spoke about the Ramirez/Mets issue last summer:
Over the span that he's been trainer, the Mets have completely mismanaged injury situations time and time again. From sending Ryan Church on an airplane with a concussion to the most recent Yoenis Cespedes debacle.

It just seems physically impossible for a team to be this injured this often. It happened in 2009 when Jose Reyes, Carlos Delgado, J.J. Putz, John Maine and Johan Santana all went down with season ending injuries.

The R.A.Y. system perfectly sums up how the Mets manage injuries. They rest for a few days, then have a few pinch hit appearances followed by the Mets finally deciding to DL the player.
Ramirez has to be the problem, right?
After all, the Hospital for Special Surgery seems to work fine for the Football Giants. They never seem to have an outrageous catastrophe of injuries like the Mets.
Or, do they?
Since 2009, the Giants rank second in all of football in terms of man games lost.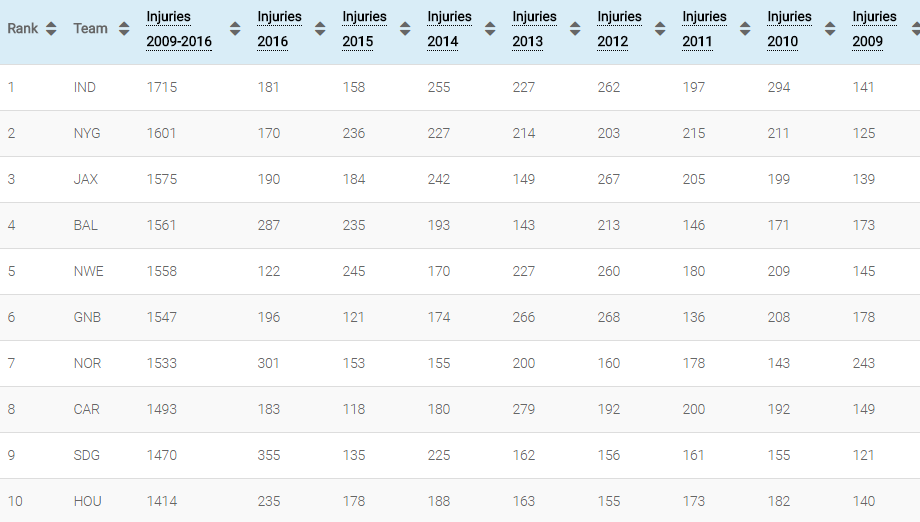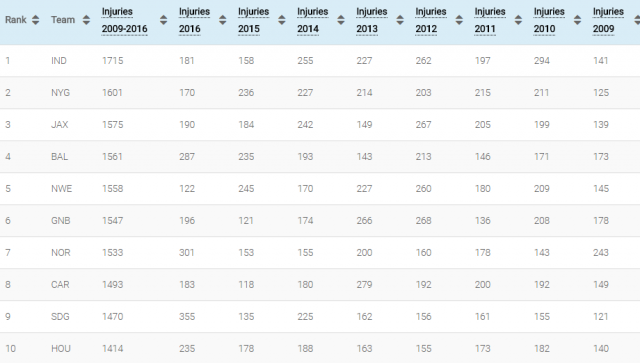 The Giants have used HSS since 1984.
Even with jaw-dropping statistical evidence, there's no real answer for us to provide as related to this issue. There's no one party to blame without uncertainty. We could puff our chests out and have our suspicions, but under no circumstances can we point that finger in a responsible manner.
The only thing this franchise can do, especially Sandy Alderson, is admit there is, in fact, a problem and address it immediately.
Until the New York Mets pinpoint the problem and address it, they are running uphill against the competition. Until they admit something's awry, this dark cloud will continue to hover over Flushing "indefinitely."