After their horrific double-overtime defeat, it's become clear that New York Rangers' Alain Vigneault and Henrik Lundqvist must be better.
T
here were more than two culprits in the
New York Rangers
devastati
ng 6-5 double-overtime loss to the Ottawa Senators in Game 2
over the weekend.
Defensive coverage was awful, as is usually the case. By now, through 90 games over the course of the 2016-17 season, we understand this club's limitations in that area. Mistakes through turnovers and lapses of judgment in their own zone are still very plentiful. 
What we didn't expect were the two horrid performances of the team's head coach and future hall of fame goaltender.
First, the coach.
Alain Vigneault was more than brutal. The major knock on AV throughout his coaching career is that he tends to lag behind the opposition in terms of in-game adjustments. Game 2 proved that in spades and Guy Boucher when needing offense each time after the Rangers struck to go ahead, got it done.
One man that has truly balanced the face of the Rangers lineup this season has been Brendan Smith. The physical defenseman who clears the traffic in front of Hank better than any other member of the Rangers, for some crazy reason, was stuck on the bench in the third period when New York needed defense and physicality most.
AV responded with pretty much no clear defense of his actions, via Larry Brooks of the New York Post.
"I was looking for certain matchups and sometimes within a game's flow, certain players get lost for a couple of minutes and that's what happened," Vigneault said when asked why No. 42 had gotten so little time in the third period. "It wasn't performance-related. Brendan played a good game with bite. It just happened that way."
Worse yet, so was Brady Skjei, a burgeoning star who tallied not one, but two goals in the game.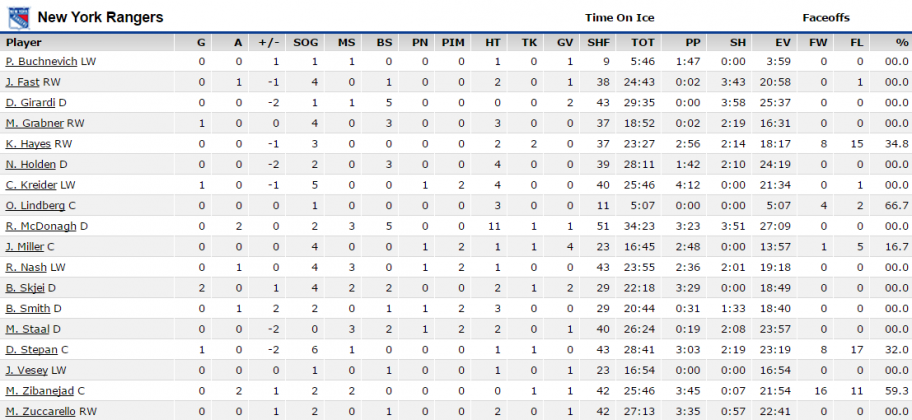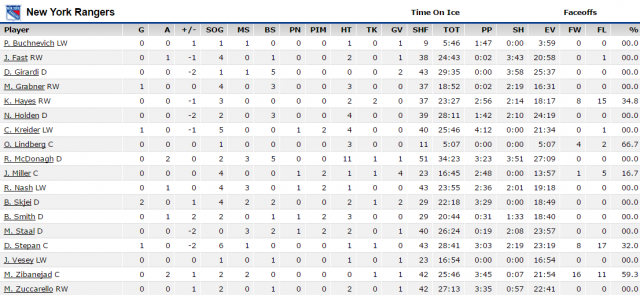 For those who need it written out, Smith received 20:44 of total ice time and Skjei 22:18 while Marc Staal got 26:24 and Nick Holden 28:11.
You've watched Holden and Staal all playoffs. Especially in this game, Holden was a wreck. He was timid, lacked purpose in his play and is playing with no confidence at the moment.
Meanwhile, the pairing of Smith and Skjei could be argued as the Rangers top duo at the moment. In no way, shape or form should ice-time be looking like that.
In five-on-five play, it gets worse:
5v5 icetime. pic.twitter.com/h5Tfi9HA2a

— HockeyStatMiner (@HockeyStatMiner) April 29, 2017
Then we get to the forwards. Both Oscar Lindberg and Pavel Buchnevich played less than 5:50 the entire game. Each was benched for unknown reasons.
We were watching Kevin Hayes centering the fourth line of Jesper Fast and Michael Grabner for most of the afternoon, wondering why this was the case after Lindberg had played like a rock for so long this season.
Did anybody catch what Oscar Lindberg did to get benched like this? In most cases, I trust him more than Kevin Hayes. #NYR

— Elite Sports NY (@EliteSportsNY) April 29, 2017
Forget double-OT, in a Stanley Cup Playoff game, legs become exhausted. Not rolling four lines efficiently will eventually come back to bite you in the keester.
Now, it's Henrik Lundqvist's turn.
Jean-Gabriel Pageau tallied a total of 12 goals during the regular season. On Saturday, he snuffed four. Of course, the game-winner came on a Holden pinch-in with Marc Staal desperately trying to defend a 2-on-1. 
JGP's four-goal day isn't just on Hank. We know this. In Game 1 and for most of the playoffs, Lundqvist has been outrageous. He's turned that switch to "on" like many didn't think he could.
In Game 2, he was horrible and deserves blame. For those who'd like to wave the pom-poms and never blame Lundqvist, go for it. When the man deserves credit, he receives it. When the man deserves blame, he should also receive it. That's how we work around here.
Despite his high-level of play, have you ever witnessed one period go by with Lundqvist maintaining full control of his goaltending stick? A man who's already legendary for how awful he is with the stick-handling can't even hold onto the damn thing in the crease. It's a big time detriment that will hurt him in these playoffs eventually.
Aside from that, opponents are now simply targeting either strong or weak side high. Hank, the classic butterfly-style goalie, is always low, all the time. Pageau took advantage a few times, especially on the game-winner.
All four of @JGPageau's goals from Game #2. #ALLIN pic.twitter.com/Rbr7oAuS7b

— Ottawa Senators (@Senators) April 30, 2017
If the Rangers and Lundqvist want that Stanley Cup, there can't be any lapses like this. It's just that simple.
Game 3 will come our way on Tuesday night from the Garden. We'll see how both AV and Hank bounce back. Down 0-2 in the series, they can either play their greatest (as they usually do with their backs against the walls), or fold up like a cheap tent at home, their unique house of horrs.