Last year, New York Giants GM passed up on Laremy Tunsil. If Reuben Foster is there at 23, the team can't pass him up. 
E
ver since he was named general manager of the
New York Giants
,
Jerry Reese
was never viewed as a maestro of the NFL draft.
Last year, he did his best to quiet the criticism.
Out of his six draft picks, Eli Apple (10th overall), Sterling Shepard (40th overall), and Paul Perkins (149th overall) were consistent contributors. B.J. Goodson and Jerell Adams — chosen in the fourth and sixth rounds, respectively — showed flashes of potential starters. If third-round pick Darian Thompson didn't injure his foot, many believed he would've started alongside Landon Collins for all 16 games.
Overall, there weren't many things Reese could've done differently at this time last year. But instead of adding a luxury pick in Apple, he could've fortified his offensive line — the longstanding issue on the Giants roster — by selecting offensive tackle Laremy Tunsil.
Of course, that's not the Giants way. Instead of talents with upside with character issues, the organization instead prides itself on taking collegiate team captains with outstanding reputations. Tunsil, of course, was once projected as the surefire first overall pick in 2016. But a video of the lineman smoking marijuana out of a gas mask circulated just minutes before the Los Angeles Rams were on the clock.
Tunsil fell out of the top three. Then the top five. When the Giants were on the board at 10, he was still available.
Reese constructed a strong and youthful nucleus along the offensive line. Justin Pugh and Weston Richburg developed into quality talents while the hope was — and in many ways, still is — that Ereck Flowers would follow suit. Tunsil could've been the icing on the cake.
Instead, Reese went with the safe pick.
Apple turned into a starter at cornerback. Tunsil, meanwhile, established himself as one of the best young guards in football and is expected to take over the reigns on the blind side in 2017. Despite his off the field antics, he's lived up to the hype on the gridiron.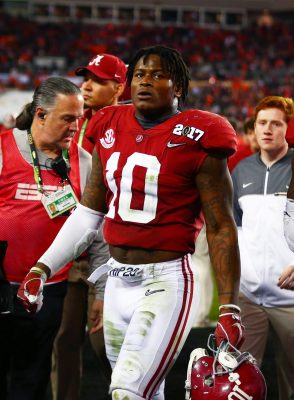 Tunsil could've been a tremendous asset moving forward. But now that it's in the past, Reese and the Giants can't look back.
But they can look forward. And they can take advantage of the same situation this time around.
After a stellar senior campaign at the University of Alabama, linebacker Reuben Foster was — and according to some, still, is — expected to be one of the top 10 players taken on Thursday. The reigning Butkus Award winner capped off his collegiate career with 115 tackles (with 13 of them going for a loss) and five sacks while working as the quarterback of Nick Saban's defense.
Foster has all the makings of becoming one of the next great young linebackers in the NFL.
But if the Giants are picking at 23, how could they possibly expect to land him?
Like Tunsil, off-field issues have made Foster's stock take a hit.
The first problem took place at the NFL Combine, as he got into a heated argument with a student hospital worker because of the way he felt he was being treated. The second problem also took place at the Combine — but it came to public light only recently.
On Friday, reports surfaced that Foster had a diluted urine sample, which automatically translates to a failed drug test. While he's stated that he drank more water than usual because he came down with an illness — and that could very well be the case — the linebacker is expected to slide down draft boards.
And if Foster is on the board when the Giants are on the clock, it should be a no-brainer for Reese to bring him to East Rutherford.
They can't pass on yet another need.
The linebacking corps was solid in 2016 but Big Blue Wrecking Crew they were not. Keenan Robinson was re-signed after playing quality minutes in nickel packages. Jonathan Casillas helped both on the field — he was strong in the run game — and off of it, as he was named team captain. Devon Kennard took a big step forward and the aforementioned Goodson displayed spurts of success as well.
The Giants have dynamic players along the defensive line and in the secondary. If the organization wants to take that next step, they'll need that type of player in the middle of the defense.
Foster is exactly what they need.
When looking at the linebackers available, there isn't one that matches his combination of strength and speed. During one play, he'll lay out a running back with a ferocious hit, and on the next, he's chasing and catching a wide receiver in the open field. He has incredible instincts, can play multiple positions in a 4-3 defense, and can both stuff the run and match up with tight ends.
Sure, he had his two off-field incidents and also went through surgery on his rotator cuff this offseason. But the Giants could be a game-changing linebacker away from having the best defense in the entire league. For an organization that steers clear of risks, this could be the one worth taking.
Fans know the franchise hasn't selected a linebacker in the first round since 1984.
Will Foster be as good as Carl Banks? That's tough to say. But if he's there at 23, Reese should make him a Giant.