The New York Rangers top guys is changing the narrative for this organization at the most perfect time, the Stanley Cup Playoffs.
A
nyone who tells you they thought this first round matchup against the Montreal Canadiens was going to be anything short of a six or seven game war has not watched enough hockey this year. Expectations heading into the battle between the Atlantic champions and the top wild card team in the East included a prolonged series, in which
Henrik Lundqvist
would have to expend all the gas left in his tank to keep pace with
Carey Price
. The main worry for Blueshirts supporters was Montreal's physical edge in comparison with the Rangers' relative lack of toughness. Thus,
Tanner Glass
skated (and actually scored) in the Rangers' Game 1 2-0 shutout victory.
Price has undoubtedly performed up to his mile-high expectations as arguably the best goaltender on the planet, sporting a 1.82 GAA to go with his .936 save %. If a Rangers fan was told these would be Carey's numbers through Game 5, they'd have to figure the Rangers would be trailing in the series, or perhaps even picking their tee-times for the upcoming week. The return of the King, however, has been swift. Hank has also compiled a 1.82 GAA, along with a sterling .944 save % to go with his aforementioned shutout in Game 1. "Playoff Hank" is clearly manning the crease once again, much to the delight of Blueshirts fans that may not have been overly optimistic after some regular season tribulations.
For all his career playoff success, Lundqvist's best career GAA for a playoffs was in 2010-11 when he also had a 1.82, and his previous best save % was in 2012-13 with a .934%. To say that he'll be able to continue producing at this clip is obviously nothing more than an educated guess, but the results for Hank so far have been well above those projected in the pre-series narrative. Hank has simply been phenomenal. At a bare minimum, he's managed to meet Price's excellence, and also find a gear of his own. The signature save of the series thus far came midway through the third period of Game 5 in Montreal. Max Pacioretty burst by Brendan Smith and was sent in on a breakaway, in which Hank stood tall and essentially sent the game to the decisive overtime period. The Habs captain is yet to beat to Lundqvist, despite leading the NHL in shots on goal in these playoffs. The save and the stat are a testament to the Swede's current dominant form. If he can continue to play at this level, the Rangers have that all-important piece that every team dreams of having come April in the NHL; a white-hot tender.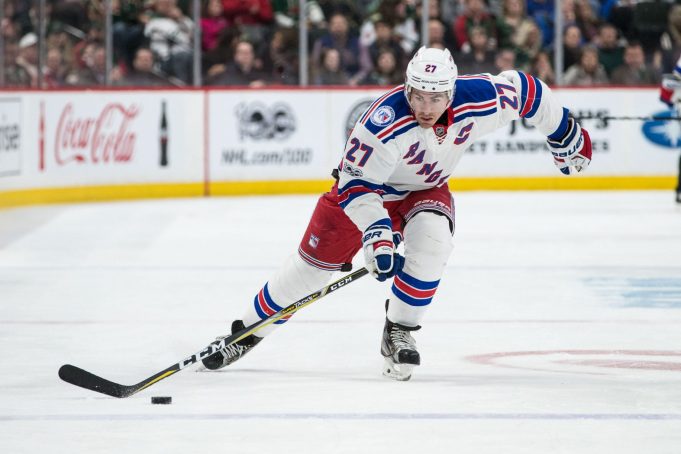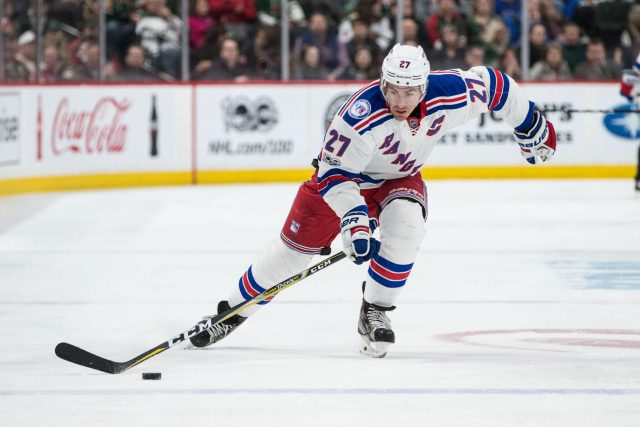 Aside from Lundqvist, the usual backbone of any Rangers playoff success, Rick Nash is skating and striding in exactly the manner he needs to be. No longer "unleashing" his patented "spin-o-rama" and missing the shot wide right, Nash has consistently crashed the net with purpose and aggression. The big-bodied winger is no longer messing around, and seems to be peaking under the bright lights. This is extremely encouraging, mostly because his Rangers tenure is full of promising early season campaigns that fizzle out as the calendar months flip by. This series, though, could well be defined by one more Nash power drive or rebound goal. He is creating chaos for Carey, as evidenced by Brady Skjei's enormous rebound goal in Game 5, where he snuck in for a follow-up after Nash turned the corner and got the puck on net.
With Nash and Lundqvist at the top of their respective games, the outlook for this team is really beginning to morph into more than just a "get in and hope" type of feeling. In fact, the Boston Bruins' double overtime victory over the Ottawa Senators on Friday night, sending the series back to Game 6 in Boston with a chance for the B's to even it up, is even more reason for optimism. Those two teams are now locked in a battle, and Boston will not go away quietly.
At this juncture, though, the focus must remain on taking care of business against Les Canadiens. As Henrik Lundqvist noted in his pre-game interview leading up to Game 6 at the Garden, the Rangers have been here before, and they cannot allow themselves to focus on anything but winning this one game right now. Regardless of the outcome on Saturday night, this Rangers team is beginning to look like they can overcome adversity and emerge victorious even after looking mightily outclassed for most of a given tilt. This is the sign of a team that believes in itself and will not throw in the towel when times get tough. Instead of caving the Rangers willed themselves to dominate overtime in Montreal until the struggling Chris Kreider's pass found its way to a hustling Mika Zibanejad, who beat Price to send the series home and give the Blueshirts the all important chance to eliminate Montreal at the Garden.  Moreover, Glass has not played since Game 3–a sign that AV has been able to field his ideal players and play more of a skill-based game as opposed to bending to the makeup of the Habs.
At this point, guys like G, Fast, Brendan Smith, Jimmy Vesey and Mika are all stepping up when it matters most. Ryan McDonagh's superstar performance truly deserves praise of its own. Essentially, should things continue to play out as they have so far, if the Rangers are able to conjure up any kind of production from regular season studs like Kreider, J.T. Miller, and Kevin Hayes, they will win this series. The example set by the top guns will have to trickle down to close out Round 1. The Rangers have earned this opportunity. Now, it's all about those three magic words: survive and advance.