The first round Stanley Cup Playoff series showcasing Rangers-Canadiens will ultimately come down to the road team's blueline.
I
t's pretty clear, and there is certainly no more running away from it: the
New York Rangers
' playoff fate is going to boil down to the performance (or lack thereof) of their defensemen.
This first round matchup between the kings of the Atlantic and the King himself looks extremely likely to be a long, drawn-out series—a characteristic that would seemingly play into the Rangers' hands. After all, the more games you can play, the more wear and tear you can hope to inflict upon the pristine Carey Price, whose record against the team from Manhattan is spectacular and borderline unconscionable.
This advantage only exists, however, if the Rangers are able to actually make this a series.
In order to get to that point, the Blueshirts will need to play much better in front of Henrik Lundqvist in order to give him a chance of controlling his rebounds and finding his full game. Hank's usual late-season process of preparation was already forcibly accelerated as a result of injuries and some clear mental wearing throughout the course of this season. There is still time to turn it around, though, and the Return of the King's regal form is not all that impossible to envision.
To put it as bluntly as possible—captain Ryan McDonagh is the heart and soul of this defense.
He has played exemplary hockey for essentially the entire season; a season in which he's regularly paired up with a slowing Dan Girardi. We'll get to G below, but it was great to see McDonagh recognized as the team MVP before the Rangers' last regular season game. Was there ever any debate? In spite of their recent slump and regression to the mean, the Rangers' greatest strength undoubtedly still resides within their diverse group of forwards. Regardless of their form, they'll be able to force the Habs into problems due to their unique combination of hustle, speed, and skill—pretty much straight through from man one to 12.
The forwards will effectively have mismatches at least every fourth shift, as their "third line" of Michael Grabner, J.T. Miller and Kevin Hayes will face off against Brandon Davidson and Nikita Nesterov in Game 1 with Alexei Emelin out. Whether they take advantage and bury their inevitable opportunities is a different story entirely, but the chances will be there.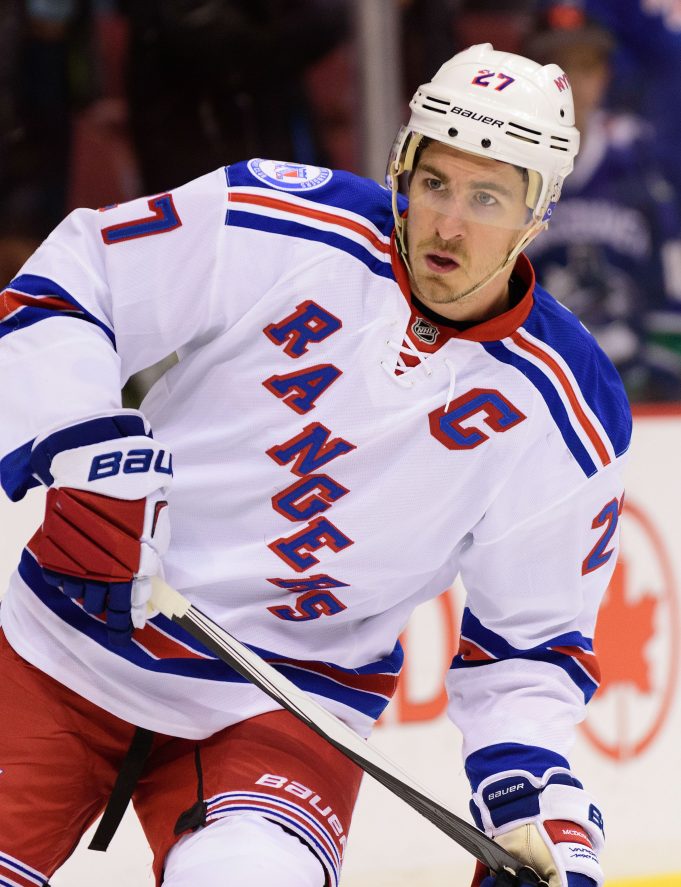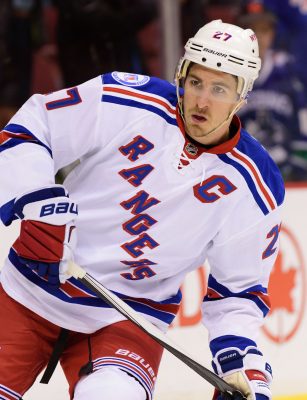 McDonagh has excelled this season, both with and without the puck. He boasts six goals and 36 assists, good for 42 points and a +20, all while paired with mainstay Girardi or a myriad of other Rangers defensemen. One reason for the shuffle is the fact that the Rangers really haven't played a meaningful hockey game since before the ball dropped on New Years Eve. This paved the way for Alain Vigneault to mix and match while attempting to find his ideal pairings, all in anticipation of Game 1 against Montreal.
I'm not necessarily ready to proclaim that AV solved the puzzle, but in terms of finding the captain's partner, he should keep it simple. Mac is a true top-pair defenseman in every sense of the term. He is physical, agile, and once in awhile scores beautiful, clutch goals when his team needs it most. He does all this while consistently taking on opposing teams' top guys and making noticeably positive plays with nearly every stride.
Against Montreal, AV should (and almost certainly will) go with the old staple of McDonagh-Girardi. Logically, as Montreal's top line is not truly built on breakaway speed, Girardi should at a minimum be able to keep most of the play in front of him. While captain Max Pacioretty, Phillip Danualt, and Alexander Radulov certainly cause problems with their chemistry, shooting ability, and vision in the offensive zone, Girardi should be able to do enough to stay with them.
He'll need to improve his positioning and keep his stick active. If he can execute, he should not be the liability many fans are expecting him to be during this series. A couple bailouts from McDonagh and knowing #27 will be in perfect covering position certainly helps G's cause. This pair should hold up well.
Against another, speedier top line, I'd advocate heavily for throwing rookie sensation Brady Skjei right up there next to Mac. And there is the potential Girardi doesn't pan out, paving the way for the kid to get the call. But to start, I'd feel good with Skjei on a lower pairing against lesser competition. Particularly, Skjei should be paired with Brendan Smith, while I'd have Kevin Klein skating across from Nick Holden in Game 1.
This would result in the distribution of a ton of minutes to Mac and G, but would give the Rangers flexibility to matchup Smith and Skjei with the Paul Byron line—negating what could arguably be the most important Habs line. Skjei has played great hockey all season long, and if his playoff debut against the Penguins last season is any sort of preview, we should have two solid pairings to roll out against Montreal's intelligent offensive attack.
Marc Staal is the odd man out here, and with good reason.
The case could be made for any of Klein, Holden, or Staal to be the odd man out, as none of them have exactly inspired with their recent play. Klein does seem to be rounding into form a bit though, while Staal has struggled with nearly every partner he's played with. Most concerning for No. 18 is not his lack of speed, which has to be expected at this point; it's his lack of controlling and caring for the biscuit. Staal has been forced into numerous turnovers and has struggled mightily against the forecheck. Montreal will utilize their forecheck, especially their guys like Tomas Plekanec, Andrew Shaw, and Brendan Gallagher, whom Staal would likely spend most of his time against.
Brendan Smith has played well for the most part, but AV should not hesitate to try patching up a defensive leak should any players in this group crumble against Les Canadiens. Hopefully, he'll be able to set it and forget it against Montreal.