As the New York Rangers begin their quest for the Stanley Cup, it will be the young talent on the roster who make the difference. 
O
n Wednesday, the
New York Rangers
will embark on their seventh-straight journey to capture the Stanley Cup, hockey's top prize that the organization has yet to hoist since 1994. It's a setting that the Madison Square Garden faithful have become accustomed to.
Sure, the organization has only made it to the Stanley Cup Final once over said seven years; but in each and every run, they've enlisted in a veteran-laden team that's provided one thing above all else — hope.
This year has been different.
After going on a magnificent stretch of deep playoff runs, a first-round exit at the hands of the Pittsburgh Penguins led to Glen Sather, Jeff Gorton and the rest of the front office shaking up the roster with the hope that fresh blood would provide a renewed sense of energy. As the offseason came to a close, many believed the organization was heading towards a brief lull.
The turnover wasn't great as the depth chart stayed largely intact. Instead of making a blockbuster move to acquire a top-tier talent like they pulled off for Rick Nash in 2012, Gorton brought a mix of veteran depth and young prospects into the fold.
Names like Nick Holden, Michael Grabner, Brandon Pirri, Matt Puempel, Adam Clendening, and later Brendan Smith, helped the Rangers become a well-rounded bunch.
But it's the youth that can make the Rangers a serious threat in the Eastern Conference.
If the Blueshirts were going to be successful this season, Kevin Hayes and J.T. Miller had to take a step forward. Fortunately for Alain Vigneault and company, they've done just that. After Hayes had a sophomore slump all year long, he looks like the player the organization always believed he could be in 2016. Finishing just shy of 50 points, Hayes has improved as a defender and finisher while he continues to shine as a passer. Miller, meanwhile, has added more playmaking ability to his physical game and will finish the season ranking second in points.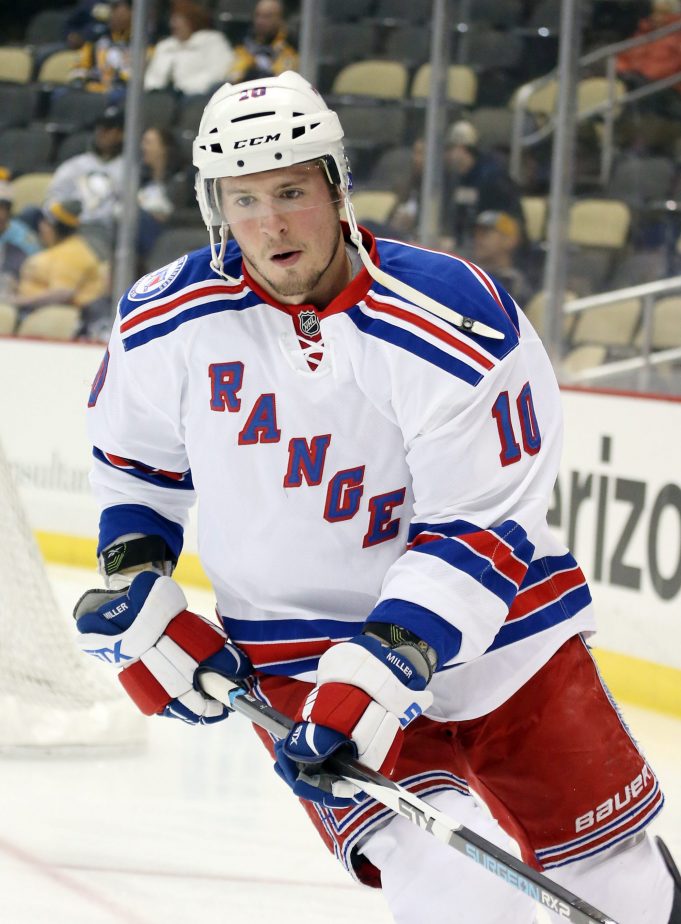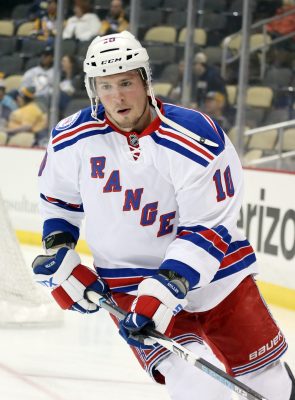 Like Hayes and Miller, Zibanejad has playoff experience — but he doesn't have it in New York. Despite having a broken fibula derail a good chunk of his season, the center looks to be the legitimate first-line center the Rangers have been craving.
Two of the most popular additions this offseason came in the form of Pavel Buchnevich — the organization's top prospect who came from the KHL — and Jimmy Vesey — a top collegiate star who opted to pick his team instead of suiting up for the Buffalo Sabres or Nashville Predators. As expected, both rookies have hit walls — they're seen as talents with elite offensive skills but their defense has led to extended stints on the bench. But with the more playing time Buchnevich and Vesey receive, the quicker their talents will manifest on the big stage.
But it's not all about offense. In fact, Brady Skjei may be the most important youngster of them all.
He received much fanfare as the second coming of Ryan McDonagh while playing for the Hartford Wolf Pack and showed spurts of that potential in his brief stint in the NHL last season. This year, Skjei has been a constant on the blue line and his sound defense, confidence on offense, and mature instincts have been arguably the biggest reason behind the improved defense.
When the Rangers take the ice for game one, it's clear that McDonagh, Henrik Lundqvist, Mats Zuccarello, Rick Nash, Derek Stepan, Chris Kreider, Marc Staal and Dan Girardi will do their part in bringing a championship to the big city.
But the team needs more. They need Hayes to be a creator on offense. They need Miller to display his fierce two-way ability on a nightly basis. They need Zibanejad to be a menace on the face-off dot. They need Buchnevich and Vesey to chip in on defense while being aggressive on offense and for Skjei to continue to develop into a shutdown defenseman.
Is that a lot to ask for, especially from young talent? Sure.
But it's possible. And if they can do so, it will make the difference between a Stanley Cup dream and reality.