It's become clear that Michael Conforto needs to be in the New York Mets' OF, but Curtis Granderson has to be the one to go, not Jay Bruce.
D
uring this past Major League Baseball offseason, one of the biggest topics in the
New York Mets
-verse was whether general manager
Sandy Alderson
would trade away either
Jay Bruce
or
Curtis Granderson
.
Elite Sports NY jumped in on the debate, where it was advocated that Bruce should remain in Queens, and the Grandy-man should be on the outs and traded away.
(Check that story out here.)
And the extremely early season returns of Bruce staying in right field can already be seen, as every Mets fan is likely to already emphatically know.
The former Cincinnati Red is hitting .304/.448/.870 — good for a whopping 1.318 OPS — paired with eight runs, a double, four home runs, six RBIs and six walks to three strikeouts over his first seven games of the still young 2017 season. Those numbers were aided by the two-homer game Bruce had last night, including a two-run shot that hit his photo on the jumbotron at Citizens Bank Park.
Don't worry, we'll show you if you haven't already seen it.
https://twitter.com/EliteSportsNY/status/851611137221197824
Granderson, on the other hand, is batting a putrid .208/.200/.250, with no runs, homers or walks, while garnering six strikeouts and only two RBIs.
Again, the Mets are just a week or so into the new year, but the results so far cannot be ignored, especially by manager Terry Collins.
Boat loads of fans began to bash on Bruce all offseason long concerning the extremely weak August performance he had right after his trade from the Reds. And that criticism was for good reason — the southpaw hit .183 over 103 plate appearances that month, and only redeemed himself with two home runs and six RBIs.
But everyone seems to conveniently forget that he was a massive part of the Mets eventually successful postseason push to make the National League Wild Card game. In fact, from September 1 until that matchup with the San Francisco Giants, Bruce hit a respectably solid .263/.333/.513 with six homers and 13 RBIs in just 20 starts throughout that time span.
Not to mention that the man's final statistical line for 2016 included 33 home runs, 99 RBIs, a .250 average, an .815 OPS and a somehow "forgotten" .323 average with runners in scoring position.
On top of all of those already incredibly swaying arguments, Bruce has had just one season in his 10 year career prior to 2017 during which he didn't hit at least 21 home runs.
The lefty slugger also managed 87 RBIs or higher throughout every season from 2011-2016, with the lone outlier being 66 in 2014. But of the five years included above, Bruce actually had totals of 97, 99, 99 and 109 RBIs during four of those seasons.
Oh, and to put some icing on his cake — Bruce has won two Silver Slugger Awards, finished in 10th place in the NL MVP race twice, made three All-Star teams, all while currently ranking 16th on the active home run list and fourth in right fielder assists, including a first place NL finish last season.
He's a proven run-producer with a cannon arm, and the statistics back that up.
So even with all of the harsh arguments that Mets fans have projected onto Bruce — while some are valid — many of those equally exact heavy truths also apply to Granderson just as bad, if not worse, than to Bruce's situation.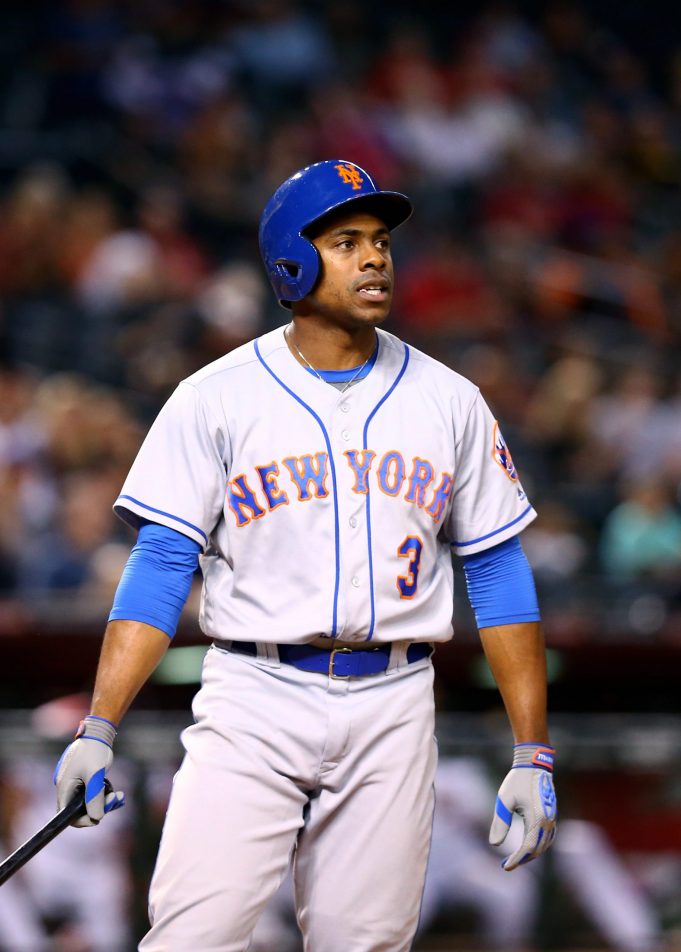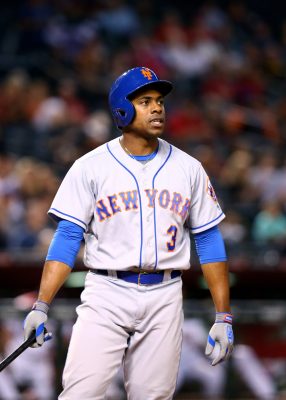 Even if it appeared to Mets fans last year that Bruce couldn't hit with runners in scoring position — a myth that was debunked earlier with a showing of his .323 average in such chances — Granderson produced with a literally historic level of incompetence in similar situations.
Not only did he shock Queens with an already absolutely horrid .152 average with runners in scoring position over 130 plate appearances in 2016, but he also tied St. Louis Cardinals second baseman Jedd Gyorko for the most minuscule RBI total during a 30 home run campaign in MLB history with 59.
No one can take away Granderson's nearly MVP-worthy 2015 season when he hit .259/.364/.457 with 98 runs, 33 doubles, 26 home runs, 70 RBIs, 11 stolen bags and 91 walks, finishing in the top-20 in the NL MVP vote in the process. But he's clearly not the same guy anymore, as the former New York Yankee just turned 36 in March.
Alderson's main motive in wanting to keep Grandy on the 25-man roster for 2017 was his still somewhat intact ability to play center field — a position no other MLB starting-caliber bat can play on this Met squad. But the clear issue is — and has been for two full seasons now — the lineup's inconsistent production.
Michael Conforto is simply hitting right now, a lot. He's proved all he can at Triple-A, so it's time for him to be in the lineup nearly every day.
Granderson would possibly be the best bench outfielder in the majors, especially considering his team-centric mindset that would surely allow him to accept even a backup role with grace.
Yoenis Cespedes obviously won't be coming out, so the recent power surge of Bruce should be more than enough, on top of his laundry list resume, to keep him in right field at least through the final days of the 2017 season.
The Grandy-man has got to be the man out.