After the return of Yoenis Cespedes, the New York Mets hold a surplus of lefty outfielders. So who should go – Jay Bruce or Curtis Granderson?
Y
oenis Cespedes
is officially back and
New York Mets
fans understandably couldn't be happier. But his return also means the Mets' outfield is about as overflowing as the growing bandwagon of
Jeurys Familia
haters.
Center fielder Juan Lagares is just 27-years-old and is under team control through 2019. Michael Conforto has shown considerable hitting ability in his two short seasons in Queens and manager Terry Collins is committed to making him a full-time starter in 2017.
That leaves 30 home run outfielders Curtis Granderson and Jay Bruce on the chopping block. Both players are on the last years of their respective deals, with Grandy due to make $15 million and Bruce $13 million.
ESPN Mets beat writer Adam Rubin has reported that GM Sandy Alderson and the Mets front office is distinctly confident that they will deal one of the two above lefties while at the Winter Meetings.
The Mets are confident they will be able to trade an outfielder before the winter meetings conclude since they… https://t.co/7eMrm9KlCL

— Adam Rubin (@AdamRubinMedia) December 4, 2016
It's likely that the Mets will be asking for a reliever back in whatever deal they find in order to help shore up the back end of the bullpen, whether Familia ends up suspended or not.
But aside from what they would be getting back in such a deal, which bat should the Mets keep on their 25-man roster for the 2017 MLB season?
The evaluation of Granderson's overall value to a team needs to go beyond his statistical contributions. He was awarded the 2016 Roberto Clemente Award, given out by Major League Baseball, honoring a player for their off the field contributions.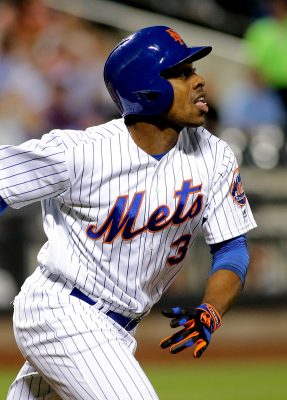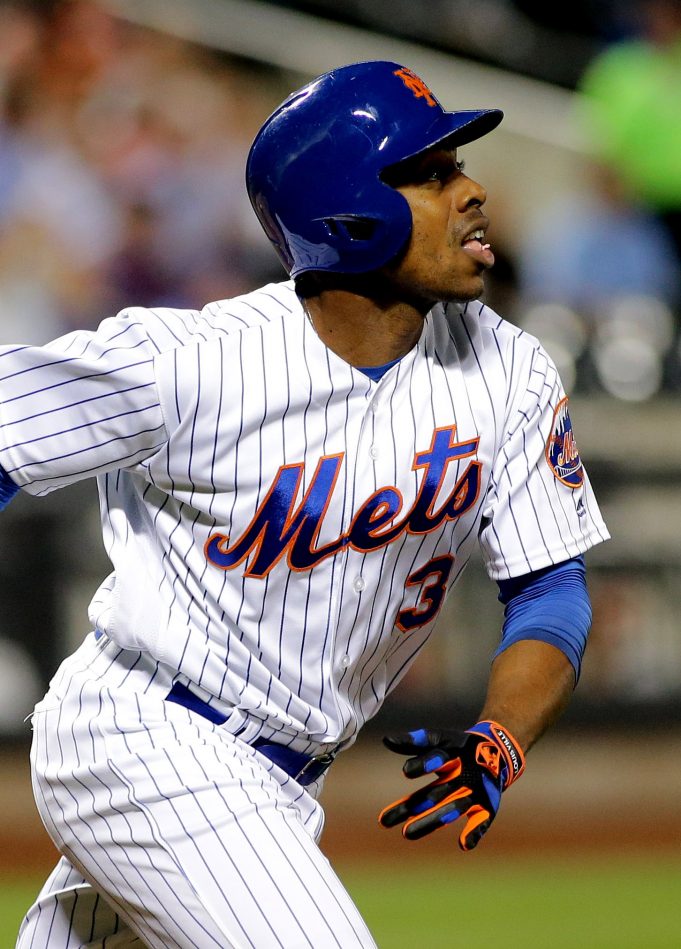 The Grandy-man also brings that hard-working attitude to every at-bat, dugout, and locker room he has ever been a part of. His, at the time, game-saving catch right at the base of the center field wall in the Mets' 2016 Wild Card Game against the San Francisco Giants is just another obvious way he continuously comes up big.
The old power stroke he possessed in the Bronx with the New York Yankees also reappeared in 2016, after Granderson hit 30 home runs, 24 doubles, and five triples in 150 games.
But after hitting .297 with 44 RBIs in 120 plate appearances with runners in scoring position in 2015, he hit just .152 with 23 RBIs in 130 such plate appearances last season. In fact, Granderson had just 59 RBIs paired with his 30 homers – tying St. Louis Cardinals second baseman Jedd Gyorko for the lowest RBI total in a 30 homer season in league history.
That literally historically low RBI total should have Mets fans worried. Although Granderson did make up for some of those mishaps by producing 74 walks, a .335 on-base percentage, and 88 runs scored, hitting in less than double the RBIs of your home run total is unheard of and unacceptable.
Bruce, on the other hand, is a very quiet guy – something that may have affected his early days in Queens after his trade from the Cincinnati Reds. Following the deadline deal the Mets made for him, Bruce struggled mightily, hitting just 2 home runs with a .183 average for the entire month of August. He looked very far-gone at the plate then, striking out in over a quarter of his plate appearances during that stretch.
But just as Mets fans inevitably began calling for his head, he turned things around in the last month of the season. Bruce jumped up to a .263 average, paired with a .333 on-base percentage, six home runs, and 13 RBIs as the Mets made their eventually successful postseason push.
Bruce has a long resume of high-end success in the majors though, matching his home run total with his 21-year-old age during his rookie season for the Reds. He's followed up that fifth place 2008 NL Rookie of the Year finish with seven out of eight 22-plus home run seasons since then, while also finishing in the top-10 in the NL MVP race twice over that span.
Granderson, though, has garnered more interest on the trade market for the Mets than Bruce, but Alderson is heavily disinterested in getting rid of Grandy, mostly due to his ability to play center field.
On that front, if Granderson is the man to leave, then the Mets starting outfield becomes Cespedes in left, Bruce in right, likely Conforto in center, with Lagares and prospect Brandon Nimmo getting time in the outfield as well. Now, while Conforto does have considerable athletic ability, he's definitely not a true center fielder, making Granderson's would-be presence there extremely valuable.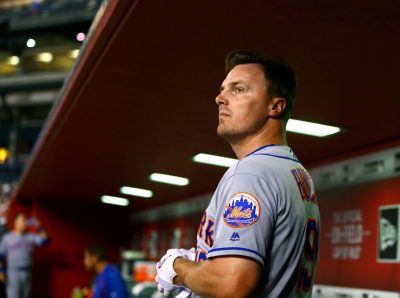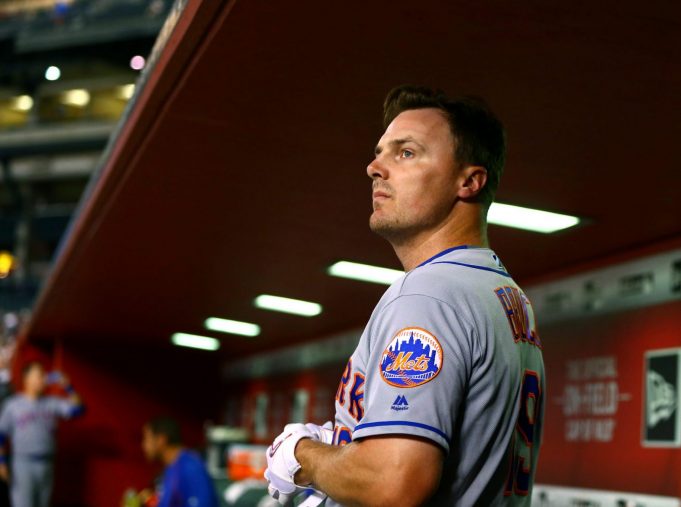 Bruce is clearly the better bat though, hitting .250 with 33 home runs, 27 doubles, and six triples, while falling just one RBI short of 100 last season. His .323 average and an over 1.000 OPS with runners in scoring position shows he can be a real run producer, especially sitting in the cleanup spot behind Cespedes – a situation parallel with his having hit behind Reds first baseman Joey Votto.
And right now, regardless of his intangibles and experience in center field, Granderson doesn't provide the Mets with an impactful enough bat to really spark the offense to a higher level than last season – something Bruce does offer them. This should happen if they want to make a more serious postseason run while their incredible starting rotation is still young and under team control.
So the Mets should take advantage of the heightened interest of other teams in Granderson by getting a better trade haul back, making the bullpen and farm system much stronger in the process.
Although it is a bit of stretch, it's possible that early interest by the Mets in Chicago Cubs free agent outfielder Dexter Fowler could become a real signing possibility. If Alderson was to trade both Granderson and Bruce – and the suitors are there to do so – under the pretenses of knowing Fowler would come to Queens, then the Mets would get an on-base machine who is younger and has even better center field ability than Granderson does.
This somewhat pipe dream scenario is unlikely, but more than possible. It would clear cap space, fill the Mets ever-empty leadoff spot, and create a strong one through five order in the 2017 lineup.