ESNY's official in-depth preview and predictions for the Stanley Cup Playoffs first round matchup between the New York Rangers and Montreal Canadiens. 
The Basics
T
he Montreal Canadiens enter the series having finished first in the Atlantic Division with a 47-26-9 record, good for 103 points. The Habs, in somewhat surprising fashion, decided to relieve head coach Michel Therrien of his duties in the middle of February while replacing him with ex-Bruins coach
Claude Julien
. Funny thing about that is back in the 2002-2003 season, the same exact situation had played out in which Therrien was fired only to be replaced by Julien.
Therefore, the middle of February definitely had some Habs fan saying déjà vu.
However, to the excitement of the fans, Julien was able to revitalize the club, a squad that was floundering towards the end of Therrien's reign, as they finished with a 16-6-1 record en route to an Atlantic Division title.
Montreal Forwards
The Habs have, historically, been a defense first team that won by stifling opponents through the neutral zone and relying heavily on all-world Goaltender Carey Price. Therrien was the brain child of this style of play and instead of wiping the slate clean, Julien has stuck with it. Their first line of Max Pacioretty, Phillip Danault, and Alexander Radulov has produced much of their offense this season.
Danault, a former first-round pick of the Chicago Blackhawks back in '11, has enjoyed quite the coming out party this year registering 13 goals and 27 assists for 40 points, all career highs.
What's troublesome from a blue point of view is that Danault is definitely not the only sleeper for the Habs.
Paul Byron, who's made his NHL career as a bottom-six energy player, has burst onto the scene with 22 goals and 21 assists. Those stats have Byron finishing the year as the NHL's most surprising 20 goal scorer. He's also almost doubled his previous career highs and has proven to be a capable two-way player for Coach Julien.
The rest of the forward group is rounded out by a deep, capable lineup.
Center Alex Galchenyuk is one of the most dynamically skilled forwards on the roster and has seen much time on the top unit with Radulov and Pacioretty. The Habs made a big time effort to shed the "French Canadien Softy" label and added former Blackhawk Andrew Shaw while adding players like Dwight King and Steve Ott from the Kings and Red Wings, respectively.
We should not forget to make mention of pest Brendan Gallagher, either. Some might compare him to Brad Marchand, aside from, oh you know, the fancy stickwork and spearing. The kid can flat out play and if there is anyone on the Canadiens roster that envelops the term "playoff hockey," it's Brendan Gallagher.
Montreal Defense
On the back end, the Habs feature a very solid group of six defensemen. Of course, everything starts with the big guy, Shea Weber, who was acquired this past summer in a one for one swap for beloved yet enigmatic P.K. Subban. Weber is best known for his shot, which has been one of the NHL's hardest for years which makes him a dangerous weapon on the power play for opponents and teammates alike (just ask Gallagher).
The rest of the group is filled out with Andrei Markov, an offensive defenseman with years of experience; Alexei Emelin, a gritty hard nosed stay at home guy, known best for his rattling hip checks; and Jeff Petry, who's a mobile defenseman not known for his offense but more for his heady defensive zone play and ability to make a great first breakout pass.
The bottom pair features a rotation of youngsters Nathan Beaulieu and Nikita Nesterov with veteran Jordie Benn. Beaulieu was a first-round pick of the Canadiens in '11 while Nesterov made a name for himself playing with the Tampa Bay Lightning.
Honestly, I'll keep things short with Carey Price. Everyone knows he's an all-world goaltender, backstopping the Canadian World Junior team to a gold medal as well as gold with the Canadian Men's Olympic team in 2014. For more on Price, check out Derek Radich's feature on the goaltending matchup.
What The Rangers Need to Do
The Rangers are going to have dig deep in order to take this series. As we all know, there is some documented hatred between the two clubs stemming from hard fought playoff series in years past and oh, the small incident between Price and Chris Kreider
The bottom line is the Rangers need to find a way to get to the net against Price.
Price is a goaltender who rarely allows the first shot without traffic to get by him. So, the Rangers need to find a way to play lots of minutes in the Canadiens zone, work the puck down low, use the cycle and wear down the Habs. Bigger players like Kreider, Rick Nash and Mika Zibanajed are going to have to find a way to get some greasy goals in front and take away Price's eyes. The much-maligned power play needs to find a groove as well. Players like Ott, King, Gallagher and Emelin have tendencies to find themselves in the sin bin so an effective power play could steal some games.
On the defensive side of the puck, the Blueshirts need to find a way to effectively shut down that first line.
Radulov, although a bit of a head case, is a truly dynamic skill forward, yet has certainly never been dubbed a playoff performer. Max Pacioretty offers more of a North-South type game but has a nose for the net and can score from anywhere in the offensive zone due to a quick release on his shot. The size and strength of the Montreal Canadiens bottom six forwards will offer trouble to the Rangers defense corps because, let's be honest, the Rangers D is incredibly soft. Klein and Girardi are old.
Kevin Klein and Dan Girardi are old. Marc Staal is one concussion away from being a vegetable. Brady Skjei is young and Ryan McDonagh can only do so much. All in all, the roster is what it is and in my opinion, Henrik Lundqvist is going to have to find a way back to elite status and steal some games for his franchise.
Prediction
The Rangers have been too hot and cold this year and with their sub-par defensive zone play and spotty offensive outbursts, I think the Habs will have their way.
The Canadiens forwards have size and strength to cycle and wear down the Rangers defense on long shifts. The Rangers have relied heavily on scoring off the rush and the Habs' style neutralizes that. If the Rangers can find a way to add more possession and zone time to their arsenal, then things could be different. However, look for Price to be his usually brick wall self and players like Gallagher and Pacioretty to be thorns in the Rangers' sides all series long.
Prediction: Montreal in 6
Schedule
Game 1: 4/12 @ Montreal 7 p.m. ET
Game 2: 4/14 @ Montreal 7 p.m. ET
Game 3: 4/16 @ The Garden 7 p.m. ET
Game 4: 4/18 @ The Garden 7 p.m. ET
Game 5 4/20 @ Montreal TBD
Game 6 4/22 @ The Garden TBD
Game 7 4/24 @ Montreal TBD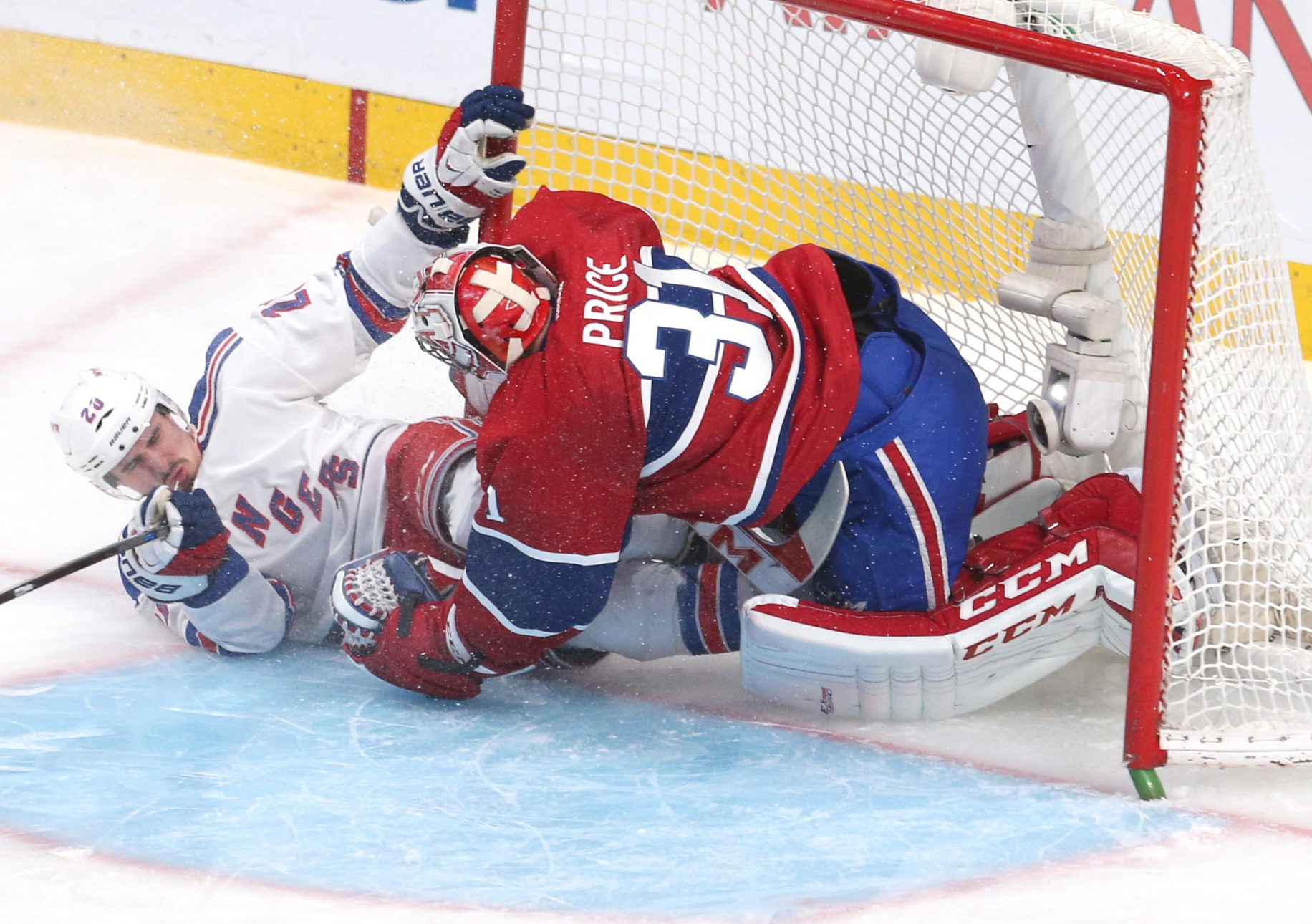 Staff Predictions
Derek Radich: Rangers in 7
The New York Rangers will use their success on the road to win this series. I'm confident the Blueshirts take Game 1 and then proceed to alternate wins and losses until a gut-wrenching Game 7. Both Henrik Lundqvist and Carey Price have a big series, but the Rangers speed and offense takes it the extra mile to win the series. Zibanejad and Nash have a big series. Let's go Rangers!
Greg Slotnick: Rangers in 7
The Rangers find a way to earn a split in the first two in Montreal and trade wins/losses with the Habs after that. The Rangers then find a way in an epic classic with "Game 7 Hank" showing up. The Rangers use their speed game and some of that skill they've shown glimpses of returns, and it's just enough to get by a really tough Round 1 matchup against a team that's had their number recently. Step with the series clinching goal. LGR!
Dan Federico: Rangers in 7
Henrik Lundqvist returns to form at the right time as he helps carry the Rangers against a strong Canadiens team. It's going to be a close series each and every game, but the clutch gene of New York proves to be the difference
Nick Durst: Canadiens in 7
Ultimately, the Rangers defensive struggles that we have seen all season become their downfall. Marc Staal and his horrific playoff +/- of -12 gets even worse. Henrik Lundqvist plays great but without any help in front of him, he cannot lead the New York Rangers to the next round. Derek Stepan, Chris Kreider and Rick Nash lead the way offensively, but ultimately cannot outscore the Canadiens.
Bryan Pol: Rangers in 6
Look for Derek Stepan and Chris Kreider to come alive! In addition, let this finally be the season for Rick Nash to come out of his playoff funk. We can't win a Cup without a big turnaround from him. It's now or never for Hank. The window is closing. Another subplot: the bad blood with Kreider and Carey Price. Don't think the Canadiens have forgotten!
Rob Sabo: Canadiens in 5
Obviously, we love the Rangers speed and balance across all four lines. Alain Vigneault's system and philosophy of a strong transitional game is in place and will do some damage early on. The problem comes when realizing the Stanley Cup Playoffs are a different animal than the 82-game slate. New York is a very soft team that boasts an extremely unimpressive defensive structure. That, along with Henrik Lundqvist's sliding, will not get it done, again. While I chose five games, I do believe it'll be a competitive five games, unlike the Pens series a season ago.