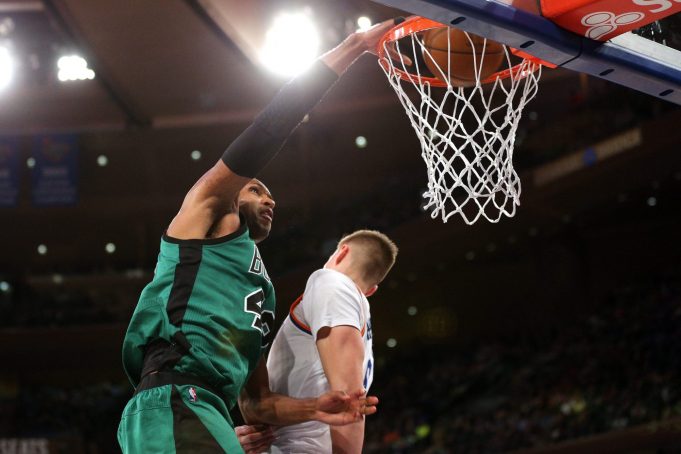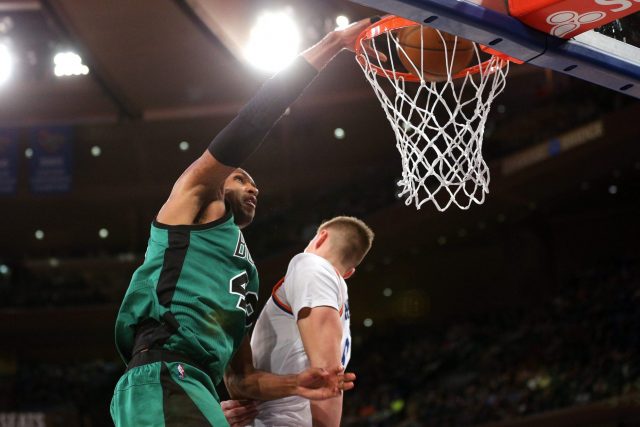 Oh, no. The swiss cheese defensive frontline of the New York Knicks are allowing Al Horford to terrorize them. Kristaps Porzingis had to hide.
Oh, no. This is not what the New York Knicks needed at this time. In no way, shape or form is it a good thing when the prized youngsters on the team are feeling ashamed and embarrassed.
Sunday, Apr. 2, 2017, Boston Celtics Al Horford is the most recent man responsible for giving it to the Knickerbockers front-line.
Both Willy Hernangomez and Kristaps Porzingis have to be ashamed of themselves. Horford only snagged 14 points on the day in Boston's 110-94 victory over New York, but he sliced and diced the big men in the paint with relative ease.
It could have been much, much worse.
For example, here's Horford posterizing KP at the Mecca:
It's official. Al Horford likes to dunk on the Knicks… ? pic.twitter.com/xqdaDGYjZz

— Celtics Direct (@CelticsDirect) April 2, 2017
While Horford came to the rim full-speed ahead, KP was, indeed, there to make a play defensively. It sort of looks as if he took the Carmelo Anthony-route of defending a dunk (run and hide).
Here's Horford find all the room in the world to operate in the blue paint. Hernangomez had no chance:
Horford with authority! #NBAonABC pic.twitter.com/hqqcwCmh8e

— NBA (@NBA) April 2, 2017
Until Phil Jackson realizes defense is a necessity in today's NBA, the Knicks simply won't find success.
Welcome (again) to the other end of the poster, Kristaps Porzingis. It's an awful place to be and your organization is doing you no favors by placing a non-defensive 5-man alongside you.