The New York Rangers are playing their worst hockey of the season with the playoffs fast approaching. It's time for a dose of reality.
It
may be time to admit that the 2016-2017 New York Rangers are just a good hockey club. Not very good, not great, and certainly not elite.
Just…good.
A good hockey team will rarely experience a  deep playoff run, much less a Stanley Cup. Winning a Cup requires players who are performing at a high level.
If I asked you to name five Rangers players who are playing great hockey, who would you list?
You could make a case for Antti Raanta perhaps. Rick Nash has started to pick up his game, tallying five goals in his last six games.
Beyond these two players, the New York Rangers' roster is full of mediocrity. J.T. Miller, Mika Zibanejad, Kevin Hayes, and Pavel Buchnevich have all gone M.I.A..
Yes, Michael Grabner has overachieved throughout the regular season, but even he has disappeared. You could even make the case that he has completely lost his confidence.
Grabner has been given some "Grade A" chances over the past few games but hasn't been able to cash in.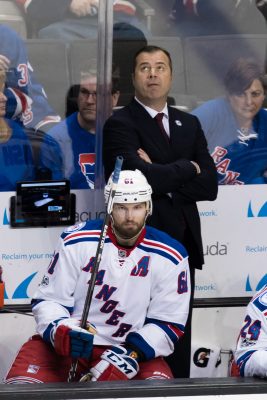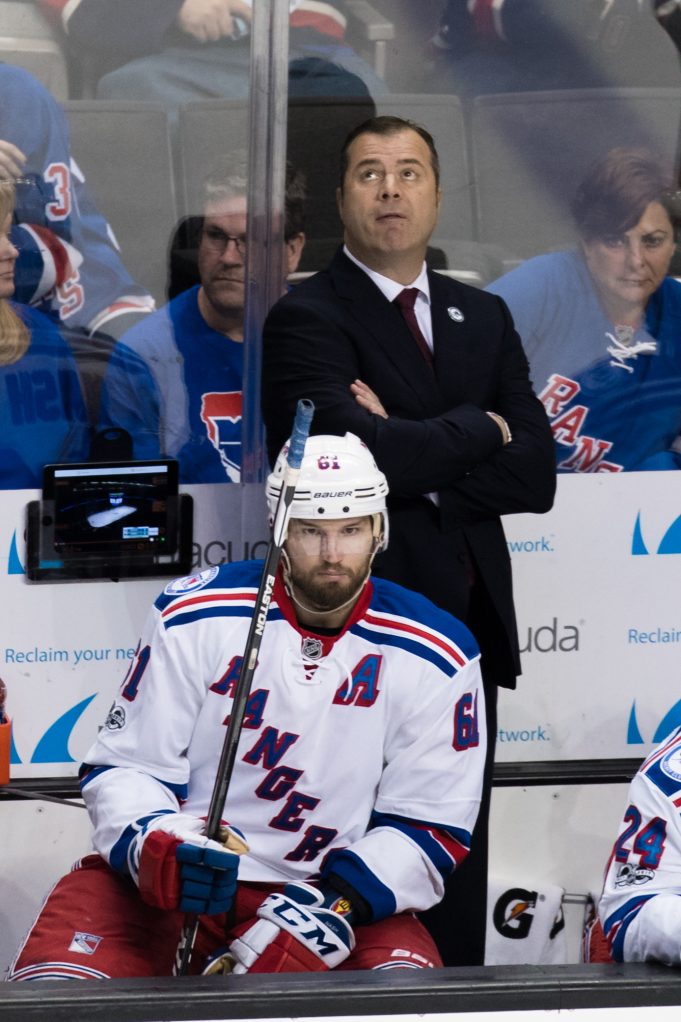 Derek Stepan is having a downright horrible season and it may be time to ship him out over the summer. Really Derek, thanks for that Game 7 overtime goal against the Washington Capitals a couple years back, but it's time to move on.
Maybe we have been spoiled with some fruitful seasons as of late, but this team is not only mediocre, but they have become boring.
The speed and relentless fore check that made this Rangers team exciting to watch has transformed into a sloppy and careless bore.
It's no secret that you want your hockey team achieving at their highest possible level as the playoffs approach.
If we look back to that magic 2013-14 season, the Rangers entered the playoffs having won eight of their final ten games. This record was the same in 2015 when the Blueshirts won the Presidents' Trophy.
Those results changed slightly last season as the Rangers only won six of their final ten games. Fast-forward to today, and the good guys are on pace to lose six or seven of their final ten games.
Not good.
Now, am I saying that it's impossible for this team to turn the tables in their final five games and make a magical run in the playoffs?
Well, yes, that is what I'm saying.
I always try to be optimistic when the playoffs arrive. Like most of you, I'm usually a fan who is intoxicated by Stanley Cup dreams in the spring.
This year, however, it's hard to find any positives to latch onto as the dance approaches.
This most significant problem for this team is that they lack that player who can step up as the lights brighten.
Think Marty St. Louis on Mothers Day, 2012 Henrik Lundqvist, and even Brad Richards' 6.6 goal against the Caps. These players were able produce when the Rangers' situation became dire.
Who on the current Rangers' roster will step up this year? Really, without using your imagination, throw out the name of a "clutch" player on this year's team.
It's difficult, right?
The roster consists of a plethora of green players (Buchnevich, Jimmy Vesey), too many injured players (Zibanejad, most likely Chris Kreider), and too many players in the twlight of their career (Dan Girardi, Marc Staal).
Last night's game against the Pittsburgh Penguins solidified the fact that the New York Rangers will be lucky to make it past the Montreal Canadiens in the first round of the playoffs.
Last night was the perfect opportunity for the Rangers to put an out of control train back on the rails. Sure, Lundqvist is still working to shed the rust following an injury of his own, but the Rangers demonstrated that they are not ready for playoff hockey.
Pittsburgh contained the Rangers breakout and lethal neutral zone play for most of the game (without players like Kris Letang). The Rangers consistently allowed the Pens to picnic in the slot completely uncontested.
Perhaps it's time to party like it's 2016 again?
With the playoffs approaching, how do you feel? If you think with your head and try to take your blue-bleeding heart out of the equation, you'll probably find the Rangers' fan base are in quite a pickle.
This team has, once again, become difficult to watch. The Rangers' team defense is eroding, the goal tending is now unreliable, and the "battle-level" is stifled.
So what do you think? Does this team have a realistic chance?