There are two incredibly vital pieces in the New York Rangers quest for the 2017 Stanley Cup. One is a forward while the other a defenseman.
H
ockey is most certainly a team sport. You hear it from nearly every player in nearly every postgame interview.
"I couldn't have done it without the guys around me. Yeah, my OT game winner breakaway—that all started with a great d-to-d play in our own zone," etc.
This is the mantra and classic "hockey talk" lingo that is heard all around the league. The New York Rangers are no different. The Blueshirts will only go as far as their collective ability, will to win and puck luck will take them during the upcoming Stanley Cup Playoffs. However, certain guys are in a position where the team will need their A-game if they're to advance and prosper from April through June.
Breaking it down with one forward and one defenseman, there are two players who stand out as skaters whose performance could very well dictate the difference between a deep run or an(other) early exit.
To be frank, it goes without saying that Henrik Lundqvist will need to be at that springtime peak performance level Blueshirts fans have generally come to expect from the King. Breaking down Hank's importance to this team would be the equivalent of debating the best Ranger goaltender of the last decade. Teams simply do not win the Stanley Cup without solid goaltending. Lundqvist will, undoubtedly, be leaned upon once again to limit the opposition and give the team in front of him a chance to finally meet Lord Stanley.
Aside from Hank, though, here are the two others that will make or break the Rangers chances.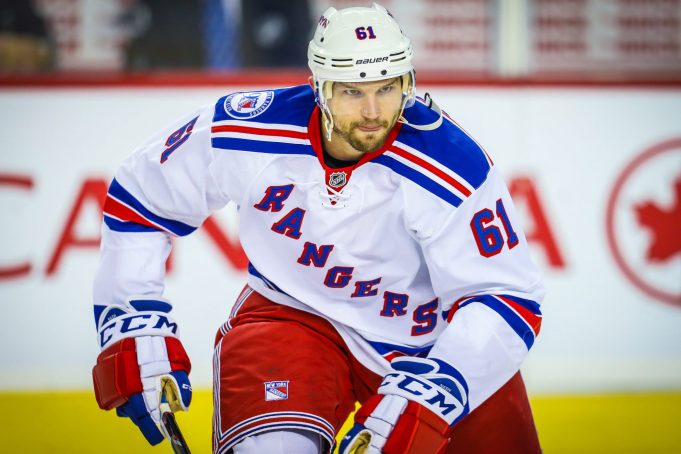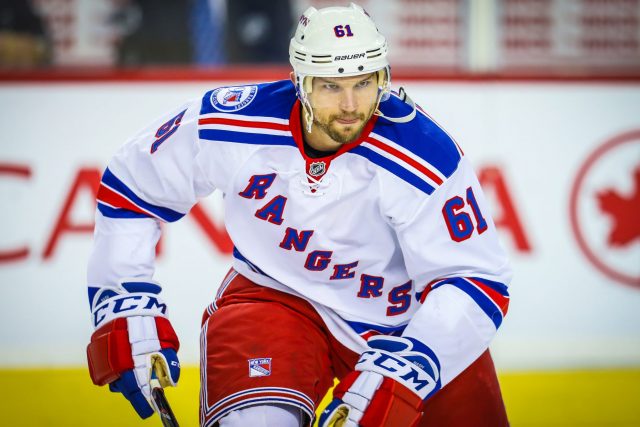 Love him or hate him, Rick Nash is that box of chocolates Mrs. Gump told you about—you never know what you're going to get. The 32-year-old power forward began his Rangers career in 2012-13 with 21 goals in a 44-game lockout season, followed by seasons of 26 and 42 goals, respectively. Things were looking way up.
However, a combination of nagging injuries, mental lapses and missed opportunities led to No. 61 scoring only 15 goals in 60 games last year, and currently sitting with 18 through 57 games in 2016-17. Not ideal for a guy meant to be the goal-scoring workhorse a la Alex Ovechkin, and even worse when you consider his $7.8 million/season contractual cap hit (finally set to run its course after next season).
But believe it or not, it's not all bad news for the former #1 overall pick in the 2002 NHL draft. Despite a lack of consistent goal scoring, Nash has looked spry this year and has been driving play of late. He's often spotted beating opposition with his speed and drawing important penalties as a result, and has even been trying to set up in front of goal (something he needs to do instinctually).
Granted, the eye-test does not factor into the finals stats at the end of a game, but it does appear as though a healthy Rangers team will lead to more chances for Nash to find himself with space or drive by a second or even third pair defenseman. This is the beauty of depth and balance—more and more opportunities will present themselves for guys throughout the lineup. Nash was actually one of our better players during that sorry five-game series against the Penguins last postseason, and the glass is half full in this writer's eyes that he can build off that performance with some success this year.
Nash was actually one of our better players during that sorry five-game series against the Penguins last postseason and the glass is half full in this writer's eyes that he can build off that performance with some success this year.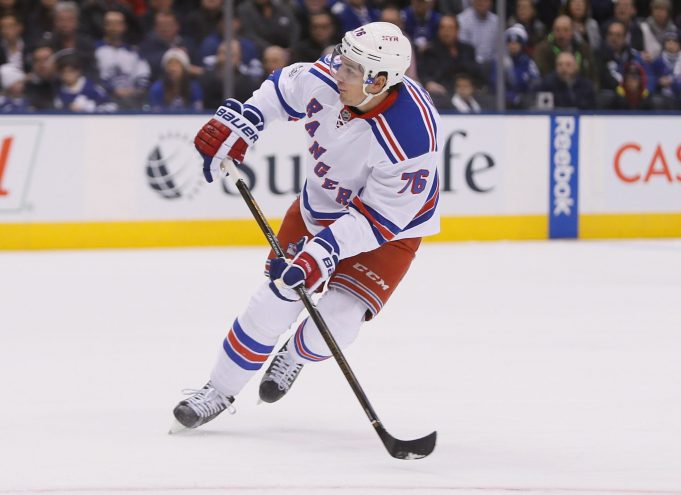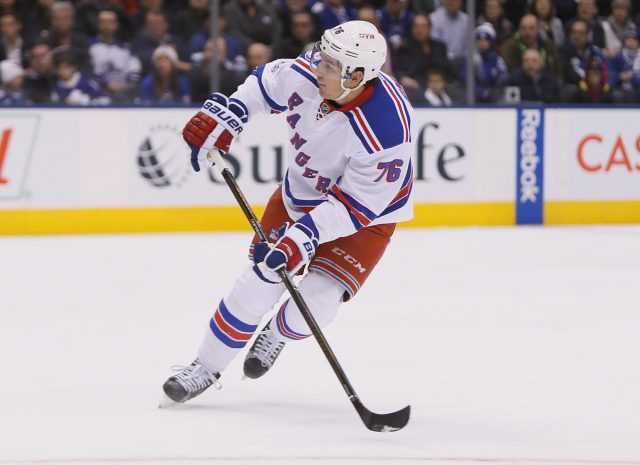 There are a couple different names that could've been inked here, as the defense is still in flux with 12 regular season games left to play. While I continue to view Kevin Klein's potential play as an integral game changer for the outlook of the bodyguards in front of Hank, Brady must be the best of the Bunch.
In order for the Rangers to really contend with top-flight, all-pro offensive lines and superstars, they're going to need to have more than one shutdown pairing on defense. Last year, Skjei demonstrated his worth in the playoffs; the only other bright spot along with Nasher. Brady Skjei has been nothing short of excellent all year long, and a large part of it has to do with his 29 assists and a +15 rating.
However, with the forward depth getting back to 100 percent as Michael Grabner, Rick Nash and now Jesper Fast return from injuries, Skjei's most valuable commodity will be his defense and ability to bolster a pairing that does not have Ryan McDonagh on it.
Skjei allows his defensive partner, whether it's Nick Holden, Brendan Smith or Kevin Klein, to focus on taking care of the puck and lifts the offensive weight off their shoulders. He's more than happy to be the one making that breakout pass on the fly and whoever he pairs with can keep it extremely simple as a result. AV needs to anticipate and plan for morphing Skjei into McDonagh's sidekick, and should feed him big minutes with the game on the line—the kid's already proven he can handle them. Oh, and he's still only 22 years old.
Follow the Real Talk Rangers crew on Twitter and be sure to look out for their podcasts by subscribing on your favorite podcast network!