New York Knicks rookie guard Ron Baker plays with the grit and grind to potentially become everything Iman Shumpert never became.
T
he
New York Knicks
2016-17 season has been a train wreck. Holding just the 12th seed in the Eastern Conference at an underwhelming 26-39, the Knickerbockers have been a disappointment yet again.
However, despite their woes, there have been a few bright spots. One of them has been rookie shooting guard Ron Baker.
The Knicks signed Ron Baker as an undrafted free agent from Wichita State. The four-year product was the heart and soul of Wichita State's program, and the Knicks saw a potential fit. They were wise to listen to their gut, as Baker has been a diamond in the rough.
While his minutes have been limited (12.3 minutes per game), Baker has shown an ability to play on both ends of the floor.
While he doesn't fill up the stat sheet, Baker has shown some playmaking abilities. He's been able to find his teammates in both the paint and out on the perimeter. In addition to his facilitating, Baker has been able to finish off plays in the paint; Baker is trying to develop a jumper the outside as well. His 3.3 points a game don't take anyone by storm, but his tenacious effort does.
While his production in the stat sheet isn't great, Baker plays with the type of grit you want to see from a young guard. He dives after loose balls, is a good on-ball defender, and never dogs it. By playing with a dog-like mentality, Baker has shown that he's willing to go at it every night, and give it his all. That play style is reminiscent of former Knicks guard Iman Shumpert.
Ron Baker is Reminiscent of Iman Shumpert
In the 2011 NBA Draft, the New York Knicks selected Georgia Tech point guard Iman Shumpert; however, the Knicks transformed the three-year player into a shooting guard.
In his rookie year with the Knicks, Shumpert played with a passion and energy on both ends of the floor. Averaging 9.5 points, 3.2 rebounds, 2.8 assists, as well as 1.7 steals a game, Shumpert gave the Knicks a two-way energizer bunny; however, in the playoffs, Shumpert underwent a major setback.
In game one of the Knicks first-round matchup with the Miami Heat, Shumpert suffered a torn ACL. This kept him sidelined for the remainder of the series and also kept him off the court until January of the following season. When he returned from injury, Shumpert was good, but not quite as impactful.
While his defensive game was still there, Shumpert offensive impact decreased a bit in the 2012-2013 season. While he was still a high flying, above the rim player, Shumpert averaged just 6.8 points a game and took a backseat to the Knicks offensive attack which was led by Carmelo Anthony and J.R. Smith.
The following year was a very telling one for Shumpert though.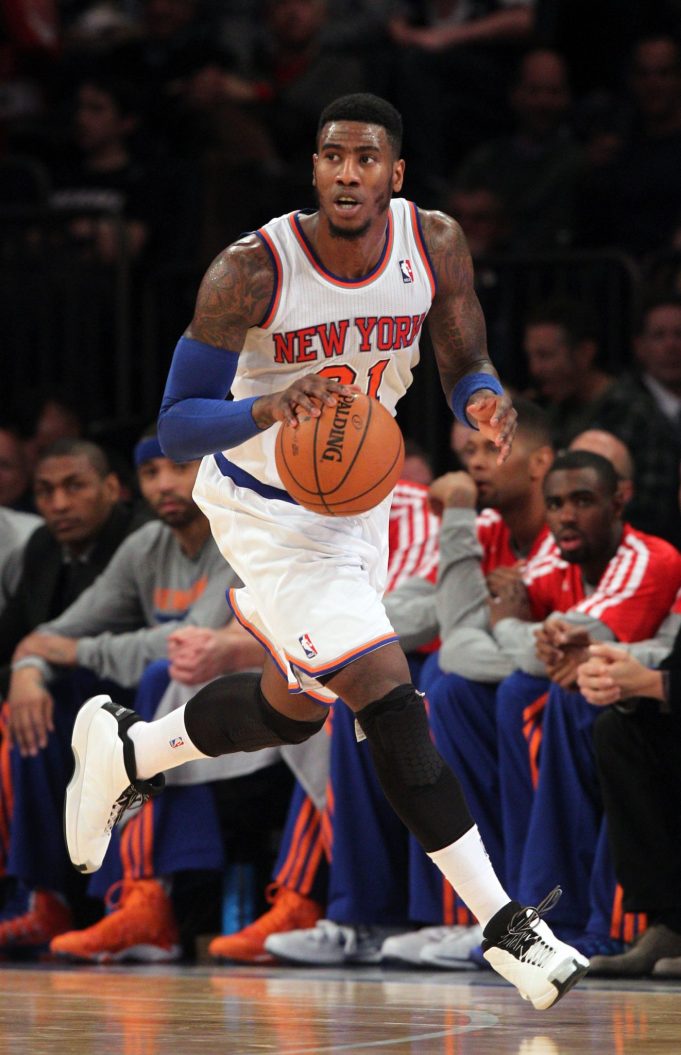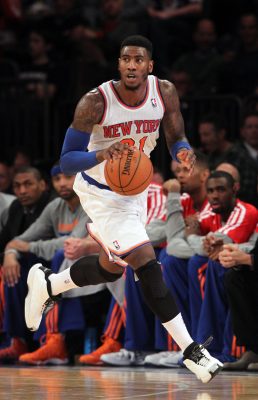 Averaging just 6.7 points a game on a career-low 37.8 percent from the field, it became clear that Shumpert was not a legit scoring threat. That was disappointing on the Knicks end. What was more disappointing though was the regression of his defensive game.
At times in the 2013-14 season, it appeared as if Shumpert was no longer a lockdown defender at his position. While the athleticism was there, as it always had been, the lockdown defense wasn't. While not terrible, Shumpert didn't play at an elite level on defense, as he was scored on more often than not. Then, the following year while his offensive game was slightly better averaging 9.3 points a game, the Knicks decided to part ways with Shumpert.
In a three-team deal, the Knicks ultimately sent Shumpert and shooting guard J.R. Smith to the Cleveland Cavaliers. The deal was intended to help clear cap space for the Knicks, which it did, but it was also made to move on from Shumpert.
Team president Phil Jackson and the Knicks found Shumpert's play to be disappointing, leading to the trade.
The Knicks had envisioned Shumpert becoming a two-way stud, and even a go-to guy offensively. That unfortunately never happened. His defense was sporadic depending on the year, and he struggled to become a threat from the outside.
Could the Knicks have finally found that "3-and-D" guy they thought they had in Shumpert in Ron Baker?
While Ron Baker hasn't been astonishing in the stat sheet, his game is plausible from the eye. He's a gritty player, which helps contribute to his well-rounded defensive game. Baker though also plays like the trending NBA shooting guard.
While he shoots just 30.8 from three, Baker tends to lean towards putting up the long ball more often than not. That offensive mindset is just what the modern-day NBA shooting guard is based off a "3-and-D" play-style.
Being that the Knicks are bound to undergo a true rebuild, Baker should be seeing an increased role, as he could be a piece for the future. That means he should be able to make a more consistent and reliant impact on the court. That'll greatly benefit his three-point game.
Given the limited amount of time Baker sees, he doesn't have the chance to get hot from the outside. If and when he does begin to receive those minutes, he should be able to play at a more efficient level. His more frequent presence will also allow him to showcase his gritty defensive game more often.
If he gets the chance to play more minutes, Ron Baker has the potential to become everything Iman Shumpert never became. From the day he was drafted to the day he as traded, the Knicks had envisioned Shumpert becoming a "three and d" energizer shooting guard; that never happened, but it could for Ron Baker. Baker has the skill set and the gritty play style to do just that and if given the time, could become a very valuable asset for the free-falling Knicks.