Only now, thanks to his injury, are people realizing that Jesper Fast is the New York Rangers most important forward in the regular lineup.
W
e said it on Feb. 2 of this year:
As crazy as it sounds, Jesper Fast might be the most important Rangers forward. They just don't have another grinder like him. #NYR

— Elite Sports NY (@EliteSportsNY) February 3, 2017
We said it, that Jesper Fast is the most important forward in the New York Rangers lineup, because we believed it. We believed it then and we surely believe it now.
We said it, yet many of you laughed at us.
Why, oh why, would you laugh at us you novice hockey fans?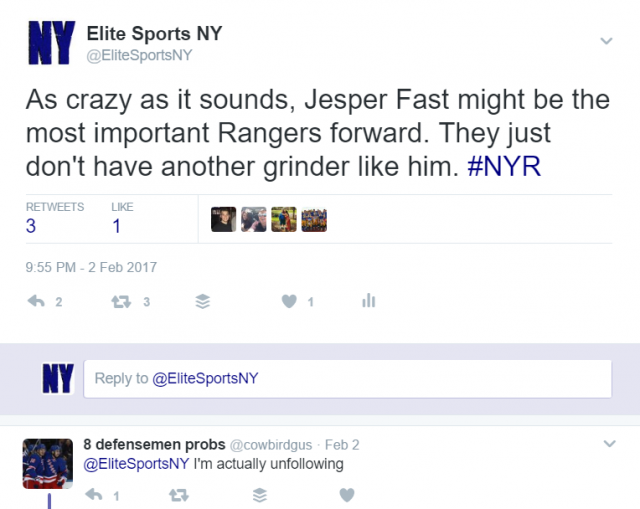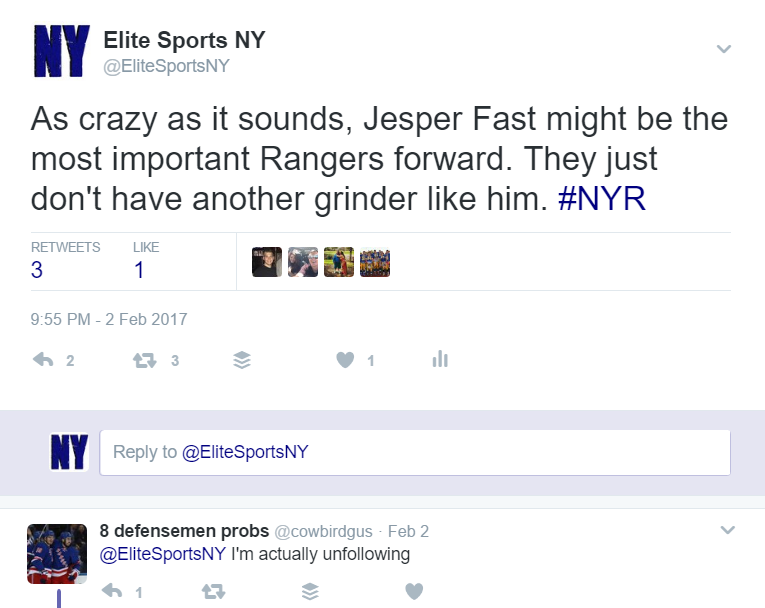 Unfollow? We hate to see you go, but your lack of insight frightens us.
Jesper Fast turned up injured three games ago when Alex Ovechkin slammed him into the boards. He left with the infamous "upper-body injury," did not return and is now rotting on the IR, slated to miss 2-3 weeks.
Since that game, New York has been thoroughly outplayed by both the Boston Bruins and Montreal Canadiens. Against the Bruins, they eeked out a win. The Blueshirts weren't as fortunate on Saturday night against the Habs. 
It was evident from first puck drop that Montreal's strategy was to attack the Rangers physically. They outhustled and outmuscled the home team in a huge way. In this case is when Fast's lack of presence is felt on a larger level.
Jesper Fast is the Rangers only grinder in the entire lineup.
This is why he's the most important Rangers forward on the roster.
No, he's not as talented as Rick Nash, Derek Stepan, Jimmy Vesey or Chris Kreider. The offensive skill depth that this lineup showcases on a nightly basis felt legendary during the first month of the season when the club was scoring over four goals a game.
The problem? Hockey isn't a skills contest.
Hockey is a game that rewards the true team — the squad who comes together in the most balanced fashion.
The Nashes, Kreiders, Stepans and Veseys of the world offer great talent offensively. Most of those guys offer solid two-way play, actually. But what they don't provide is what Fast offers — a grinding, workmanlike attitude that is needed in this day and age of the NHL.
Since the rule changes took hold post-lockout, forechecking and winning puck battles have become the name of the game. We saw it with the overachieving Ryan Callahan for many years. We saw it with the speedy Carl Hagelin as well. 
Fast, unfortunately, represents the lone guy in the lineup whose engine is always at 100 percent. This is critical in today's game, yet Alain Vigneault and Jeff Gorton have gone the way of "offense."
Just look at the lineup. Up and down the roster, the Rangers deploy one offensive player after the next. Sure, a lot of them are two-way guys who do get back on the defensive end of the ice. However, who, other than Chris Kreider and Mats Zuccarello, strike fear in the opponent when it comes to the tough, pesky attitude hockey players use when playing the game within the game?
J.T. Miller … maybe?
Fast was a guy who not only represented their best penalty killer (averaging 1:33 ice time per game), but did the little things that made him one of the top glue-guys in all the land. Vigneault, who's a bonafide offensive coach, even recognizes this, via Sean Harnett of CBS New York:
"He's got tremendous hockey sense, both defensively and offensively," Vigneault once said of Fast. "He can read the game really well, and he works like an SOB. He works and he works and he works. He just doesn't stop, and that makes him a really effective player. I have so much faith and confidence when he is on the ice. I know that defensively he is going to be in the right position and I know that with the puck he is going to make the right play. We see this young player here growing and getting better every game. I really have a lot of confidence when he is on the ice."
If New York employed another grinder (like they properly should), Fast's absence wouldn't sting as much. Obviously, though, they don't. Oscar Lindberg has made tremendous strides as the fourth-line center both offensively and defensively, but he simply doesn't possess the right attitude to fill those shoes:
Is this for real? Is really how soft this Rangers team is? Brandon Pirri gets dumped and NOBODY reacts. #NYR pic.twitter.com/p6jb4Sbqtr

— Elite Sports NY (@EliteSportsNY) March 3, 2017
This club has been built more as a skills competition winner rather than a Stanley Cup Champion. They possess highly-talented skill rather than great hockey balance.
The Rangers have now lost four straight games at the Garden with the last three coming in blowout fashion. Without Fast, their failures and the lack of balance will only gain steam.
Hold your breath Rangerstown. Things are about to get much worse.