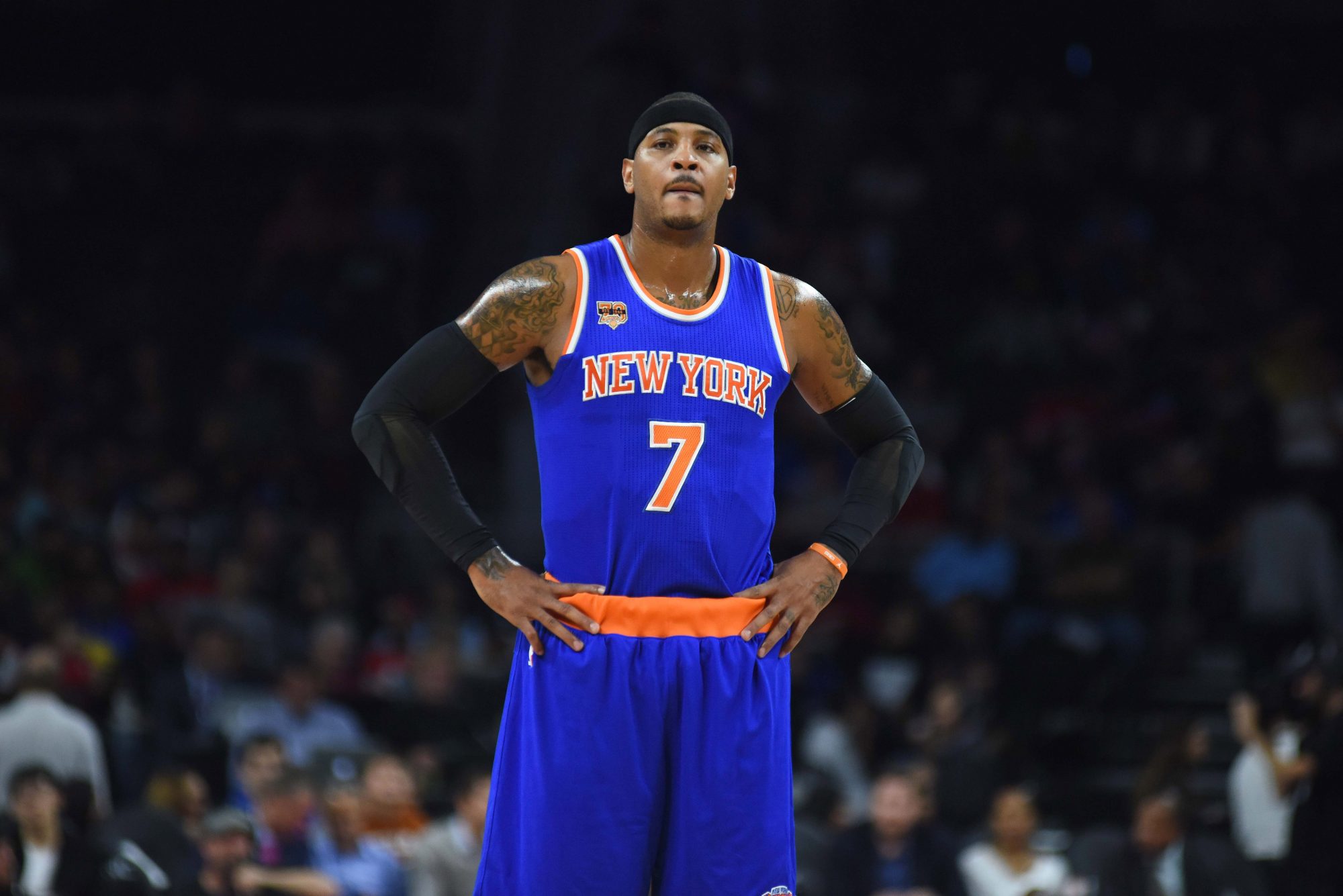 Carmelo Anthony
There had been a media circus surrounding the Knicks veteran star all season long. From Phil Jackson calling LeBron James' friends a 'posse', to being labeled a ball stopper, to Jackson's puppet saying Anthony had outlived his usefulness in New York — which was just the beginning. Aside from the off-court dramas, Anthony had been linked to possible trades with the Cleveland Cavaliers, Los Angeles Clippers and Boston Celtics.
In late January the Clippers made the first move by seeking a potential Carmelo Anthony-centred deal, which was rebuffed, and then by seeking a third team to facilitate.
Nothing eventuated from this but on February 4 Anthony became the subject once again, this time the focus of the Cavaliers as well as the Clippers. 'League Sources' reported that LeBron James and Chris Paul were pushing their respective teams to trade for the 10-time All-Star.  This rumor was torn to shreds by LeBron James who labeled the report 'trash' and the 'guy who wrote it is trash too'. As expected, silence ensued.
NBA All-Star weekend may have been a reprieve from New York related dramas for Anthony but it put him right in the sights of the entirety of the NBA media. He was put under the microscope, to say the least. Rumors were sure to follow, which they did as late on Monday evening reports stated that the Cavaliers held out slim hope of trading for Anthony and understand that it is highly unlikely. Especially as they weren't prepared to part ways with All-Star forward, Kevin Love.
The Boston Celtics had been in and out of the Anthony rumors and they then burst into contention on Tuesday night.
In a somehow related and unrelated fashion to the Knicks, the Boston Celtics put on a brilliant display of social media tomfoolery and trolling. Firstly Isaiah Thomas tweeted the 'eyes' emoji, which NBA twitter attempted to decipher. Following the the Celtics official Instagram page followed Carmelo Anthony which sent the unverified rumors flying into overdrive. Jae Crowder teased even further by tweeting three emojis, removing his Celtics' themed Twitter header and changing his location to the planet 'Mars'. This all unfolded in the late hours of Tuesday night but nothing eventuated once again.
Wednesday was the day that everything was basically put to bed. Anthony stated after practice that team officials hadn't approached him with any potential deals and as previous reports had stated, he was resolute on not waiving his no-trade clause. Further to this Ian Begley of ESPN New York published a piece that both the Celtics and Clippers still had slim hopes of acquiring Anthony like the Cavaliers, understood that there was only a remote chance of obtaining him prior to the deadline.
However, Begley also mentioned in the same article that the Clippers were confident that they could persuade the 32-year-old Anthony to waive his no-trade clause and join long time friend Chris Paul in Los Angeles this summer.
Other eastern conference All-Stars were prominent features on deadline day, but not Carmelo Anthony. The 32-year-old was only rumored in one potential trade. Thomas Dee reported that Clippers made a play but the offer was well below market value. That was that.
Despite a constant media circus and rumor after rumor, Anthony held firm on not waiving his no-trade clause and remaining with the Knicks. At the end of the day, despite all of the chaos, it was expected that Anthony would remain in New York.