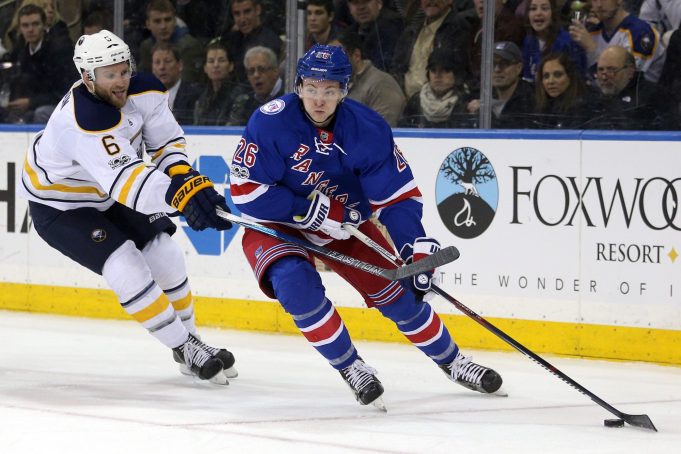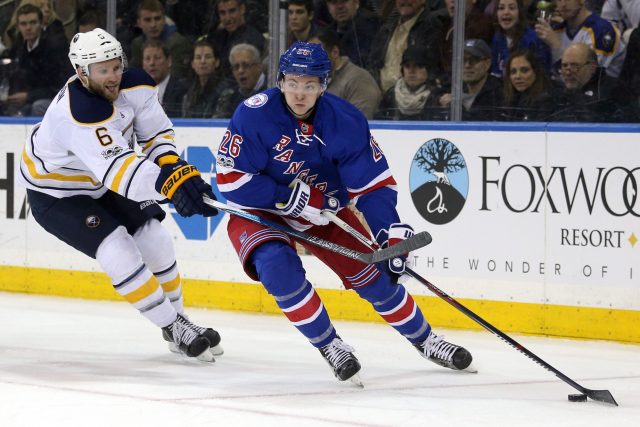 Realistic and Affordable D help: Cody Franson, Buffalo Sabres
The Rangers need to balance out the right side of their defense with a righty d-man, and Cody Franson seriously fits the bill. The 6-foot-5, 224-pound Franson is not flashy and is not a big name, but he could fill the huge void Rangers fans feel with nearly every power-play and likely wouldn't force Gorton to give up anything meaningful.
"Shoot the puck!" rains down from every corner of the Garden when the Rangers go up a man, and Franson boasts a rocket of a shot.
However, while he only has three goals and 13 assists in 53 games played this year, bringing him in is more about his play in his own zone than anything else. Franson would finally give the Rangers that imposing, physical presence they've yearned for. At the very least, he would provide solid cover on a weak right side behind Kevin Klein and Dan Girardi for a stretch run or physical playoff series. Plus he's the only one of those three players with a positive CF% on the season (50.4), as he's provided a positive force for the pesky Buffalo Sabres.
He'd not only serve as protection for our (let's face it) pretty soft lineup, but also play on the most talented team he's ever been a part of. Franson is owed $3.325 million and is an unrestricted free agent following the 2016-17 season. The Rangers currently have about $2.347 million in salary cap space, so a deal comprised of the out-of-favor Brandon Pirri ($1.1 MM cap hit, restricted free agent after this season) packaged with a late pick could get this deal done.
Franson represents a no-risk, high-reward proposition if he can fill the void for a physical d-man with size we've had since Paul Mara left the club. My money says Franson can raise his game and who knows, maybe even hit somebody.