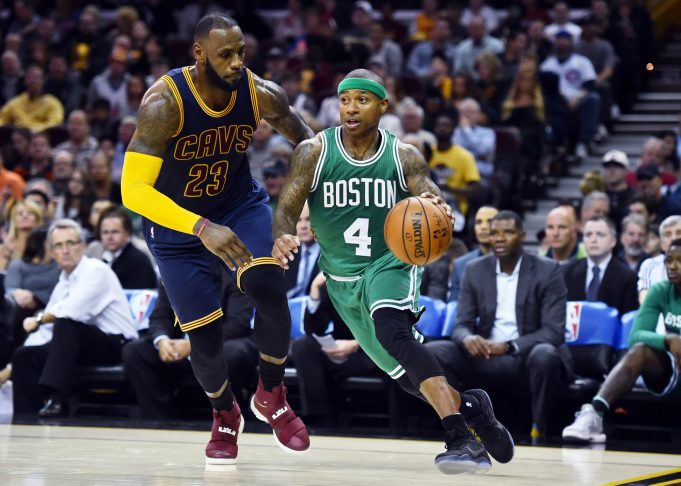 Boston's point of view
T
he Celtics are currently atop the Atlantic Division, and are only two games behind the Cavaliers for the top spot in the East. As close as they may be in the standings to 
LeBron James
' squad, the current Celtics clearly cannot overcome the star-studded Cavs in a seven game playoff series.
However, the addition of a bona fide star would bolster their chances at dethroning them, mainly due to the fact that all of the pressure wouldn't be on Isaiah Thomas. Yes, Al Horford is a quality player, but he isn't a prolific scorer like Anthony.
As much ridicule as Anthony receives for sub-par play when it counts, Isaiah Thomas takes it to a new level – in two appearances, Thomas has shot 37 percent from the field and just 25 percent from behind the long line, as well as turning the ball over 3.5 times per contest.
When Anthony's Nuggets were in the same position the Celtics are in now, he didn't disappoint, scoring 27.2 points per game while shooting 45 percent from the field and 37 percent from distance over the 2007 to 2010 time frame.
Anthony's numbers shooting-wise would likely rise in Boston, as he wouldn't be the main area of focus. The 32-year-old veteran would be featured in lots of catch and shoot situations, and this season when he has held the ball for less than two seconds prior to shooting he has converted 53 percent of his attempts overall and 43 percent from three point range. As a Celtic, Anthony wouldn't have to be ball dominant and he could do what he does best – convert catch and shoots.
It would be an absolute Catch and Shoot clinic.
There's no doubting the Celtics are a great team, but they can't summit the mountain just yet. Anthony with his shooting and scoring ability would drastically improve their chances though.