Already in historic company, Henrik Lundqvist has established himself as a Garden legend. ESNY takes a look into the future to try to answer the question: "What would it take for Lundqvist to become the GOAT king of the goalies?"
W
hen
New York Rangers
goaltender
Henrik Lundqvist earned career win number 400
, he stepped into another elite circle of players. Laudable as it is, accomplishing that feat naturally begs the question: What would it take for Henrik Lundqvist to take over as all-time NHL wins leader and become the REAL King?
The short answer? Obviously, "A lot more hockey games played over the course of a lot more seasons and he has to win a title. At least one."
Some of us, however — from the mildly to ridiculously hockey-obsessed — might want a more in depth answer. That answer is what we aim to provide here.
The cadence to Lundqvist's career is this: he hits another hundred-win benchmark every three seasons. He's done it more quickly than anyone who came before.
#NYR @HLundqvist30 is the fastest goaltender to earn 400 career wins in @NHL history (727 appearances)! pic.twitter.com/drEa0Pib97

— New York Rangers (@NYRangers) February 12, 2017
That simple 100-wins/3-years heuristic measure is enough to say, "Well, he'll probably get to 500 by the time his contract is up." That's already more specific than, "A bunch more seasons."
What if it goes past that? What if he wants to go further? Let's assume for a few minutes that some GM out there decides to provide Lundqvist a career extension.
According to Lundqvist, he doesn't have any desire to leave the Rangers just to pursue a Stanley Cup, but stranger things have happened in sports:
How long would he have to play in the NHL to earn 692 career wins and surpass reigning wins leader, Martin Brodeur? What would that require?
Our robust NHL analytics squad (read: me, a steno notebook and an iPhone calculator app) took on the task of trying to answer that question with a little more depth and granularity than what one would get from a barstool fanalyst on Eighth Avenue.
Before continuing, I need to make a few things clear in order to avoid getting eviscerated by critics, crabs and the real quants out there:
Naturally, these are inexact figures measuring progress at a rate likely to change in unforeseen ways. The milestones, while quantifiable, are also inexact.
This is not a prediction. It's speculation about something that is highly unlikely (albeit more informed speculation than counting with fingers and toes).
It's not an opinion piece and it's not theory. I have no more of an idea what will end up happening than anyone else. I just wanted to know what the numbers looked like (roughly) and figured I wasn't the only one with that thought. I have nothing to prove or disprove here.
Where is Lundqvist now?
L
undqvist is tied with
Chris Osgood
(401) as the eleventh winningest goaltender in NHL history, a milestone he reached by making economical use of 764 career starts to arrive at 401 wins.
Within a matter of weeks, barring injury, deportation or the apocalypse, he will surpass Grant Fuhr (403) and Glenn Hall (409), putting him inside the top ten at ninth place, immediately behind Tony Esposito (423).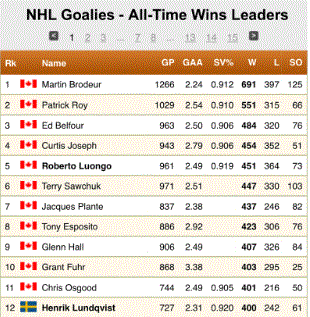 Espo's career mark is in all likelihood safe from the Swede's ascendance for now. Optimistically, one could posit that Lundqvist will catch him in the 2017 playoffs.
That would necessitate the Rangers first making it into the playoffs, then making it through more than one round, I see no reason to tempt a jinxy fate with that kind of guff.
Current Competition & Overall Health

The only current NHL netminder leading Lundqvist is the Florida Panthers' Roberto Luongo. Luongo is playing in his eighteenth NHL season. His 452 career win mark is made more impressive because at his age — he turns 38 in April — he not only continues to add to it, but does so while maintaining full-time starter pace (his last three season start totals are 56, 61 & 62). Luongo recently passed Terry Sawchuk and is in pursuit of Curtis Joseph to arrive at fourth on the list before the end of this season.
Why am I talking about Roberto Luongo? Isn't this about Lundqvist? Well, it is and it isn't. In reality, it's about pursuing a goal by preventing them and doing so under incredibly stressful conditions.
Luongo is a working study in longevity, one from whom Henrik Lundqvist would be best served to get some pointers on staying healthy as the years, seasons, games and minutes mount. Lundqvist is going to need the input.
The operational life of many engines and complex machines is measured in hours of run-time. For athletes playing continuous play sports, measuring the cumulative wear on their bodies can be done similarly by using playing minutes, instead. Here is a comparison of Lundqvist's career minutes of time on ice (TOI) against Luongo's, in sum:
| | | | | |
| --- | --- | --- | --- | --- |
| | Regular Season | Playoffs | Total | Ratio: |
| Lundqvist | 42,834 | 7,040 | 49,874 | 85.88% / 14.12% |
| | | | | |
| Luongo | 55,421 | 4,292 | 59,713 | 92.81% / 7.19% |
The difference in playoff minutes jumps off the screen, but there is more. Henrik Lundqvist has played a total of roughly 90 percent of the number of minutes Luongo has … in basically two-thirds the amount of time. Additionally, his cumulative NHL save total (22,062) is nearly 80 percent of Luongo's (28,192).
Lundqvist already worked more in a considerably shorter period of league time than Luongo has had to in his career.
The disparity in overall wear and tear should be alarming to a Lundqvist fan, but it shouldn't be surprising. Averaging 62 starts a season, he has been a metronome setting the meter for the New York Rangers organization for almost 12 seasons.
More to the point, however, I went to this level of depth to point out how hard it is going to be for a player of even Lundqvist's caliber to make it as far as he would have to go.
He has never suffered any major musculoskeletal injuries, but he is far from untouched.
He's in remarkable physical shape and keeps himself that way, but he is far from fresh.
Further, he is going to have to adjust his style going forward. He cannot continue to nest himself in the goal mouth and rely entirely on his athleticism, agility and reflexes to make saves. In order to more effectively cut down angles and challenge shooters, he will be forced to leave the net more often. That puts him at higher risk of getting hit — and he does get hit:
The first key to his pursuit of the title "Greatest of All-Time" is necessarily his health. He is going to have to stay healthy to have the kind of longevity needed to surpass Brodeur.
What are the targets and how long would Lundqvist have to play to challenge them?
This question needs to be broken down and answering it must necessarily include the consideration of how the Rangers (or whatever team he may end up playing for) are going to manage his workload. To really do it properly involves more complicated projection work than I am prepared to bore you with (namely, some sort of moving range measurement using projections as data points), but I'm pretty confident in these numbers as guidelines. The benchmarks are a given based on the chart you've already seen:
~500 wins probably gets him to third place
~550 wins almost guarantees surpassing Patrick Roy (551) for second all-time
692+ wins would crown him the NHL "Wins King"
Those targets can be ordered thusly: Pretty likely; pretty damned hard; just short of impossible. (Thanks, Brodeur …)
In order to figure out what has to be done to hit those marks, we have to consider what a "season" is for Henrik Lundqvist and determine further what that measure is going to evolve into over time.
Over the course of his 11.71 seasons as a Ranger, Lundqvist has started an average of 62 games/season and won an average of 33.3 games/season. That represents a career .537 win average.
His number of starts is going to reduce over time, but nobody except perhaps Alain Vigneault and Benoit Allaire knows by how much or at what rate. What probably won't change all that much is the correlation between starts and wins. (Again, speculative)
Assuming a 10% workload reduction, Lundqvist's per-season start figure drops to roughly 56 starts, which should translate into ~31 wins/season (30.8).
Assuming a 15% workload reduction, Lundqvist's per-season start figure drops to roughly 53 starts, which should translate to ~29 wins/season (29.15)
Assuming a 20% workload reduction, Lundqvist's per-season start figure drops to roughly 50 starts, which should translate to ~27 wins/season (27.28).
Lundqvist will turn 35 on March 2, the same day the Rangers play the Boston Bruins in Game No. 63 of the 2016-17 season, after which the team will have played roughly 77 percent of their regular season games. His current contract runs through the end of the 2020-21 season.
It is going to be worth looking at seasons that way because the percentages translate back into rough game counts.
So, without further babbling, here's what Lundqvist is facing if he wants to chase down the 500 win mark, Patrick Roy and ultimately, Marty Brodeur.
Playing time against Benchmarks
Current pace
Playing and winning at his current rate, Lundqvist will need to play roughly three seasons to hit the 500 wins mark. It would require that he start roound 186-188 regular season games over that span and continue winning them at a rate of 33+ wins/season.
A 10% drop
However, if the coaching staff feels the need to reduce his playing time in order to preserve him, it might mean a reduction of 10-20% of his starts. At -10%of his current start rate, he'd lose about six win opportunities per season, which would drop his wins per season to roughly 30-31.
Hitting 500 wins, in that case, will require approximately 3.24 seasons.
Hitting 550 wins under that condition would require approximately 4.87 seasons. "Will" becomes would in this statement because he's only under contract for about 80% of that timeframe.
How long would it take him to get to 690-plus wins at a 10 percent playing time reduction? The math says roughly 9.48 seasons. What are you going to be doing nine and a half years from now?
Further Playing time Reductions
A 15% drop in starts
At -15% of his current start rate, he'd lose roughly 9.3 win opportunities per season. In my estimation, this is the point at which his reduced starts would become noticeable to fans.
Losing nearly ten starts per season means going from his career average of 62 starts to 52-53 (52.7). Any regular fan would recognize that drop. It would also mean losing about four wins per season. His win average would drop to somewhere around 29-30
Winning 500 games under this condition will mean having to play approximately 3.43 seasons. That's still within his current contract window, but it leaves almost no room for time loss due to injury or whatever else.
Winning 550 games at -15 percent of starts per season? That would take north of five seasons (5.14), or somewhere in the first half of the 2021-22 NHL season.
Winning 690+ is already unreasonable, but at this rate, it would push him over the ten season line, though not by much (10.01). To translate that, it would mean we'd have to watch a cumulative 821 regular season team games, which Lundqvist would have had to start a minimum of 530 of those games.
A 20% drop in starts
Barring any significant chronic injury or personal travail, it's pretty unlikely that we see Lundqvist's playing time reduced by this much over his remaining contract years.
However, it is not at all unreasonable to think that he would only be able to remain effective later in his career with a lot more rest, between starts. Obviously, this kind of reduction puts a pretty long "tail" on his career should he try to play long enough to really chase Brodeur.
At -20 percent of his current start rate, he'd lose roughly 12.4 starts win opportunities per season, dropping him to around 49-50 win opportunities (49.6). That translates into 27-28 (27.28) wins per playing year.
Attaining the 500-win mark under this condition would not happen under his current contract, but again, it's unlikely that we'll see that precipitous a drop-off. Five hundred wins would take him until about three quarters of the way through his final contract year (3.67 seasons). Again, this is doable, but it would be awfully close.
Arriving at 550 wins would take five and a half seasons (5.49).
Finishing first overall, in this case, would require nearly eleven playing seasons (10.7). The man will be forty-six years old at that point. Sorry, Henrik, not everyone gets to wear No. 68.
Conclusion: Lundqvist needs a Cup

So there are your windows broken down somewhat laboriously (sorry – I know that was probably boring to read through). In reality, I don't think anyone honestly believes that he'll even attempt t play long enough to chase the all-time win lead, BUT for a goalie to be able to knock a name like Patrick Roy down a peg on a list as important as wins, it would mean something.
Outside of that, there's really only one thing remaining to discuss. It's a very brief discussion: An NHL team backstopped primarily by Henrik Lundqvist needs to win a Stanley Cup. Preferably, for the sake of the question in the title, he should lift it more than once to cement that legacy more firmly, but it has to happen.
If Lundqvist's career ends without his name getting etched on Lord Stanley's chalice, his body of work will always appear suspect and incomplete. There will always be a "yeah, but … " and an asterisk associated with his name. He already has it in some circles because he is playing in an era where there are no ties, where games are decided by shootouts (in which neither the saves, nor the goals actually count toward career totals) and wins are, some say, cheapened because they wouldn't have existed before the advent of the shootout era. He's already going to be fighting that shadow. He needs a Cup to even be considered in the GOAT conversation.
He needs a title and team around him to win it. The clock is ticking. How long it ticks for Henrik Lundqvist in the NHL? Your guess is as good as ours.