The New York Rangers are playing exhilarating hockey lately and it couldn't come at a better time for Henrik Lundqvist, who will be playing for his 400th career victory on Saturday against the Colorado Avalanche. Will the Rangers match their season-high win streak at five, or fall prey to a script-worthy trap game?  
New York Rangers (35-18-1, 71 pts)
Colorado Avalanche (15-34-2, 32 pts)
Saturday, Feb 11, 7:00PM ET, MSG, (Full Preview)
Madison Square Garden, New York, New York
The stage will be set at Madison Square Garden on Saturday night when the Rangers skate against the Colorado Avalanche. It might be high drama or fools' comedy. The story of this game is overwhelmingly Lundqvist's quest for 400 career wins. Somehow. That this is a classic example of a potential "trap game" seems to have escaped the mainstream reporting outlets because…Lundqvist.
"A lot of great memories. Obviously reaching 400 is special." – @HLundqvist30 talks about going for win No. 400 tomorrow. pic.twitter.com/xuiouuw8yP

— New York Rangers (@NYRangers) February 10, 2017
The Rangers, winners of four straight and now the proud owners of a respectable 17-11-1 home record, can tie their season-high win streak at five. That's noteworthy.
They've also got two players (J.T. Miller & Chris Kreider) already having career seasons and two others well on their way to their own career highs (Kevin Hayes & Michael Grabner) Also pretty noteworthy.
The team they are playing is literally three-for-2017, but the Rangers haven't beaten them at home in over three years. That's an interesting tidbit, but somehow…
"It's important for us to keep playing well here at home."- @HLundqvist30 meets with the media after tonight's #NYR win over the Predators. pic.twitter.com/viZk7bdWy8

— New York Rangers (@NYRangers) February 10, 2017
I don't know if I'm being too obvious here, or maybe I need a Snickers bar. Hopefully I don't get banned from the Garden…
The Opponent
What to say about the Avalanche? They are an unequivocally bad hockey club in the middle of an unrecoverable season and there is basically no hope for any significant improvement. If they are not sellers at the trade deadline, their ownership oughtta be buyers for a new GM. There's almost no point in even trying to analyze what they've been doing. I honestly feel bad for their fans.
At a glance, their record tells the painful story of a season lost: at an astounding 44 points out of first place, they are by far the worst team in the National Hockey League.
The Trap
However, it IS the NHL. The talent disparity between teams is often a lot slimmer than a points differential might indicate. Make no mistake about it, the Rangers can easily lose this game. If they look past a team sporting Nate McKinnon, Gabriel Landeskog, Matt Duchene and crafty veteran Jarome Iginla, like the Islanders did last month (see below), they will.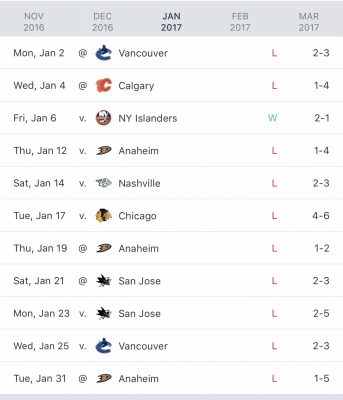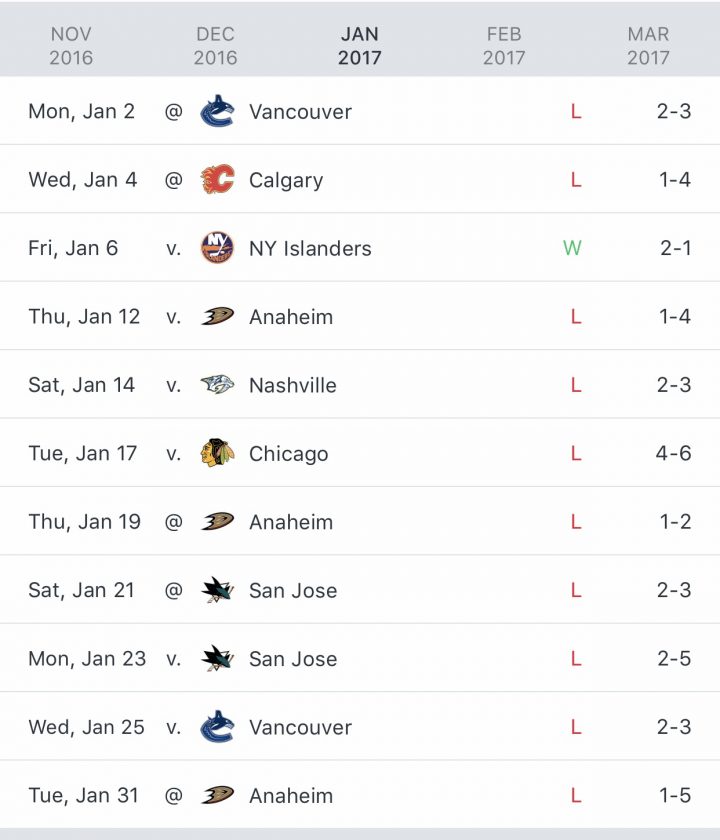 And if they do – if the Rangers do lose this game – all of that feel good, "rah rah rah" "Go TEAM GO" pom-pom waving ballhuggery of the last few weeks (led, in large part by the hooples who seem to think it's totally rational and acceptable to overlook an entire half-season's worth of mediocrity, punctuated by flat out piss poor showings on certain nights because their KING has actually looked passably good for a few games in February) will go clattering and bouncing across the Garden ice like fifty kilos of hot marbles, loosed. And with it will likely go Lundqvist's tender confidence, leaving us all screaming for Raantaclaus and wondering if it'll even be safe enough for AV to let Lundqvist try for his big 400th before another month goes by.
IF the Rangers do not win this game, it'll be Ranger fans who will have to endure the reverse heckling from Isles and Devs fans…
But seriously: Colorado is the only Western Conference team the Rangers will see on this home stand with a winning record against the Blueshirts over their last ten meetings (6-4-0). And I wasn't kidding about that whole three-year thing, either: the last time the Rangers won a home game against the 'Lanche was on Feb 4, 2014.
One thing in particular to watch out for with Colorado is their power play, which has recorded a power play goal in three straight.
The Home Team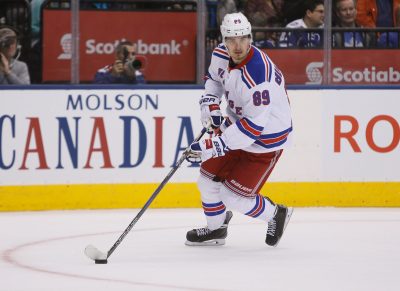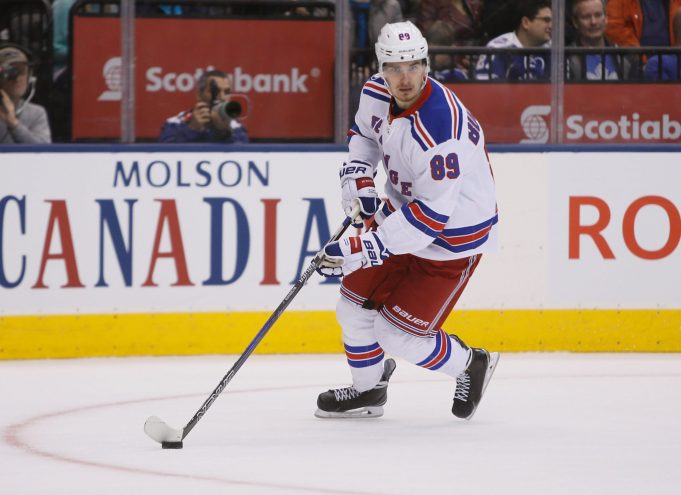 The Rangers are mostly a healthy team right now. Offensively, the distributed scoring threat they present remains potent. It is a team that can be maddeningly over-selective with shooting the puck, but they've been at or near the top of the league in shooting percentage all season. What they need to be careful of is being overly reliant on one line.
Defensively, the job of shutting down Colorado's top two lines should be manageable. Captain Ryan McDonagh – when allowed to speak about anything other than Lundqvist – spoke briefly following Friday's practice on the topic of not looking past any team:
"We can't take anyone lightly." @RMcDonagh27 looks ahead to tomorrow's #NYR tilt with the Avalanche. pic.twitter.com/gFplJotLeF

— New York Rangers (@NYRangers) February 10, 2017
Dan Girardi will miss his second straight after taking a dinger off his right ankle on Tuesday. He'll be replaced in the lineup by Adam Clendening. In truth, they could probably suit up AV, give him an eightball for some pep and send him out there – it would likely be better than Girardi.
Some keys in this game:
That No Nickname Line: The combination of Miller-Hayes-Grabner is electric right now. They're firing at a nearly synaptic level, anticipating, reading, communicating and executing beautifully. Miller and Grabner have been connecting regularly since being paired and Hayes jumped right back into the party when he returned to the lineup. Miller is already in "career high" territory in points. Should they continue to produce, it won't be long before his line mates join him. Expect this group to light the lamp against a porous defense and a goalie sporting a .900 SV%
The @KevinPHayes12 line leads the way in tonight's #NYR win over Nashville. Full story: https://t.co/5FasOn1XGl pic.twitter.com/XF1S3YTqqU

— New York Rangers (@NYRangers) February 10, 2017
Complacency Kills: No reason to harp on this. I think I've been pretty clear. If they overlook a team that does have a few weapons, the Rangers will lose. The Rangers need to step on it early in this one, preferably two or three times in order to put the opponent down and keep them there.
Goaltending matchup: We all know who is in net for the Rangers. He's playing well, has improved his record to 25-13-1, likes cooking, dabbles in the restaurant industry, lists at 6'1" 188lbs and has gorgeous hair (sorry ladies, he's taken). He's also the only guy on the planet who can make $8.5MM/yr  in a capped league, play to a 2.70GAA and a .911SV% IN NEW YORK and still have people fawning over him. He will oppose youngster Calvin Pickard ("guy") who is replacing Semyon Varlamov (hip surgery). Not that it matters (tone-appropriately, it might as well be Bob f'ng Uecker at the other end of the rink), but Pickard is 9-15-1 with a 2.94GAA and a .906SV%. He sucks. Advantage: Sweden.
Puck drops at 7:00PM ET and can be seen on MSG. Be sure to tune in early for the Jimmy & Slats magic show in honor of the King's coronation renewal. They're going to make cigars and people disappear.