The blazing Rangers look to extend their home win streak to four games against a surging Nashville Predators squad Thursday night at the Garden.
New York Rangers (34-18-1, 69 pts)
Nashville Predators (26-19-8, 60 pts)
Thursday, Feb 9th, 7:00PM ET, MSG, (Full Preview)
Madison Square Garden, New York, New York
With the weather outside ranging somewhere between Iditarod and Hoth conditions, a sizzling hot Michael Grabner and the New York Rangers will play host to the surging Nashville Predators tonight. Game three of a four game, eight day homestand, presents a third straight Western Conference opponent for the blueshirts in game #54 of their 2016-17 campaign.
Grabner's name has a buzz around it right now. He is a natural disruptor who has resurrected his career playing in New York's up-tempo system. Using his blazing speed and a penchant for puckhawkery, his ability to chip at cross-ice passes, knock them into the neutral zone and turn them into goals is rapidly becoming legendary at MSG. He's also making GM Jeff Gorton look like Yoda.
He is the Rangers' leading scorer after a string of seasons where he struggled to match his early career success with the Islanders. He started the season hot, cooled somewhat in December and has come roaring back to life. After scoring his 24th and 25th tallies of the season on Tuesday night against Ducks on Tuesday night, Grabs is now the NHL's 5th leading scorer.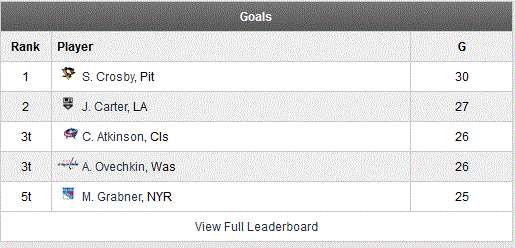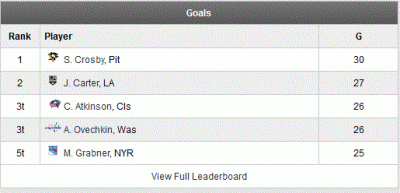 That's right. The Rangers currently have a top-five scorer…and it's not the third week of October. This is real. Go ahead and pinch yourselves: it's happening. (It also makes for interesting times as we approach the NHL trade deadline with an expansion draft looming at season's end.)
The Rangers are rapidly arriving at the balance point between home and road success. With three straight MSG wins, they are now 16-11-1, a record that accounts for 48% of their overall points. Balance is a continuous theme with head coach Alain Vigneault, so it must be nice for him to be able to point to that instead of having to basically say "uhhh…I have no idea why we suck at home."
The bigger story of balance, however, is the way the Rangers attack. With F Kevin Hayes back in the lineup, AV can roll four full-up lines that can do what he intends for them to do: provide distributed scoring, stay fresh and wear opponents down.Need an example of what I'm talking about? Per the NHL, Pavel Buchnevich was the only Ranger forward with less than 10:00 TOI on Tuesday. He skated 9:56. This is a team that seems to thrive on rhythm and balance, which is exactly what their schedule and current roster are providing.
This is hockey, however, not a symphony. Harmony is nice, but it's hard to maintain when Roman Josi is bombing 100+mph slappers from the point. It's harder when P.K. Subban is slewfooting forwards and diving for penalties like Jaques Cousteau looking for his watch.

The Rangers lost the teams' first meeting on the road at Nashville, but have not lost at home to the Preds since December 10th, 2013
The Preds are in the midst of legitimizing their season. They've climbed to third place in the Central. "Surging" might be a bit of a misnomer to characterize this team's play, but they have played considerably better through the middle third of the season.
They've been alternating wins and losses for a while now and are in dire need of points to stay playoff competitive.
Their recent improvement has come as a result of better back-checking and a bigger emphasis on team defense. It has, however, come at the expense of reduced scoring.
"At the start of the season, we were just trying to find the identity of the team and 20 games in, we hadn't found that," said Predators forward Filip Forsberg. "Now it's getting better and we're just trying to improve on that." (NBC)
Nashville is a team that the Rangers have been strong against in recent seasons. The Preds are very aware of that trend and likely see this as a bit of a statement game to get something going in a big house.
The likely goalie matchup -neither team has confirmed it's starter as of this writing – between Henrik Lundqvist (24-13-1) and Pekka Rinne (21-14-0// .923SV% 2.30GAA) has the potential to be a gem. Rinne and Lundqvist are two top-tier names in NHL goaltending circles. Both are capable of lights out play replete with world class athletic fireworks. Whoever makes it to MSG tonight could see an epic goalie battle.
The Rangers need to keep doing what they have been doing and continue to score goals.
It sounds almost redundant to say that, but what else is there, really?  Aside from their persistent and obvious defensive shortcomings, which are unlikely to change staff-wise, they need to continue winning at home in order to turn home ice into an advantage. It becomes more important as the season progresses toward the playoffs and it is an advantage the Rangers are used to having.