The New York Rangers third line of Kevin Hayes, J.T. Miller and Michael Grabner is starting to remind us of the cup run in 2014.
W
hether
Alain Vigneault
called the name of
Brad Richards
,
Derek Stepan
or
Derick Brassard
during the spring of 2014, New York Rangers fans knew what to expect.
Offense — a balanced attack and a feared, relentless forecheck.
This was a huge key in the Rangers Stanley Cup run that spring. The club's balance from line one through three (in terms of scoring) and one through four (in terms of depth), was a prominent factor in the overall success of the Eastern Conference champions.
Suddenly, what Rangerstown is witnessing now is taking us back a few years.
Now that Kevin Hayes is back in action — joining his other, previously injured forwards in Rick Nash, Mika Zibanejad and Pavel Buchnevich — New York's third line could be the team's, if not the league's (at times), most dangerous group.
Hayes centering J.T. Miller and Michael Grabner is the trio that has played most together this season. Through constant shuffling and experimenting, this group is one that has passed the test of time.
A night ago at Madison Square Garden, it was this line who cemented the Rangers 4-1 win over the Anaheim Ducks. Miller, demonstrating himself as one of the NHL's most dangerous assist-men, found Grabner for his 23rd goal of the season in the third period, putting the Blueshirts up 3-1:
J.T. Miller is PHENOMENAL. Oh yeah, so is Michael Grabner. This third line brings back 2014 memories. 3-1 #NYR. pic.twitter.com/5bIh7kVQO0

— Elite Sports NY (@EliteSportsNY) February 8, 2017
Miller and Grabner later hooked up on the team's fourth goal of the evening, an empty-netter. The freebie gave Grabs his 24th goal of the season and allowed Miller's point total to move to 20 points over his last 16 games.
The production of these three is reminding us of that dangerous third line from 2014, the one consisting of Brassard, Mats Zuccarello and Benoit Pouliot.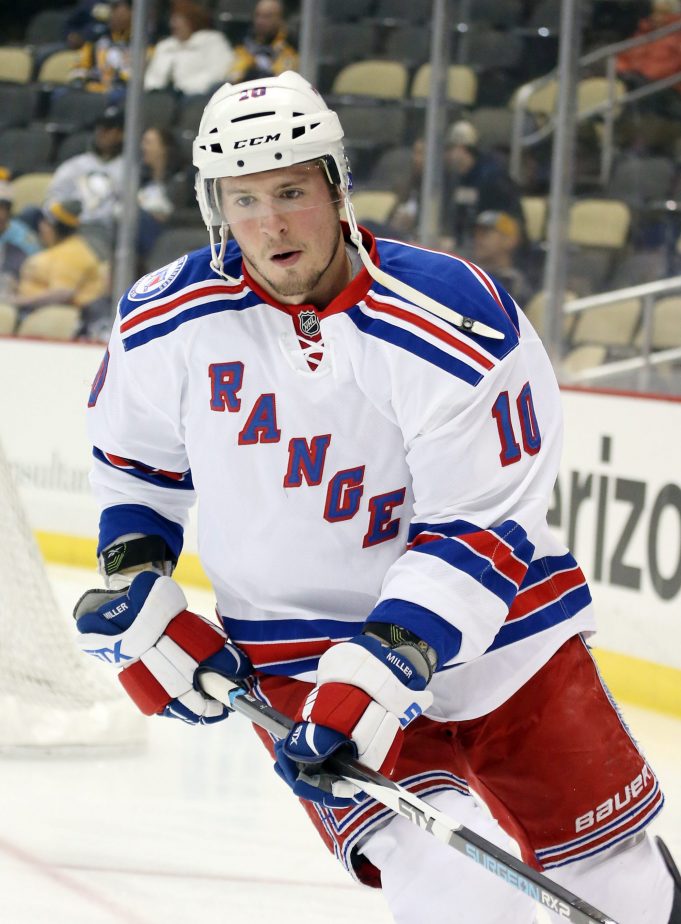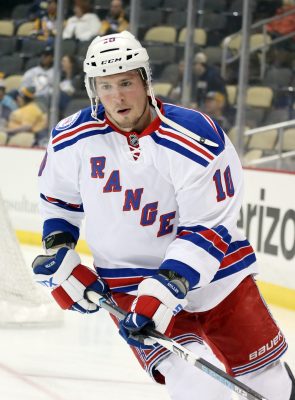 These three coming up huge on the offensive end of the ice was critical considering the state, at times, of the top two lines. Brad Richards, the Rangers top-line center that spring, was already slowing down. Alongside him was Rick Nash who never produces consistently in the tournament and Marty St. Louis, whose emotional story with his mother fueled the 3-1 comeback against the Pittsburgh Penguins.
Stepan, Chris Kreider and Carl Hagelin were the other three who rounded out the top-nine, but the point that all three lines could be relied upon offensively held true throughout the entire run.
Today, the offensive picture looks extraordinarily brighter.
Nash and Jimmy Vesey alongside Stepan is a big time fit while the Zibanejad, Kreider, Zuccarello line is an offensive bonanza made in heaven.
Moreover, AV's current fourth-line of Jesper Fast, Oscar Lindberg and Pavel Buchnevich can not only score, but they can grind with the best of them. (The key is here is choosing Lindberg over Brandon Pirri, but that's another topic for a different day.)
Health will always be a concern in the NHL. Players will find themselves injured at a moment's notice and coaches will have to deal with the fallout. It'll happen again for the Rangers this season.
The crucial point is: What Vigneault continiously stives for is balance across all four lines, but more importantly, offfensive balance across the top three lines. If he can spread out his top-nine to the point none of the trios is head-and-shoulders greater than the rest, he's an extremely happy coach.
This puts extreme pressure on the opposition in the way they're forced to matchup.
It's the formula AV rode to success three seasons ago and, now that the troops are fully in tow again, seems to be rounding into shape as we speak.
The line Kevin Hayes, J.T. Miller and Michael Grabner just doesn't remind us of Derick Brassard, Mats Zuccarello and Benoit Pouliot, it reminds us that AV's formula of "balance" is back and in full effect.