The New York Rangers look to extend their win streak to three and build more confidence on home ice against the slumping Anaheim Ducks Tuesday night.
New York Rangers (33-18-1, 67 pts)
Anaheim Ducks (28-16-10, 66 pts)
Tuesday, Feb. 7, 7:00 p.m. ET, MSG, (Full Preview)
Madison Square Garden, Manhattan, New York
T
he
Rangers
host a second straight Western Conference dance partner in the second of a four-game homestand when they skate against the
Anaheim Ducks
in the teams' first of two season meetings on Tuesday night.
The Rangers are a team on the mend at home. They'll have to keep working hard to establish the kind of home ice dominance that we're used to seeing. Having suffered a spate of mid-season injuries, a bout of goaltender porosity (which had some people walking ledges and others grabbing pitchforks) and a rhythm-defying stop 'n go schedule in January, they're embarked on a home-friendly stretch of their schedule. A Ranger fan typically reads an MSG-heavy February schedule as low hanging fruit, but the blueshirts' 15-11-1 home record is atypically lukewarm.
The Ducks sport an equally pedestrian road record (11-10-7), have lost six of their last ten and two straight to start a 6-game eastern swing. Their normally high-powered offense, led by veteran Captain Ryan Getzlaf and team points leader Rickard Rakell, has been in a slump. Combined with sloppy, turnover-prone defense, it has presented a puzzle that first-year head coach Randy Carlyle needs to solve in order to keep the Ducks at or near three points behind the Pacific Division-leading San Jose Sharks.
The goalie matchup between Henrik Lundqvist (23-13-1) and John Gibson (20-12-8) should be decidedly advantage: Lundqvist. It may very well be, but his hit-or-miss performance during stretches of this season also has any *rational* Ranger fan guessing which version of the future Hall of Famer is going to show up. 
The Ducks will likely push hard and early to press the issue with Lundqvist, looking for an early goal (or two). The Ducks need goals and the Rangers are known for handing out freebies early in games this year – often as a result of Lundqvist looking unfocused, unprepared and at times, flat-out confused. They aren't going to be shy about it, either: the Ducks are a physically big, bruising team, they take a ton of penalties (second highest in the league) and they are a top-five penalty killing team.
The Rangers need to match or outpace the Ducks' attack from the opening puck drop and need to play a full sixty-minute hockey game. Even the normally even-handed Alain Vigneault said about their effort against Calgary on Sunday, "I have no idea what went on in that second period. None." The blueshirts need a full game effort to rattle off a second straight win at home and bolster their confidence against a team they don't see much of.
Keys in this game:
Keep Anaheim stifled
The Ducks are in their own heads right now as much as the Rangers were a few weeks ago. Keep them there by playing shutdown team D and taking control of the game early.
Nash-Stepan-Vesey
This line is heating up. Jimmy Vesey missed a few golden opportunities on Sunday, but Rick Nash scored again and had another strong overall outing. Derek Stepan is the Rangers' leading point-getting full-time center. There is size, mobility, playmaking and a "leadership trust" element with this unit and they need to be left alone. (Feel free to count the lines in the NHL that a feature two letter-bearing former all-stars on a line with a rookie … from Harvard. I'll wait.)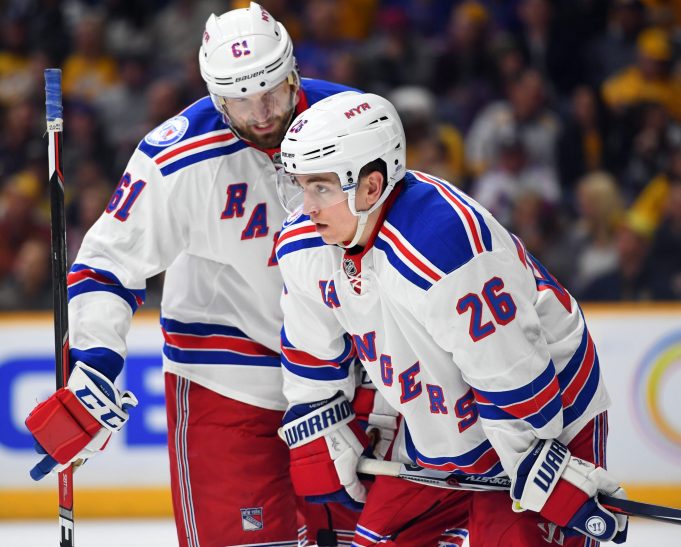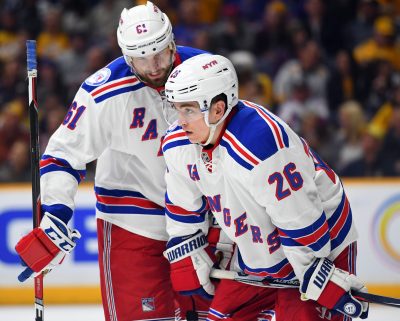 Full Game Effort
Anaheim is too seasoned and experienced to sit back and let the Rangers figure it out for ten or twenty minutes. At this point, the Rangers are too far into their season to have their head coach saying "I don't know what happened to my team for that period." This is an important game for continuity's sake and everyone on the ice needs to show up and put in a full sixty-minute effort.
Rangers Power Play
After an ugly oh-for-fifteen stretch spanning five games, the PP finally broke through against Calgary when Nash tallied his 15th goal of the season. The PP has been a streaky animal for the Rangers this season. After a protracted drought, it should start producing regularly again. Anaheim's PK is top five in the league, which is good considering that they take the suffer the second highest number of penalty minutes in the league. Anaheim is a big, physical team and they will take penalties. The Rangers' PP should get some good looks.
In their last ten matchups, the Rangers have done well (6-3-1) against the Ducks and have not lost to them since 2013.
Puck drops at 7:00 p.m. ET and can be seen on MSG.