"This is a smart move by the Rangers, as he's shown that he's one of the better coaches in the league." – Rotoworld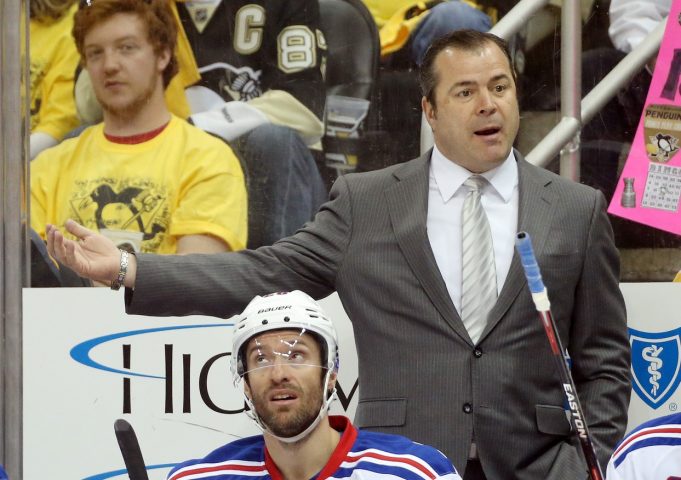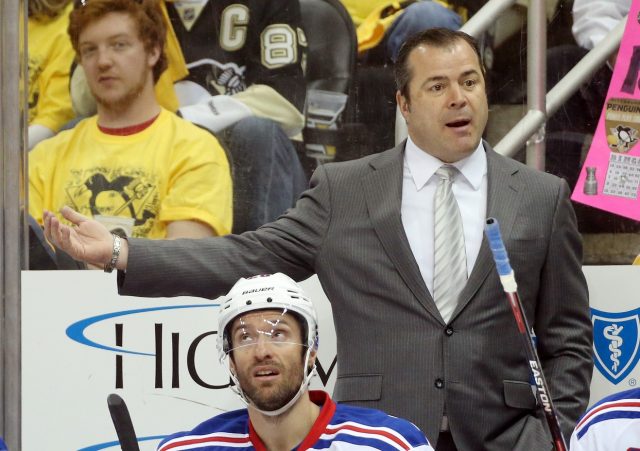 It's hard to imagine a less offensive guy engendering more split sentiment than Vigneault. Fans are as quick to text, tweet or post #INAVWETRUST as they are to call for his dismissal.
His style with the media can be characterized as 'tactically bland.' Vigneault warmly engages reporters and interviewers, calmly fields most questions thrown his way and generally protects his players publicly. But he rarely gives away anything that hasn't seemingly been cleared through prior discussion. He is a master at staying on message. He may liven up the script with some "friendly uncle" chuckles, but if you listen to him regularly, he's a brick wall. Some like hearing him speak, some have been bored with it for years and others are just…routinely confused. At times, it seems like he actually enjoys that.
Vigneault was chosen over a Rangers legend – nay, an NHL legend – in Mark Messier back in 2013. That turned a lot of people off. The decision-making there was reminiscent of the Yankees going to Joe Girardi over Don Mattingly in the wake of Joe Torre's departure from that organization. New Yorkers like their favorites and are wont to lament ad nauseum should one of them get the snub in favor of even the most qualified candidate. Vigneault was the clear choice in that pair, but some fans have simply never warmed to it.
Immediate success in 2013-14 went quite a long way for AV in unlocking a cold Rangerstown heart. The honeymoon lasted at least until the Los Angeles Kings' Alec Martinez beat Henrik Lundqvist in a double overtime Cup clincher. Another New York reminiscence rings true on that one – in Nas' immortal words from 'Shook Ones Pt II': "And when things turn for real, my warm heart turn cold." It got real right there for Vigneault as the harpies came down out of the rafters.
In New York, when a local team has a shot at a title and (*GASP*) misses that shot, the body fanatic aims it's vitriol stream directly at the head. It has happened with every head coach I've seen come and go in this city's professional sports world. Losing that Cup Final still overshadows everything else Vigneault has done in New York. It doesn't matter whether that's fair or not. It's New York and that is what happens here.
You know what else happens here? People can make lots and lots of money. Rangers GM Jeff Gorton, team president Glen Sather and Garden chair Jim Dolan certainly make theirs and they've seen fit to make sure AV makes more of his own. He has at least two more seasons to make good on his his raise.
Different line, same song: in New York "Ain't no such thing as halfway crooks." You've been paid, Mr. Vigneault – stop bein' shook:
Bring us a Cup.