Jacoby Ellsbury 
We've talked about this before, and there is a genuine argument that sides with Jacoby Ellsbury being the biggest X-Factor for the Yankees.
Just take a look at the following graph, which connects Ellsbury's varying on-base percentage to the Yankees' wins and losses throughout last season:
---
---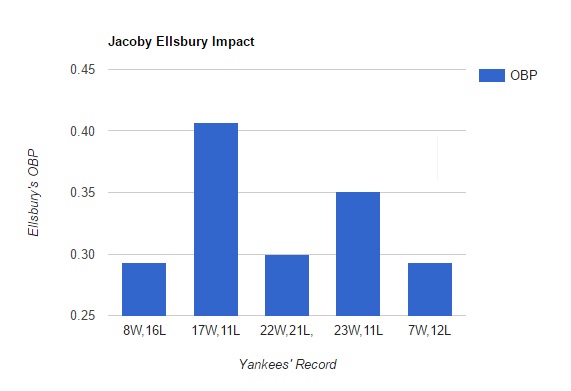 Overall, in games New York emerged as victors (77 times with Ellsbury making an appearance), Jacoby slashed .343/.411/.534 and totaled 151 bases.
In 71 losses with him making an appearance, his slash line deteriorated to .179/.239/.205 with a mere 55 total bases.
If Ellsbury encounters positive health and consistency, his presence could reconstruct the Yankees' offense with a top of the order strength and an influential table-setter for the middle of the order — which already seems much-improved.
It's really not that complicated for Ellsbury, despite the fact that he's not living up to the quality of his seven-year, $153-million contract.