Despite not being worth the value that is written on his paycheck, Jacoby Ellsbury still serves as an X-factor to the New York Yankees' success.
O
ne season. That's all the
New York Yankees
are dedicating seven years to and paying $153-million for.
Sure, the year in which Jacoby Ellsbury slashed .298/.355/.426 and stole a Major League-leading 52 bases was something to warrant such investment, and his .297/.350/.439 slash line, .789 on-base plus slugging percentage, an average of 34 bases stolen a year, a gold glove, silver slugger, and all-star appearances unquestionably justifies a payment of that magnitude.
However, all general manager Brian Cashman can do is shake his head in thorough disarray on why the man that finished second in the AL most valuable player voting in 2011 has spiraled into mediocracy.
Since signing the deal on Dec. 7, 2013, Ellsbury has seen a 9% decrease in batting average, 10% decrease in OPS, 6% decrease in OBP, a 16% rise in strikeout percentage and worst of all: a decline from a 84% stolen base success rate in Boston to a 77% rate in the Bronx.
To supplement the latter observation of decline: he has only attempted to steal 102 bases while sporting navy blue pinstripes, three less than the amount he swiped (!) in his final three years in Beantown.
Furthermore, while his table-setting counterpart, Brett Gardner, brings value to the team exceeding what his face value shows, the equivalent cannot be said for Ellsbury.
With Boston, the "speedster's" Weighted Runs Above Average (FanGraph's method of measuring the number of offensive runs a player contributes to their team compared to the average player) was at an impressive 62.
For clarification, zero is considered to be league-average and for comparison, in the year Alex Rodriguez slugged 52 home runs and drove in 135 RBI in 2001, his wRAA stood at 60.3 — incredibly better than league average.
What I'm trying to say is: once upon a time, Jacoby Ellsbury was an unimaginable superstar.
Across the last three seasons, however, his wRAA sits at -4.3. Well below league average and knotted up with Carlos Quinten while sitting behind Masahiro Tanaka.
Yes, even the Yankees' ace contributes more runs to their team compared to league average — in his mere 19 major league at-bats — than Ellsbury has since signing a corrupt contract with New York.
Will he ever reach the peak of the mountain again? The truth of the matter is unless New York eats the remaining four years and $84.6 million (which they probably won't) left on his contract, we have until 2020 to figure that out.
That does cause some panic across Yankee-land but if Ellsbury somehow turns his mediocracy with an infrequent hot-streak thrown in the mix into persistence, he can reconstruct New York's offense into a potent one.
In 2016, the narrative of following Ellsbury's lead was on full display.
From Opening Day to May 3, the 23rd pick of the 2005 amateur draft slashed a mere .247/.293/.366 with five stolen bases and an OPS of .659. Stealing bases was the only part of his game that was satisfactory, as five swiped bases in 22 games is equal to 37 per 162.
As Ellsbury stumbled out of the gate, the Yankees did as well, kicking their campaign off with an 8-16 record, good enough for last place in the AL East with already a narrow 12 percent chance to reach the postseason.
Yes, the absence of production from Alex Rodriguez and Mark Teixeira truly disabled the 2016 Yankees but their offense and overall output came and went when their centerfielder's production did the same.
On May 4, Ellsbury experienced a surge in which he slashed .337/.407/.526 with an OPS of .934, 17 runs scored, and a .380 BAbip (batting average on balls in play) leading up to play on June 8 (28 games).
Thanks to the improvement of output, New York was able to go on a 17-11 run and overcame the .500 two games later to pull out of the gutter in the division. For those who might not know how good 17-11 is, that's a 98-win proportion.
Following this brief hot streak, the 33-year old fell into a 43 game funk in which he went 38-for-164 (.232) while maintaining an OPS of .574. With that, New York was never truly able to heave themselves over the .500 plateau and sold at the trade deadline with a record of 52-52.
The fluctuation wouldn't stop there.
From Aug. 1 to Sept. 10, Ellsbury slashed .288/.351/.447 with nine doubles, four home runs, and 20 RBI in 34 games. With some help from rookie phenom, Gary Sanchez, the rebuilding Yankees went on a 23-11 stretch to pull within one game of a postseason spot.
Unfortunately, the wheels fell off yet again (Ellsbury would bat .209 in the 19 remaining games) and New York would go 7-12 to conclude the year on the outside of the playoff bracket for the third time in four years.
Overall, in games the Yankees emerged as victors (77 times with Ellsbury making an appearance), Jacoby slashed .343/.411/.534 and totaled 151 bases. In 71 losses with him making an appearance, his slash line deteriorates to .179/.239/.205 with a mere 55 total bases.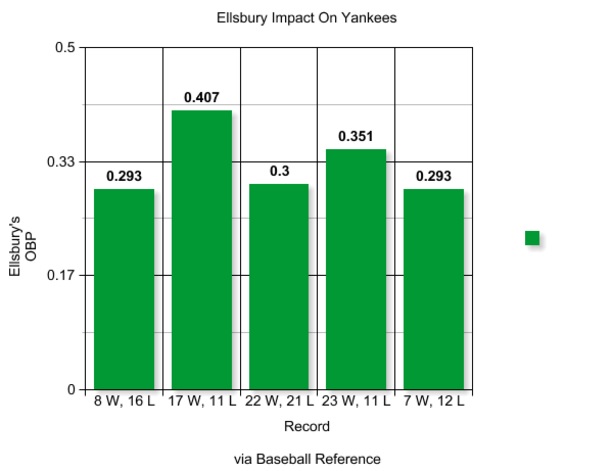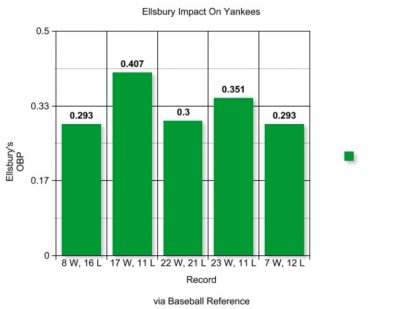 It's really not rocket science: batters turn into base runners, baserunners turn into runs, runs turn into wins.
Will his contract ever be worth the $153- million he was paid to be the player he was in Boston? Perhaps not.
However, that statement could ring true if the variance between stints of brilliance and flat-out bad can exchange itself for absolute consistency.
Because at the end of the day Jacoby Ellsbury applies a dimension to the Yankees' offense that turns it into a vulnerable unit when it's not present. The great unknown is specifically defined as whether a year can be full of steadiness.
Until then, Ellsbury will continue to be the variable in any given circumstance that could have the most significant impact on team success. Consequently, he is the X-Factor.
---
---