The New York Rangers are not playing their best and most consistent stretch of hockey, but calls for Alain VIgneault's job are silly. 
New
York Rangers' head coach
Alain Vigneault
currently ranks as the third most winningest coach in Blueshirt history, and has a good shot at catching up with
Emile Francis
(201 wins all time).
In terms of playoffs, AV currently sits in second place with 25 wins. Lester Patrick boasts the number one spot with 32 playoff wins.
In his first year as head coach of the Rangers, Vigneault lead his team to the Stanley Cup Final and was one win away in 2015 from achieving that very same feat for the second time in two years.
Yet some people are comically calling for Vigneault's job.
Really folks?
Right off of the bat, who would you consider filling AV's role with? Actually, I hear that Jack Capuano is looking for a coaching gig …
Just because a team faces some adversity does not mean you should blow the entire blueprint up. Let's take a look at what the standings look like as of 1/20/2017.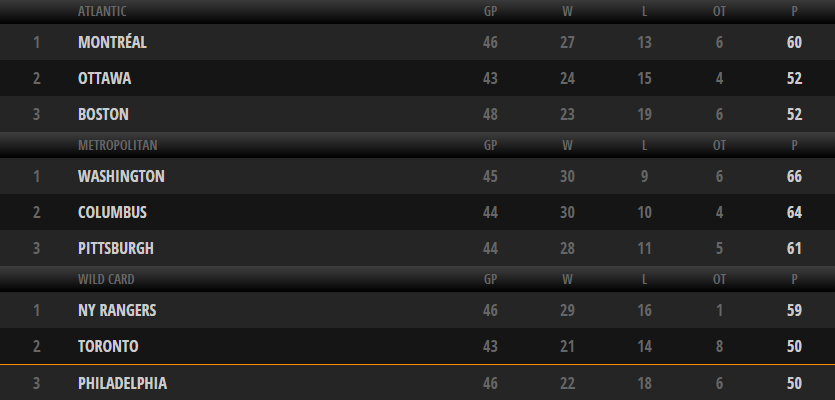 The Rangers are holding fast to the first wild card spot in the Eastern Conference with 59 points.
Man, what a disaster this New York Rangers' team is, eh? Their situation is so dire that they would only claim the top wild card top if the playoffs began today.
Fire the coaches, goalie, and certainly Dan Girardi with the rest of the defensemen. Heck, let's even let the popcorn guy go while we're at it.
Those people who want AV gone are the same people who always cry about the same old issues whenever this team endures a rough patch.
"He doesn't adjust."
"He hold certain players to a higher standard and that's not fair."
"He holds grudges."
"I don't like the brand of gum he chews."
Here are some facts.
The Rangers have been without their full lineup since November.
Three of the team's best players have been out of the lineup for the past month and a half (Rick Nash, Mika Zibanejad. Pavel Buchnevich).
Henrik Lundqvist isn't playing his best hockey and never does at this point in the season. Last year at this time his save percentage was .88.
Marc Staal has been one of the more reliable defensemen for the Rangers this season. He is currently out with a concussion.
The playoffs begin in April, not February.
It has been well-documented (see last year's Capitals team, Montreal Canadiens, and even the New York Rangers before them) that the best regular season teams rarely win the big prize.
Nicklas Jensen should be on the first line.
OK, that last bullet point is obviously a joke. I know, I'm cracking myself up as well.
Here is a little fact about myself: I am a teacher by trade. A big part of being a teacher is knowing when to raise the bar of expectation for your students.
What one student may be able to achieve, another may not. My job is to understand where my students stand and how to push them to realize their true potential.
Now I'm certainly no NHL coach, but the thought-process as to how Alain Vigneault builds his lineup is similar to how I approach student achievement (even with the threat of grizzlies).
AV's job is to know his players and adjust his lineup accordingly.
If he really believed that players like Adam Clendening and Dylan McIlrath before him had great potential, do you truly believe he would sit them down (or waive them in McIlrath's case)?
Sure, AV is tough on J.T. Miller, but that is probably because he see's great potential in a player who was underachieving.
Oh, and as far as in-game adjustments go, any team would be a complete mess if the coach changed the team's strategy every single game.
In fact, a large part of the Rangers' game is to wear down the opposition with their speed which is often why the Blueshirts are able to make some impressive comebacks late in games.
What looks like adjustments and a shift in player effort is often just the Rangers wearing down their opposition.
Now are there times when the Rangers should make some changes and don't? Sure. Their power play once again looks anemic and slow.
If you look back at their power plays from October and November you will see crisp passes and quick decisions. Right now the Rangers are making decisions at a speed that would make molasses proud.
In the end, Alain Vigneault is, and should be, the head coach of the New York Rangers. If this team is able to remain healthy they could do some damage under AV's system.
That is, unless, you want to give Capuano a shot …