Unless Jeff Gorton can pry Kevin Shattenkirk away from the St. Louis Blues, the New York Rangers shouldn't be buyers at the deadline.
H
ere we are, mired in another grueling NHL season that forces teams to play far too many games (82). Streaks and bunches of wins, losses, and one-point games come and go quicker than the love/hate relationship the city has with
Carmelo Anthony
.
The New York Rangers are no different.
From jump street, they've not only shown just how dangerous they can be offensively, but how brutal the defensive structure can be. From scoring four to five goals per contest after a month and change into the season to allowing the Montreal Canadiens to collect three goals in 62 seconds last Saturday night, Alain Vigneault's club is no closer to a Stanley Cup than they were a season ago.
This is the practical mindset Jeff Gorton must take into this season's NHL trade deadline.
There's no question about the fact that most of Rangerstown wants Gorton to display major moving and shaking prior to February 28's deadline. The majority will want Gorton to continue his team's recent trend of buying late in the season.
From acquiring Keith Yandle two seasons ago to the disaster of Eric Staal last year, the masses want names, production … hope.
Hope, above all else, as it's something to hold on to.
This is what this Rangers team does to the average individual. Despite boasting an excellent record of 28-15-1, good enough for 57 points which rank fifth in the East and seventh in all the land, realities smack you in the face before you could even think about jumping for joy.
This is also why these Rangers cannot act as buyers again. That is, unless, a serious name such as Kevin Shattenkirk joins the fray.
First of all, the division in which they reside, the Metropolitan, is stacked. The Pittsburgh Penguins, Columbus Blue Jackets, and Washington Capitals represent three of the best teams in the NHL. Looking to navigate through the first two rounds of the Stanley Cup Playoffs in such a stacked division is a heavy chore. Some might say finishing as a wild-card and seeing yourself thrown into the Atlantic Division side of things is a much more welcomed fate. But that's a different story for another day.
The competition is rough. This is the first issue. Secondly, and far more importantly, this New York hockey club doesn't play defense at a championship level.
The Rangers currently rank 14th in the NHL with an average goals against mark of 2.61. This isn't terrible. The defending champion Pens are yielding 3.02 a game, placing them 25th in hockey.
Where the distinction of terrible defense comes in is when the onlooker understands just how many shots are taken and allowed.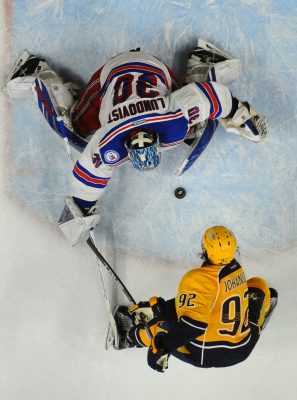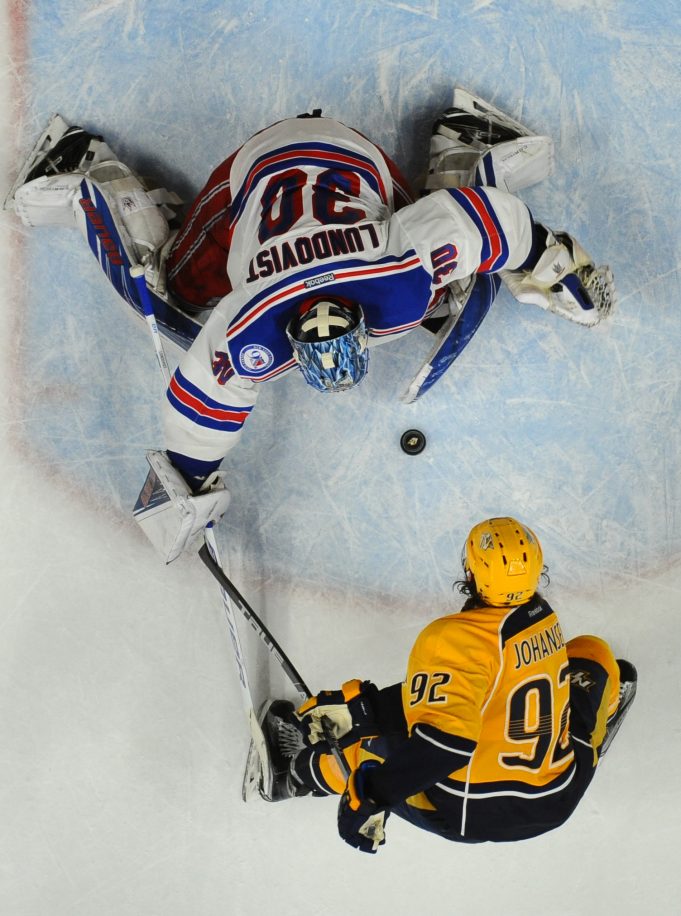 The Blueshirts come into Tuesday night's contest against the Dallas Stars as the 21st ranked club in SF% (shots for percentage). The robust mark lined up in the very same row is 48.8 percent. This means New York allows more shots a game than it creates.
Here are the only nine clubs worse than the Rangers in this very telling category:
Winnipeg Jets
Minnesota Wild
New York Islanders
Chicago Blackhawks
Buffalo Sabres
New Jersey Devils
Vancouver Canucks
Colorado Avalanche
Arizona Coyotes
Only the Wild and Blackhawks represent elite teams of the nine. Obviously, this stat alone shouldn't bury the Rangers championship chances.
Consider their style of play, though.
Vigneault is an offensive madman. There's very little secret about it. His system preaches quick transitional sprints and d-men pinching in at every turn. In essence, he's always willing to allow the defense to become somewhat vulnerable in exchange for that extra offensive shot. He's the NHL's version of Mike D'Antoni.
This notion was what made the 2014 Rangers spring run so fantastic and unique. Vigneault took a hardened defensive team who were molded under John Tortorella and freed them up a bit offensively. Their defensive principles meshed brilliantly with AV's new offensive style.
On top of the current blueline struggles, Henrik Lundqvist, The King, has been anything but his crowned nickname.
How could anybody convince themselves that this vulnerable, offensive-focused squad is just one player away from a possible cup shot? 
The only name out there — and I seriously doubt he could be had — is the aforementioned Shattenkirk of the St. Louis Blues. This is the lone guy who possesses enough that could make a serious difference on the backend for these Rangers.
Ryan McDonagh, though injury-prone in the past, has been stellar this season. Brady Skjei has allowed every frantic Yandle fan to forget he ever existed. Even Nick Holden and Adam Clendening have enjoyed spurts of solid play.
With Lundqvist so bad and AV's system so gung-ho to allow the defensive structure to expose themselves too regularly, a solid-to-good defenseman won't make enough of a difference.
Only a Shattenkirk-type, a 27-year old all-world defenseman would be worth Gorton going out there and buying yet again.
If not Shattenkirk, he needs to stand pat and navigate under-the-radar. There's no point in sacrificing the future when the present isn't ready to truly content.