The New York Mets came to terms with nine of their ten arbitration eligible players by the Friday deadline
I
njuries, reserve players, uncertain futures, no matter the case, the
New York Mets
were handing out raises like candy on Friday.
Beating out the Friday deadline to avoid arbitration, New York came to terms with nine of the ten players who were eligible.
While Major League Baseball decides if a suspension is in order for all-star closer Jeurys Familia, the New York Mets have decided to reward him with a healthy raise.
The closer who notched 51 saves last season will be receiving a $4.1 million dollar raise next season, as the Mets settled with Familia on $7.425K payday next season.
A healthy raise and reward for a guy facing suspension for a domestic violence issue from last November.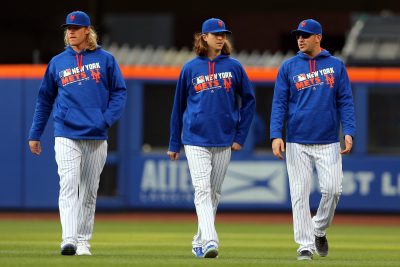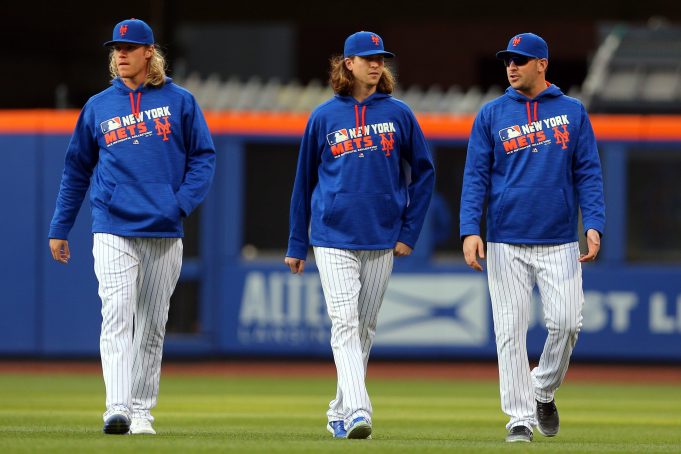 Friday also saw raises for two members of the starting rotation as young guns Matt Harvey and Jacob deGrom both settled on a 2017 salary.
Matt Harvey pitched to a 4-10 record last season with a 4.86 ERA before being shelved for the season following his prognosis of thoracic outlet syndrome. Harvey earned $4.325 million last season and settled with the Mets on a $5.125 million salary this season
Jacob deGrom also saw his 2016 season cut short due to injury. The 2015 all-star pitched in 24 games last season before needing surgery to repair his ulnar nerve in his elbow in September.
The 28-year-old right-hander will see an increase in salary from $607,000 in 2016 to $4.05 million in 2017.
Jacob deGrom was eligible for arbitration before hitting three years of service time after qualifying for the 'Super Two' exception. The exception states that a player that finishes in the top 22% between two and three years of service time is eligible for arbitration.
The highest salary agreed upon Friday came via Addison Reed. Reed was everything the Mets could ask for and more in relief last season with a flashy 1.97 ERA in 80 appearances. Reed agreed to a one-year $7.75 million contract and will be more important than ever this season, as he figures to be the team's' closer if (when) Jeurys Familia serves a suspension.
---
---
Right behind that contract is the $7.25 million the New York Mets will dish out next season to Lucas Duda. Duda received a half a million dollar raise despite only playing in 47 games last season and not exactly impressing anyone with his play when he did.
Zach Wheeler (800K), Josh Edgin (unreported), Travis D'Arnaud ($1.875 million) and Rene Rivera ($1.75 million) also avoided arbitration by agreeing to terms with the Mets earlier.Wheeler
Wheeler is looking to re-establish himself after missing the last two seasons recovering from Tommy John surgery. Rivera is the backup to an underperforming D'Arnaud but holds value as Noah Syndergaard's catcher of choice.
The only player the Mets couldn't come to an agreement with was Wilmer Flores. Flores found success when able to play on a consistent basis in 2016, but struggled in a limited role, something he will likely face in 2017.
The Mets will go to an arbitration hearing with Flores, who wants to earn $2.2 million in 2017, while the Mets only want to offer him $1.8 million.