Unfortunately, New York Knicks captain Carmelo Anthony remains an overrated NBA star on a team that needs to blow it up immediately.
I
t happened before the season. One statement, one action from
Carmelo Anthony
let us all in on a little secret that he cares way too much about his status in the league.
In response to SLAM's Top 50 NBA players heading into the 2016-17 season, the New York Knicks captain let the extremely adapt magazine to know just how he felt about the No. 15 ranking: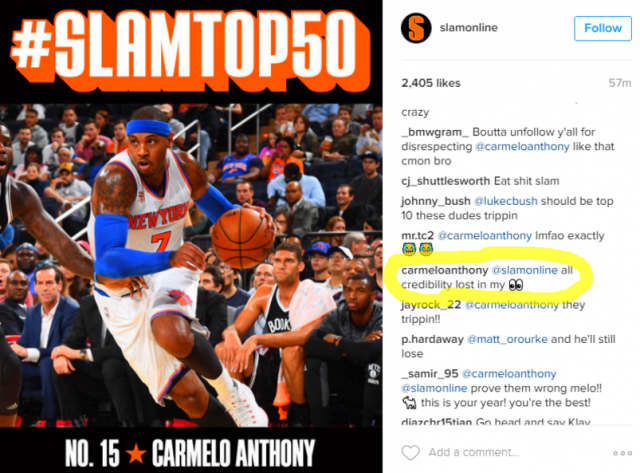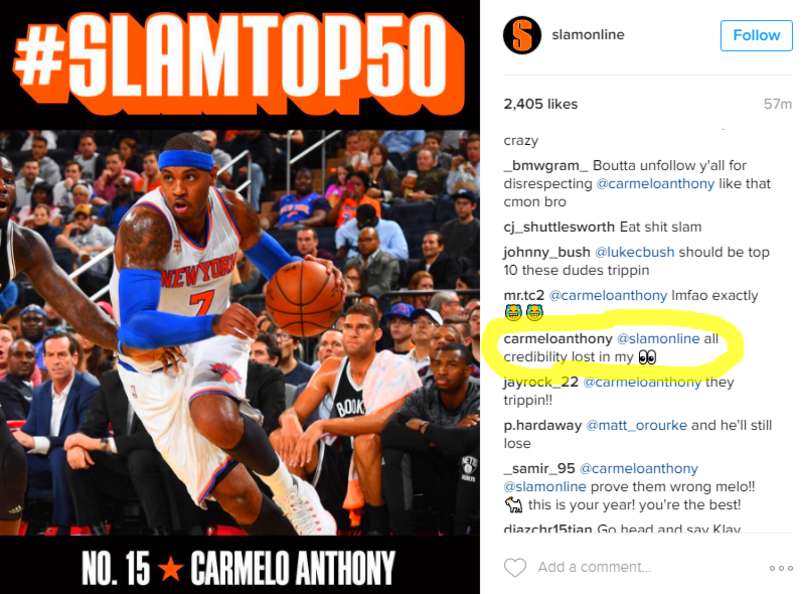 Really, Melo? Who cares where SLAM Magazine ranks you? What Anthony's sole focus should have been at that time is winning ball games for his new-look Knickerbockers. In no way, shape or form are we saying his attention provided towards SLAM rankings prohibited the team cause.
We're simply saying, "It's not necessary." Nobody cares that SLAM chose you as the No. 15 player in all the land.
That's just the first important aspect to this unsettling case. The second and far more important aspect is the idea that SLAM actually provided Anthony with a bit too much respect.
Is Carmelo Anthony telling us that he should be ranked in the Top 10 of all the NBA, at age 32?
Melo, at his height, was one of the greatest one-on-one scorers of all time. The speed and agility he was equipped with worked brilliantly with his 6-foot-8 big frame. His shot was one that only basketball gods could conjure up from after a hard night's sleep.
Even now, Melo can still shoot the rock. Averaging 22.1 a contest, Anthony represents the Knicks top scorer. He can still take the rock, line a defender up, and get off a shot the way he wants and needs to. Since the day Michael Jordan took office as the NBA's best player, having one of these late-game closers has been essential to every organization.
Melo is that guy.
Where the problem lies — one that many diehard Melo fans fail to realize — is that there's more to the game of basketball than simply shooting the rock.
First of all, Melo's field goal percentage of .422 is downright horrid. Considering Kristaps Porzingis is sporting a 20.5 points per game clip while shooting 138 fewer times than Melo is a disturbing piece of news. It's shown in the percentages, as KP's FG percentage sits at .449.
The rest of Melo's offensive game is pretty bland. Away from the ball, he's simply not a force. You'll be hard pressed to find a play resulting in a nice Melo flash through the lane or back cut along the baseline. And this, despite playing with a few solid passing big men in Joakim Noah and Kyle O'Quinn.
As a facilitator, Carmelo showcased a tremendous ability to change the tune a year ago.
Entering the 2015-16 season, Anthony seemed to be a new man. He was shooting less and distributing more. He was allowing the game to come to him, rather than forcing the issue. It led to the best assist mark of his 14-year career (4.2 per game).
The real issue in the overrated nature of Melo's game is two-fold: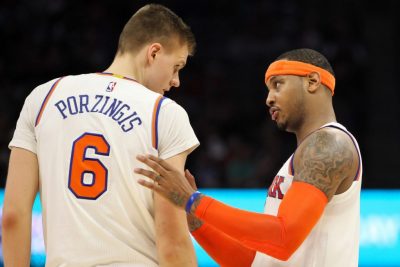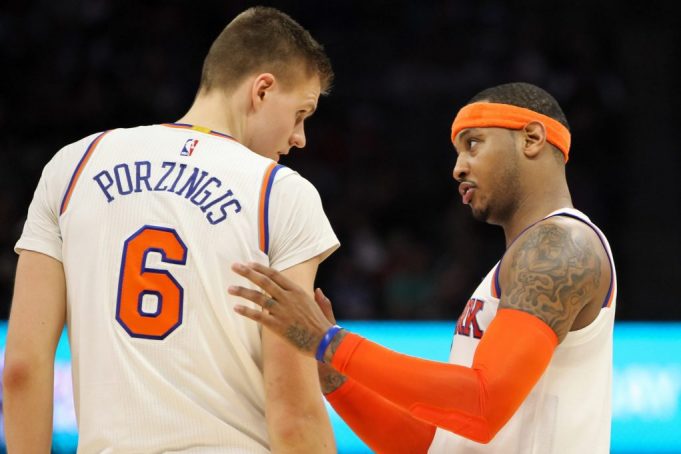 Defense
A New NBA
Defensively, Anthony is, perhaps, the worst star considered defender this side of James Harden. Save for a few infamous "Swat Blocks," that do more harm than good on most plays as he puts himself out of position, not only are his instincts poor, but he simply can't move.
Phil Jackson's big time error this past summer was engineering a lineup that would force Melo to play the three-man almost exclusively.
Just look at most games. Jeff Hornacek can't wait to separate Porzingis and Melo not only to spread the wealth among both No. 1 options offensively, but because it allows Melo to play a little at the power forward spot — a spot that he must be playing at this point in his career.
The one attribute nobody can get on Melo about is toughness. Unlike other studs in the league, namely LeBron James, Anthony never flops. He's a physical baller who takes on plenty of contact and rebounds ferociously when asked to assume that chore.
At the four, it works. At the three, he's never able to keep up with the quicker swings in the league.
Just take one look at his slow, plotting nature defensively and you'll understand. On the final shot against the Philadelphia 76ers on Wednesday night, Melo had no chance against the much quicker T.J. McConnell:
KP airball, terrible. But, come on, can Melo pick up his guy? McConnell would NEVER score on a good defender there. NEVER. Slow. #Knicks pic.twitter.com/pnvThY2kP7

— Elite Sports NY (@EliteSportsNY) January 12, 2017
I'm sorry. Call me old-fashioned, but I expect my superstar leader to do much more in that situation. Moreover, my superstar leader who's basically playing a guard spot (the small forward) in this new age NBA.
I want my guy to rise to the occasion defensively and say, "Not today."
Look at it. Instead of jumping up in the air, Melo immediately understands he's beaten and turns to the ref about a potential push-off.
Then there's this:
Up three with 55 seconds left. What are Melo and Noah doing here on this pick and roll? Defensively, they don't have a clue. #Knicks pic.twitter.com/Y2Jv0WkpKE

— Elite Sports NY (@EliteSportsNY) January 12, 2017
What are Anthony and Noah doing on this pick and roll in such a critical situation?
But this is the problem: this NBA is different. No longer is it an iso game that relied on organizations compiling two or three iso players (whether it comes on the low box or on the wing). Golden State has proven it with their high-flying, ball distributing act in the Bay Area.
Ball movement and tough defense win in this league.
Melo struggles in both areas. 
Stay firm to your guy if you'd like. As a fan, you have that right. Me, personally, was won over by Anthony a season ago when he came into the fresh campaign with a brand new mindset fit to play team ball that can win in the changing world of basketball.
Under no circumstances, though, will I be confused into believing Carmelo Anthony is an NBA All-Star these days. This Melo, at 32, simply isn't.
There's much more to the game than just shooting the basketball. Defense, unless I missed a huge announcement recently, still accounts for 50 percent of the game. Melo is a poor defender.
Anthony is stuck on a team in desperate need of a blowup — a team with a Derrick Rose (a guy who also doesn't play defense and decides to blow off games when deemed necessary), a Joakim Noah (a guy robbing the bank of Phil Jackson blind at his broken down age), and a guy in Kristaps Porzingis (who needs to be the focal point of a rejuvenated rebuild).
While still a solid shooter — a guy who can win you a game in the clutch, as seen in Minnesota earlier in the year — Melo doesn't offer much else in terms of on court production. He's an "add on" guy, not a focal point at this stage in the game.
At 17-22, it's over. Melo has been and still is overrated and this Knicks team has no shot.
It's been a long time since the Knicks or Melo have had anything to smile about. Should we continue the madness of blaming everybody around Melo each and every season?
Why is it always their fault?
It's time to build it the right way.
The quicker the New York Knicks realize Carmelo Anthony cannot be a focal point of this team, the sooner they'll find their way back into basketball relevance.