New York Knicks phenom Kristaps Porzingis is a gift that, while we truly didn't accept at first, is something beyond our full comprehension.
H
e was gift-wrapped on June 25, 2016, in Brooklyn, the home of the
New York Knicks
geographically nearest rival.
By the time the wrapping paper was torn off, fans of the Manhattan-playing basketball team resembled the six-year-old who just spotted cotton, rather than a toy. The Knicks fan equaled that six-year-old opening the highly-anticipated present only to see a piece of foreign clothing, something we've never laid eyes on prior, so to speak.
https://www.youtube.com/watch?v=v5d44YkprWQ
The No. 4 overall pick wasn't familiar. He wasn't something we expected much of.
Fans were upset.
Why would this guy, a Latvian no less, find any success in the National Basketball Association? I mean, look at the record.
From Darko Milicic to Nikoloz Tskitishvilis, Rafael Araújo to Fran Vasquez, and Aleksandar Radojevic to New York's own frightening selection of Frederic Weis, the history of European flops in the Association is nothing short of spectacular.
And, now, we get this guy, Kristaps Porzingis. Why would he suddenly become the next Dirk Nowitzki?
When Justise Winslow and Emmanuel Mudiay were ripe for the taking with Carmelo Anthony's age rapidly creeping to the point of no return, Phil Jackson selects a project.
How wrong we were.
We saw it, right off the bat, during the Summer League when Porzingis not only showcased his raw and rare talent to the basketball-breathing world, but quickly proved he wasn't a project. He proved that, despite his tall and lanky frame, he wouldn't be pushed around like a ragdoll, as previously wondered aloud.
The kid had fight. The kid had guts. The kid had, undoubtedly, something special.
Obviously, he still had to prove it. Prove it, he did.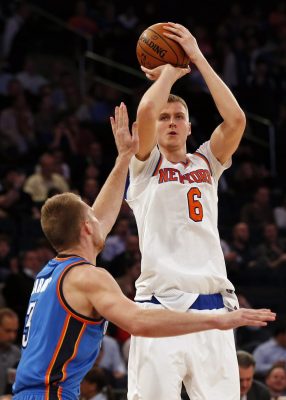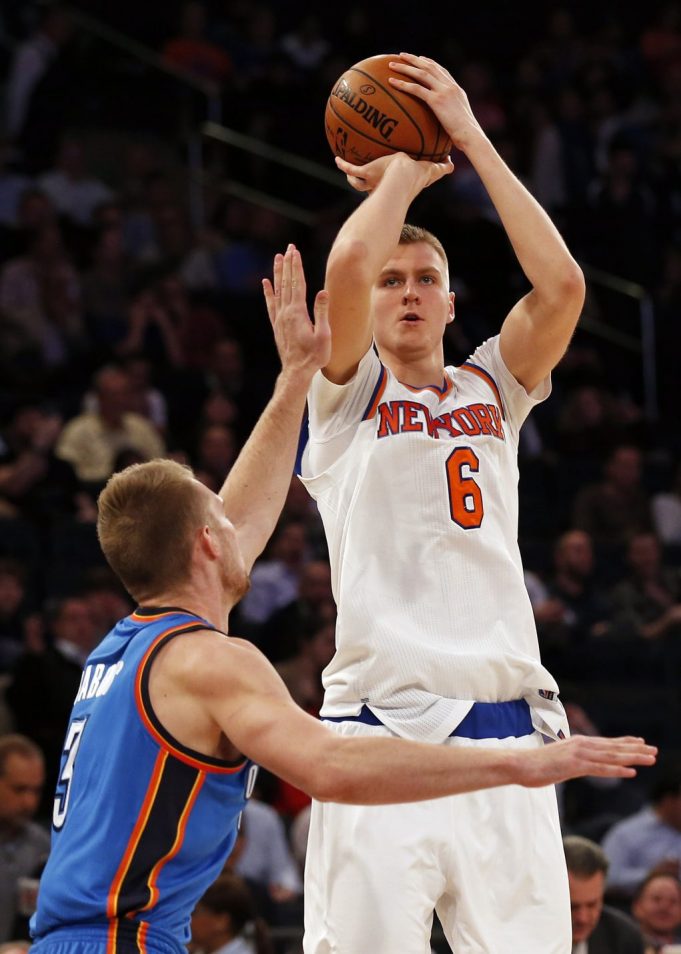 Partaking in 72 games over the course of his rookie season, the kid they dubbed KP averaged 14.3 points, 7.3 assists, and 1.9 blocks a game. He shot at a .421 clip from the floor and a .333 mark from downtown.
While, on the surface, the stat line doesn't blow anybody away, his rare combination of athletic ability and size at 7-foot-3 spoke volumes. It was obvious that the Knickerbockers had snagged a special 20-year old — one who could assume the role of face of the franchise for a decade-plus.
That's what's really important when analyzing this kid.
New York hasn't possessed an individual like this in over two decades. Patrick Ewing was the last. Sure, Carmelo Anthony is of that ilk, but he was a veteran acquisition — not a guy drafted as a youngster.
The Knicks, in a superstar league, finally possessed that guy they could build the franchise around. It's a rarity to find such a guy, but Jax did just that. And that alone will forever mark the stamp of approval on his front office legacy with the organization.
First, though, he'd have to improve upon that rookie season in which he hit a wall near the midway point. Injuries and fatigue brutally damaged the splendid first season towards the end.
He's done much more than improve. He's excelled.
Now, as a wise 21-year old, KP has averaged 19.9 points, 7.6 rebounds, and 1.8 blocks a night. His shooting percentage has skyrocketed to .452 from the floor and .400 from 3-point land.
More than numbers, however, is the attitude and confidence displayed on a nightly basis. The man is assuming control of the game on a regular basis. He's comfortable in his spot on the floor. He's overpowering smaller guys and taking bigger players off the dribble.
That LOOK when you know you're a Top 5 NBA talent.#Knicks #Porzingis pic.twitter.com/4A3iXPsOPB

— Elite Sports NY (@EliteSportsNY) November 17, 2016
At 7-foot-3, he's fully equipped with a stepback jumper and crossover to die for. A hoop-extended isolation game from a seven-footer? It's simply unheard of.
The question is, "How's this kid NOT gonna make NBA Top 5 level by 2017?"#Knicks #Porzingis pic.twitter.com/ckJLnsPKsG

— Elite Sports NY (@EliteSportsNY) November 17, 2016
If somebody were to describe a 7'3 player doing this back in the 80s, they'd be locked up and put away for insanity. #Knicks #Porzingis pic.twitter.com/lmiXfiCMn4

— Elite Sports NY (@EliteSportsNY) December 5, 2016
Actually, it's too good to be true. This cannot be reality.
He's not only special with the ball, either. The kid brings some serious effort defensively, which still accounts for 50 percent of the game of basketball the last time I checked.
Talk about a big boy block from Kristaps Porzingis. #Knicks pic.twitter.com/KjI12BoOqL

— Elite Sports NY (@EliteSportsNY) November 26, 2016
The most unique and brilliant part of his game is what happens during the time off the court. As good as he is on the hardwood is as fantastic as he is off. There's never a misstep of a bad word choice. He's simply a coach's dream.
So, when watching KP and his big brother Melo take on the Boston Celtics at Madison Square Garden for a Christmas Day matinee, remember just how rare this situation is.
For years, organizations search for a talent like this. For decades, the New York Knicks have been looking for that next Patrick Ewing.
It seems they have finally found him in Kristaps Porzingis.
It's still tough to comprehend, but at least we can now truly accept the wonderful gift he represents.