Forget wins and losses, New York Knicks boss Phil Jackson has already done his job at the Mecca by drafting young Kristaps Porzingis.
F
ifty-six and 122 — this is the record of the
New York Knicks
under the regime of
Phil Jackson
, minus the handful of games towards the end of the 2014 season that saw the Zen Master assume control.
These numbers are hardly impressive.
Fans who fully realize the chant of, "Go New York, Go New York, Go," expected more. I mean, let's face it: when a former Knickerbocker who graced the Garden during the franchise's only two NBA Championships walks through those doors with 11 head coaching rings on the table, expectations begin high. 
But, alas, things haven't gone swimmingly.
Jax's 17-65 tank season two years ago was just the beginning of the misery. The 32-50 record with newcomers Robin Lopez and Arron Afflalo furthered the sentiment. The real backbreaker came when his own championship player, Derek Fisher, had to be removed after a season and a half on the job.
Tweets and comments suggesting Jax has yet to fully accept the new realities of this 3-point, new-aged, transitional basketball world simply added the cherry on top for the naysayers. (Here's looking at you, Frank Isola.)
Suddenly, through 14 games of the new campaign, the naysayers have a bit of an issue on their hands. Derrick Rose is playing like his former self and the extremely smart signing of Brandon Jennings has forced Jose Calderon to become a curse word on every blacktop in the city.
Here's the rub: wins simply don't matter at this point in time when evaluating Jackson's proficiency on the job. Their current 7-7 record surely matters. Make no mistake about that. But when it comes to how all fans will evaluate Jax's time in the Big Apple, there's only one solitary move that'll reign supreme.
The drafting of Kristaps Porzingis is that move.
The NBA — or The Association, as many dub it — is unlike any professional sports entity in the world. It's a league comprised of 30 clubs looking to play the best brand of team ball.
When the dust settles, however, superstars rule the roost.
The addition or subtraction of a LeBron James is literally worth 40 games. Just open another tab on your internet browser and check the records for the Cleveland Cavaliers before and after he took his talents to South Beach. While basketball will always remain a team game, the NBA is a different animal altogether. This is where KP comes in.
Porzingis isn't just a young stud. He's a guy an NBA franchise can call a firm, long-lasting foundation. These guys don't come around often. In fact, New York has been looking for a guy like this since Patrick Ewing.
Sure, many can argue Carmelo Anthony is one of those guys, but New York wasted too many years of his prime. At 32, he's simply a star, not a building block.
When evaluating young Porzingis, dig deep. There isn't a serious flaw across the board.
The kid obviously possesses talent. Rare, superhuman talent. Not only can he rebound and tough-it-out with the bigs of the league (something many thought would be an issue), he can, incredibly, take slower bigs off the dribble and put the ball on the floor.
Come on now. This is ridiculous.#Knicks #Porzingis pic.twitter.com/mneiKFU6kV

— Elite Sports NY (@EliteSportsNY) November 23, 2016
A 7-foot-3 man dribbling and moving like that? Come on, now. No man should ever have the ability to do that. This skill can only be described as "new aged" and "transitional" in today's league.
KP is one of those special talents that only comes around a few times every decade. He ranks right up there with building blocks Anthony Davis and Karl-Anthony Towns. He's that damn good.
NBA presidents and general managers last multiple decades without acquiring a gem like this young Latvian. Yet Phil Jackson snagged him early on in his professional presidential debut, in his second draft with the Knicks.
The critics will point out how loaded that particular draft was. After all, Towns, Jahlil Okafor, D'Angelo Russell, and Justise Winslow headlined a sick top end of the draft. Not so fast.
Not so fast. Don't be so quick to take KP's drafting for granted.
Don't you dare forget the 95 percent of Knicks fandom who booed the pick unmercifully. New York — while deserving a much more promising fate than the No. 4 slot — took the little-known, extremely raw talent knowing full well that everybody in the basketball-breathing world would come guns-a-blazing with criticism.
https://www.youtube.com/watch?v=jQMYrzY5DdE
Don't hide now. Come out proud with your hand raised high if you shared the same opinion as Stephen A. Smith.
Knowing full well he'd be hammered, Jax selected the youngster with an eye towards the future instead of a quick fix that would have kept Melo bubbling with happiness. This action is deserving of a hall of fame type shoutout as an NBA executive.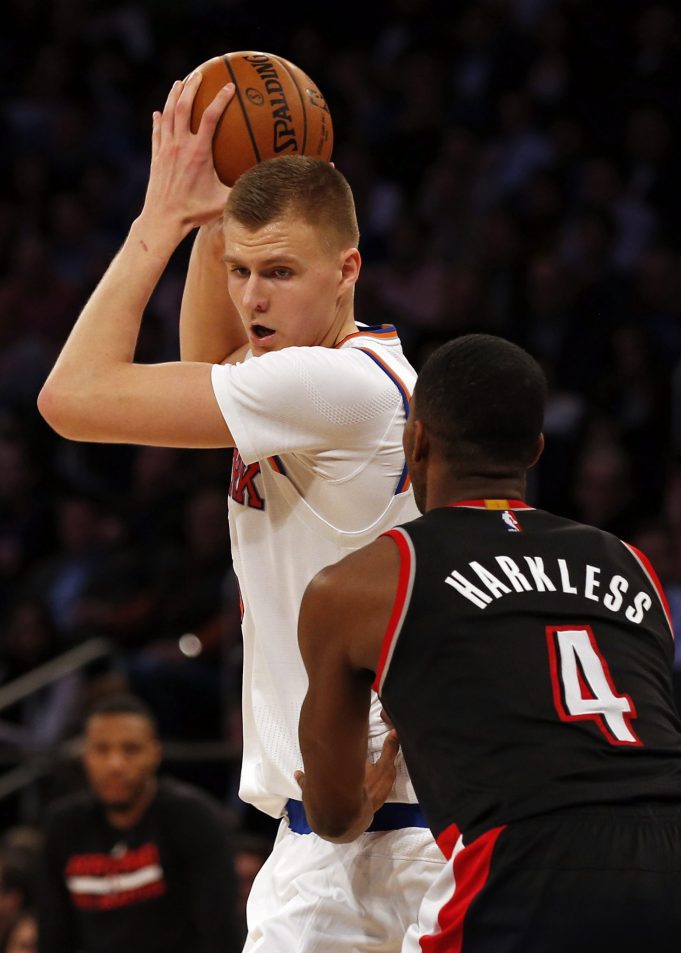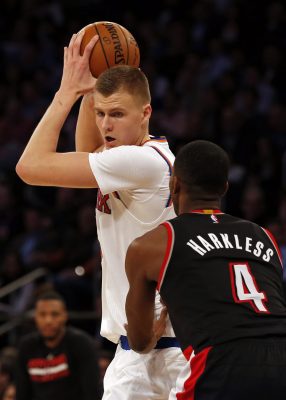 Considering all of this information, remember the following the next time you're frustrated with a possible .500 record the rest of the way this season: Nobody's going to care where the 2016-17 Knicks finish. That is, nobody's going to care when Kristaps Porzingis truly cements himself as the Knicks next basketball hall of famer and the Knicks are deploying their first real great run since the 1990s.
By the time that happens, the only thing that'll matter when evaluating Phil Jackson's true worth to the New York Knicks is that he was the one who snagged the next great Knick.
Superstars equal championships in the NBA. Should you be without one, you do everything in your power to find one.
Thanks to Jax, the Knicks have no worries in that area anymore, for the first time in a very, scary long time.