The New York Rangers have experienced success over the past five years, but are their fans acclimatizing to that success?
For
 a team that has such a rich and proud history, the New York Rangers boast a relatively small sample size of success.
Four championships over a 90-year span are not great by any standard.
However, it is this championship drought which had made the past five years or so (last year excluded) an exciting time for the New York Rangers' fan base.
Fans have experienced impressive comebacks, dramatic storylines which only Disney could write, and a goalie who will most likely see his number raised to the Madison Square Garden rafters in the future.
For fans who are too young to remember 1994, the 2013-14 season gave them a taste of the magic which engulfed New York City 22 years ago.
The franchise has enjoyed two Eastern Conference Finals appearances and one Stanley Cup Final appearance over the past five years. That's not too shabby.
Yet when you read comments made by fans or articles written by the New York media, you would think that this team is doomed.
On one hand, you could make the argument that we shouldn't be surprised by this. After all, doom and gloom is what runs the media circuit these days. Sadly, instilling fear (even in sports) is what sells papers and draws clicks.
But on the other hand, we may be witnessing something that I like to call Yankees syndrome. In short, has the New York Rangers fan base been so spoiled by success over the past few years that we can't enjoy the game on a nightly basis?
Has this organization reached the point to where it's Stanley Cup or bust? Social media and countless blogs support this claim.
We have reached the point as a fanbase that even when the team wins, most of said wins are "not good enough." Technology has given us the tools to overanalyze Rangers' performances, mostly through the use of advanced stats, which has resulted in fans who will only give their approval if a certain possession number shows up on the score sheet.
Don't misinterpret my position here: the point of this article is not to argue over Corsi stats. I think these numbers have their place when used in the correct manner.
As of today, the Rangers own second place in the Metropolitan Division and have basically played .500 hockey over the past eight games. For many fans, this is unacceptable.
This level of play is unacceptable despite the fact that the Rangers have been decimated by injuries which have resulted in a roster which is basically unrecognizable from the one that the team iced back in October.
Remember that Chris Kreider-Mika Zibanejad-Pavel Buchnevich line which tortured teams at the beginning of the year? No one could handle their speed and creative play-making ability.
Once these players were subtracted from the roster, the entire game changed. Lines became scrambled, especially the fourth line which finally resembled a capable group after years of mediocrity, and strong chemistry was lost.
Oh, and Chris Kreider hasn't returned to his dominant self which fans enjoyed at the beginning of the season since suffering from neck spasms a little over a month ago.
Now the team will be most likely miss Rick Nash for some time- a player who the Rangers will miss greatly.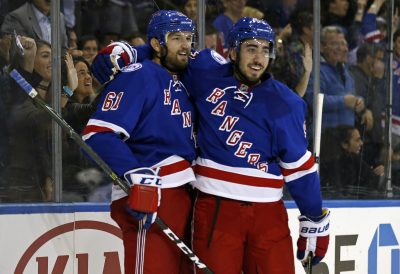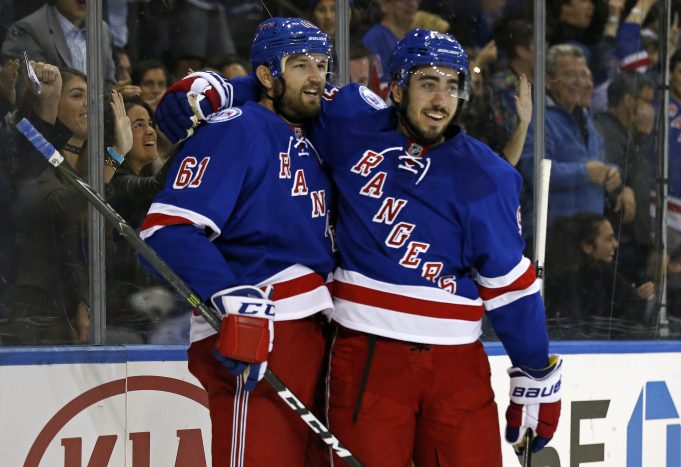 Yet we still want to blame Henrik Lundqvist and the defense. We blame these people, well, because it's easy.
Rather than accepting that injuries have had a huge impact on this team's identity, we want to blame players like Dan Girardi on a nightly basis.
Have we really just become miserable fans that expect success, similar to the New York Yankees' fan base?
I'll leave you with this.
It's the beginning of December. When in past history was a season decided in December? To the contrary, I can point out countless situations in which a team looked dominant through February and then ran out of gas in April.
Montreal Canadiens and Washington Capitals anybody?
Many fans will make the statement, "this team will experience some bumps in the road," and then completely lose their collective minds when the team actually does face some adversity.
If the New York Rangers can find some health and make it into the playoffs, they will be fine. Will they win the Cup? Who knows.
This is a good team and is by no means last year's lame duck of a group.
Let's just sit back, relax, and try to enjoy the ebbs and flows that is New York Rangers hockey.
Leave the doom and gloom for the politicians.