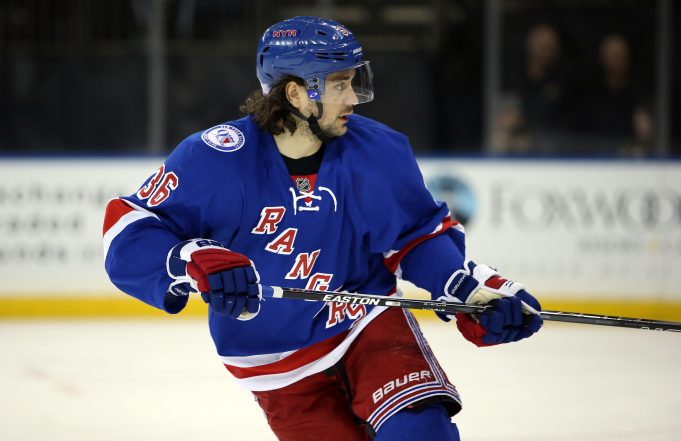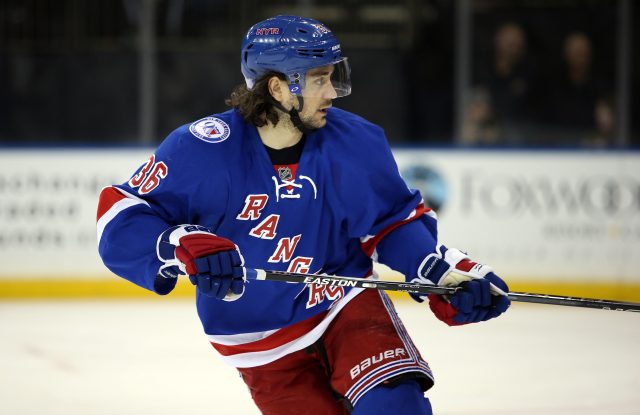 Nov 6, 2016; New York, NY, USA; New York Rangers right wing Mats Zuccarello (36) during the third period against the Winnipeg Jets at Madison Square Garden. Mandatory Credit: Danny Wild-USA TODAY Sports
The only thing you need to know about Mats Zuccarello's toughness is this: the man came back from a fractured skull.
When Ryan McDonagh drove that slapshot into the side of the head of Zuc, the New York Rangers lost more than just a Norwegian winger. They lost their heart and soul during the 2015 Stanley Cup Playoffs.
Like the tough little scrapper he is, however, Zuccarello flawlessly recovered.
He's also rarely injured. Beginning with the 2013-14 season, the campaign for which Zuc started playing full time with the Rangers, Zuccarello has only missed a total of 10 regular season games.
Not only does Zuc display mental and physical toughness at every turn, he also plays the key role of agitator for the Blueshirts. He's an annoyance for the opponent every night — an Esa Tikkanen clone to a much lesser degree.