From a healthy scratch a season ago to a Hart Trophy candidate, New York Rangers forward Kevin Hayes has been tremendous this season.
A
pril 21, 2016 — the day that turned Kevin Hayes into a Hart trophy candidate.
After logging just 8:27 of uninspiring ice time in Game 3 of the Eastern Conference First Round against the Pittsburgh Penguins, everyone involved with the New York Rangers was just about done with the former Boston College star after disappointing countless times during his sophomore season on Broadway.
Among those who were upset was Rangers head coach Alain Vigneault. He simply couldn't watch Hayes hold on to the puck for a second too long, casually turn the puck over in the neutral zone, and constantly be a liability in the defensive zone. His substandard play resulted in his exemption from the lineup in Game 4 in favor of Oscar Lindberg.
One can only assume that this was rock bottom for Hayes.
In, essentially, a must-win game for the Blueshirts on home ice, the Massachusetts native would be exchanging the famous Broadway Blue sweater and a spot in the lineup for a suit and tie, along with a seat in the Press Box. In addition, Hayes was benched in favor of a guy in Lindberg who had scored just three goals in his last 41 games.
The Rangers were later embarrassed that night in front of the Garden Faithful 5-0 and their season ended just two days later in Pittsburgh after another humiliating performance, officially closing the curtain on Hayes' lackluster season.
What followed was an outstanding offseason for Hayes.
After taking just five days to recharge the batteries after the previous season (according to MSG's Joe Micheletti), Hayes went to work. The 6-foot-5, 225 lbs. lefty got on a huge conditioning program (no, I'm not referring to his dab push-ups) to lose 20 pounds and add some speed to his game. The well conditioned Hayes was rewarded with a two-year deal worth $2.6 million annually in late July.
Hayes came into training camp with a new attitude and skill set. He looked ready to bounce back after last year's poor campaign. The question was would he be able to deliver.
Oh, he has delivered alright.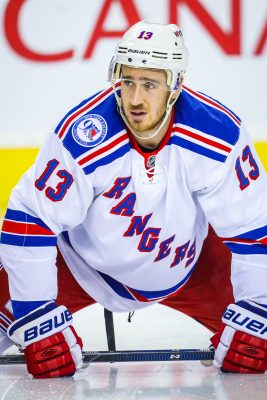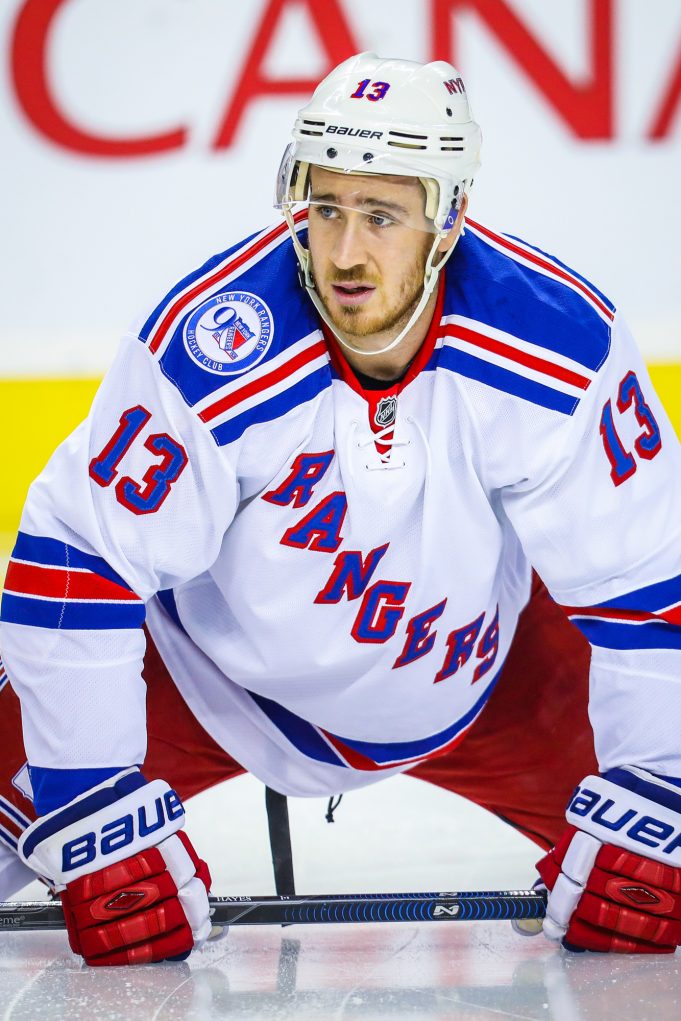 Hayes' resurgence has been better than anyone could have expected. With just about a quarter of the season in the books, Hayes is excelling in all facets of the game. His size and newfound speed have brought his offensive game to a new level, as he is averaging just under a point per game. What's been most encouraging, however, is Hayes' decision making. Unlike last year, he is making quick decisions with the puck and is looking to shoot when he has the lane instead of always looking to make the extra pass.
As usual, Hayes' use of his body to make plays is exceptional. He utilizes his large frame to perfection to set up passes when he's along the walls and protect the puck as he goes hard to the net.
Hayes' defensive prowess has been just as (possibly more) impressive than his offensive game. His length and improvement in one-on-one defensive scenarios have allowed him to be successful not only in even strength situations but also on the penalty kill alongside J.T. Miller. In addition, Hayes is also winning faceoffs at a 46.7 percent rate, which is up over 10 percent from last year.
Hayes' brilliant play has received great praise from Blueshirts fans and has even warranted him early MVP consideration. In just a matter of seven months, Hayes has effectively flipped the script from healthy scratch to Hart Trophy candidate.
His play is a huge reason as to why the Rangers have the NHL's best offense and he will have to continue to play a huge role in both ends of the ice if the Blueshirts want to remain in the elite class of the NHL.
The real Kevin Hayes is back, folks.