The New York Rangers are known for their slow starts. This season has been much different and for good reason.
A
s a fan of any sports team, you pick up on common trends from year to year. As a fan of the
New York Rangers
, it seems that a slow start to every season is imminent.
The last two years, however, has showcased quite the opposite.
2015-16 started off with a win in Chicago and the Blueshirts steamrolled through the first 20 games with an impressive 15-3-2 record.
The season started well yet ended in utter failure. They did not even come close to finishing the way they would have liked. Obviously, this is the case in knowing what happened against Pittsburgh last spring.
Now, 14 games into the season, the Rangers are 10-4-0 and currently look very hot. Watching the Rangers play of late has left fans stunned seeing what the team has been able to produce.
As a whole, they look incredible on the ice.
There is communication, hard skating, and finesse, making Blueshirt hockey very enjoyable to watch again. In 2015-16, the Rangers scored five or more goals in four of their first 20 games.
This year there have been eight games where five or more goals were scored in the first 14 games alone. Already, the Rangers are off to a much better start than last year, and that is a very good sign.
There weren't even any huge depletions of the Blueshirts' roster over the offseason, and if there was, a player was gained who is just as capable. The departure of Derick Brassard to Ottawa in exchange for Mika Zibanejad ended up being a godsend to the Rangers' offensive capabilities.
Pavel Buchnevich finally has a few goals this year, three to be exact, to add to his name. Jimmy Vesey has also been a powerful force for the Rangers as well.
You can't forget Michael Grabner, either.
He has added far more than what the front office thought they would get from him.
Considering he was going to be a penalty killing specialist only, he has added seven goals on the season so far.
There is only one logical explanation for the success: the team is getting offensive production from everywhere in the lineup.
While the offensive production is a great sight, the defense has played very good hockey as well. Dan Girardi has looked very good so far, and the Rangers are taking no chances with his health.
Looking up and down the lineup, there are players who seemingly have taken another gear into their game. The Rangers have looked good in the past, but this team just seems so different. There is a serious chance that they will be a contender in every game.
Kevin Hayes and Chris Kreider are two players who have seen harsh criticism for their play last year. Fans were expecting it to be a breakout season for both forwards. This year, so far, seems to be that year.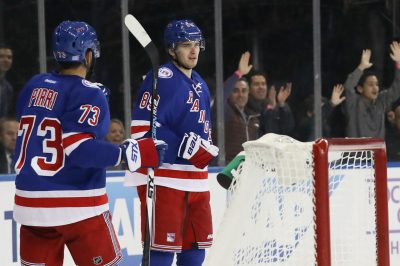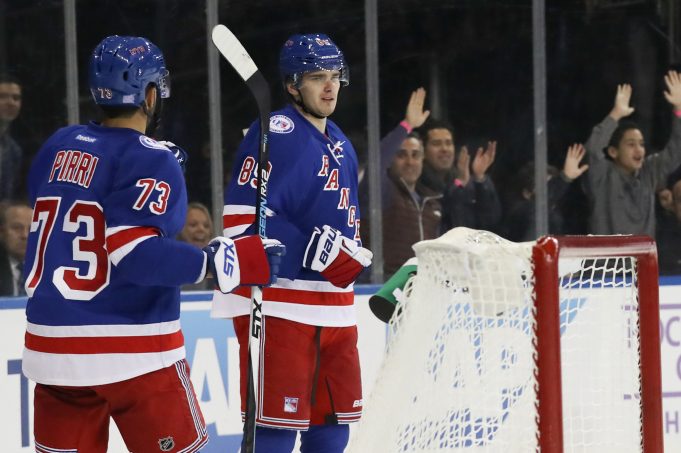 The Rangers just need to remain this consistent throughout the season. As Rangers fans know, the team can look so good and then something will just go wrong.
Before you know it, the Rangers are fighting for a playoff berth. That won't be an issue if they maintain this level of play all year long.
Right now, the Rangers currently rest at the top of the Metropolitan Division in the Eastern Conference with 20 points alongside Pittsburgh, and right behind them is Washington with 19 points.
Early on, the standings are heating up fast. As mentioned before, the Rangers have a chance to be competitive in every game they play as long as they keep playing the way they have been.
It's been fun so far, seeing them play like this.
For the first time in a long time, it feels good to say, "Rangers hockey is fun to watch."