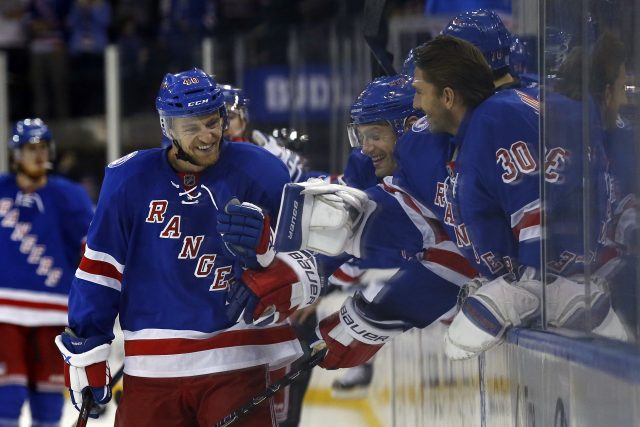 10-6
The forgotten man among so many skillful Rangers is Jesper Fast. He's one of the few Rangers who can not only play a semi-physical game but simultaneously get under the opponent's skin. What he does on the ice every shift can never be simply measured in points and stats.
As mentioned on the first page, Chris Kreider's seven points over the first four games had he and his line flourishing. Only a neck injury has him ranked ninth.
Where are those Keith Yandle fans now? Hiding, perhaps, because young Brady Skjei has arrived. The best part about Skjei is he provides nearly the same offensive output as Yandle while representing immense defensive potential that Yandle couldn't dare dream match.
Derek Stepan has been his usual steady self with 10 points in 14 games while providing a ton defensively.
Speaking of defense, check out the guy in the No. 6 spot. Michael Grabner has been a flat-out stud this season, to the point all Isles fans need to keep the Kleenex nearby every time they turn on MSG. He's already collected a Hat Trick, seven goals, 12 points, and a team-leading +12 while representing the right wing on the Rangers current top line (J.T. Miller, Kevin Hayes).