The last time the New York Rangers won the Stanley Cup, Major League Baseball was on a strike, 22 years ago (1994). Since, only one cup appearance has come and gone. This year's team can change all of that.
T
he New York Rangers are off to one of the best starts that they've had in recent years. They started this season scoring over 50 goals during the first 12 games of the season, and they are the hottest offensive team in the NHL.
Everything about this Rangers team is so unique.
The offense is fun to watch, they make eye-dropping plays, and they have so much speed. Not only is the offensive attack fast, but the defense gets it done as well. That high-powered offense comes equipped with a +26 goal differential. The team behind them in that stat is the Blackhawks with a grand total of +14.
Rangers fans should be excited about this season. They are receiving great production out of all of their players. Wonderboy Jimmy Vesey is living up to expectations, Michael Grabner and Brandon Pirri are starting to make names for themselves in the Big Apple, and the goaltending is solid.
Surprisingly, Alain Vigneault's squad hasn't given their fans any reasons to be upset, even if they're playing on no rest as the Blueshirts record is 55-23-6 on the second night of back-to-backs (since 2010-11). They improved that stat Sunday night after they squashed the Winnipeg Jets 5-2.
AV has really improved this team throughout training camp and the preseason. They are playing with a postseason mentality, and if that mentality continues for the rest of the season, Ranger fans should be excited.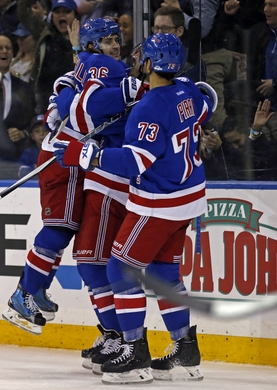 Even with all of the strengths this team has, they still have some areas that need improvement. The Rangers defense has played solid this season, but it still needs that one guy who can protect Henrik Lundqvist and Antti Raanta, and the rest of the Blueshirts. With their biggest defenseman Dylan McIlrath clearing waivers and toiling in the minors, the Rangers are still missing physicality that could come into play later in the season.
It could be possible we see McIlrath later on, but with the way the Rangers are playing right now it might be rough for the kid to make it back to Broadway.
Rangers Key Performers:
The Rangers have had fans excited for the first 11 games this season. Fans have traveled to all Rangers games to see the amazing play of the Blueshirts. During Saturday night's 5-2 road victory against the Boston Bruins, MSG Announcer Joe Micheletti had something interesting to say: "Those are chants of Zuuuccc, they aren't boos." The fan support has been unreal this season. We hear "let's go Rangers" during all road broadcasts, and we hear the Garden explode during home games.
The offense is what has really stood out through 12 games. They have given fans every reason to sit on the edge of their seats during games. Rhe Blueshirts average a scorching 59.5 percent in scoring chances. That percentage gives them the chance to score at any moment in the game which is always exciting.
Just sit back and enjoy this season because this is a special team that you're watching every night. This team consists of speed, talent, and creativity. When you mesh talent and creativity, you get special unique talent. Just expect more from this Rangers team including a lot more offense.
Since 2010-11 Rangers are 55-23-6 on the second night of back-to-backs.

— Rick (@R_Carpiniello) November 7, 2016
The Rangers goal differential is +26…the next highest in the NHL is Chicago at +14

— Blueshirt Faithful (@blueshirts_ny) November 7, 2016