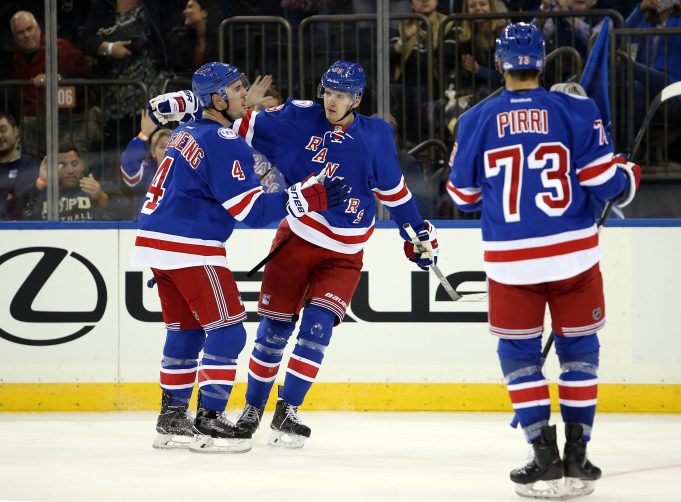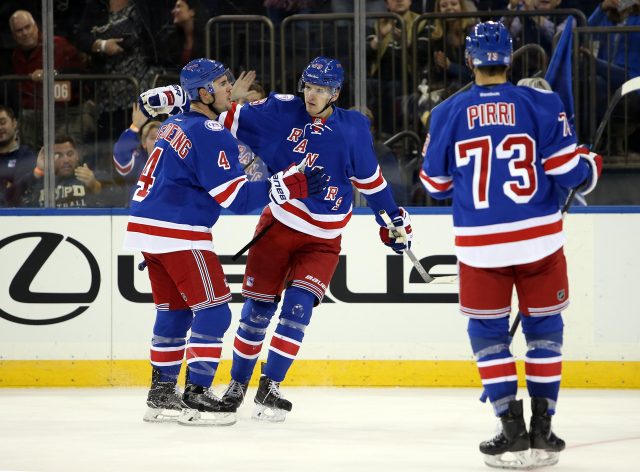 New York Rangers' young sensation Pavel Buchnevich tallied his first Madison Square Garden goal on Sunday night. It was a beauty.
It looked as if the New York Rangers had given up.
Coming off a hard-fought victory in Boston last night over the Bruins, the Blueshirts looked exhausted to open up the second period in tonight's contest against the Winnipeg Jets. The Jets were constantly controlling the puck in the offensive zone and got countless chances on Henrik Lundqvist, who stood on his head to make sure this game remained a stalemate.
Then, with the flick of a switch, the Rangers took a three-goal lead.
It started with a big mistake from Dustin Byfuglien, who fell down in the offensive zone and turned the puck over to Chris Kreider. The Rangers' speedster proceeded to start a three on one rush the other way that resulted in a ridiculous wrist shot off the tape of Mats Zuccarello.
Oh, Big Buff, you can't fall down against these Rangers. Kreider and Zuccarello make the play. 2-1 #NYR. #NYRangers pic.twitter.com/tgfxowzupJ

— Elite Sports NY (@EliteSportsNY) November 7, 2016
After Mark Scheifele quickly equalized for the Jets, the Rangers' hottest line, consisting of J.T. Miller, Kevin Hayes, and Michael Grabner, responded with a goal of their own via an absolute laser from Miller to recapture the lead. The Rangers' leading scorer flexed down the right side on a two on one and fired it over the left shoulder of Jets' netminder Connor Helleybuyck on the short side.
What a shot by J.T. Miller. The kid's a stud. 3-2 #NYR go back on top. #NYRangers. pic.twitter.com/XpvrPSpBVL

— Elite Sports NY (@EliteSportsNY) November 7, 2016
What followed was a Jesper Fast tip-in right in front of Helleybuyck to double the lead. The goal was originally granted to Kevin Klein, but further review revealed that the puck redirected off the skate of Fast for his second tally of the year.
Then, finally, the Pavel Buchnevich show ensued.
Buchnevich, who scored his first career NHL goal last night, received the puck in the offensive zone and had an absolute dangle fest. He skillfully skated by Winnipeg center Alexander Burmistrov before patiently cutting across the crease and sending the puck by Michael Hutchinson, Winnipeg's backup goaltender for tonight's contest.
This is just silly. The move, the hands, sure … but the finish was out of this world. #NYR lead 5-2. #PavelBuchnevich pic.twitter.com/yWgg4MaHnM

— Elite Sports NY (@EliteSportsNY) November 7, 2016
This team has simply been unfair offensively to open up the year. Tonight's performance marked the sixth time the Rangers have scored five or more goals in their last seven games. This team has come out guns a blazing and they haven't shown any signs of slowing down.
Watch out, folks.