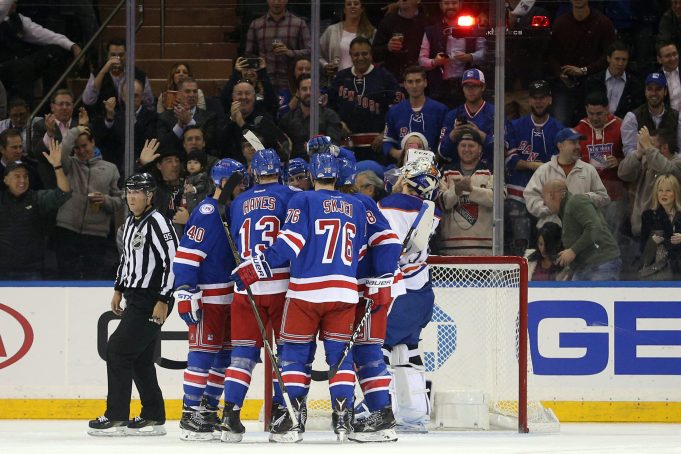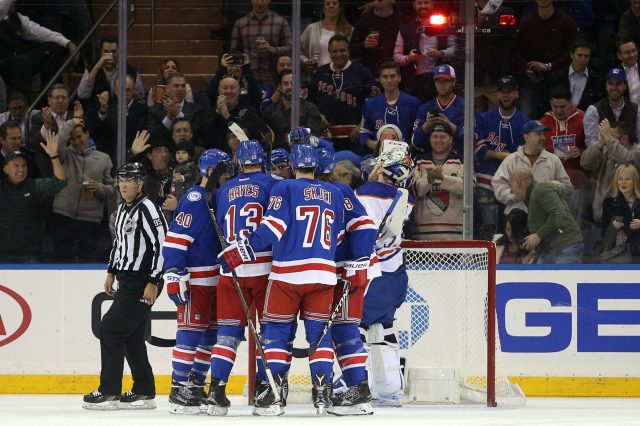 New York Rangers third-line center Kevin Hayes receives a beautiful pass from Michael Grabner and ties the game at one against the Oilers.
Alain Vigneault wasn't happy with the way the New York Rangers played the first five minutes of tonight's contest against the Edmonton Oilers. The Blueshirts looked lazy in their own end of the ice and weren't establishing their speed through the neutral zone.
Vigneault requested, and expected, a sizable response from his players during the first television timeout, and he certainly got it.
Shortly following Vigneault's demand, the Blueshirts answered the call, with Kevin Hayes tallying his fourth goal of the year on a savvy feed from Michael Grabner to tie the game at one.
How 'bout a third line of Kevin Hayes, J.T. Miller, and Michael Grabner? Not bad. 1-1. #NYR pic.twitter.com/wY9Kr8ulD8

— Elite Sports NY (@EliteSportsNY) November 3, 2016
With all the talk centering around guys like Mika Zibanejad and Jimmy Vesey, it's time that we begin to take notice of what the Rangers' third line of Hayes, Grabner, and JT Miller has been able to do. This group has been increasingly consistent in both ends of the ice and have looked lethal with their speed and play-making ability to open up the season.
Keep an eye on these guys going forward.